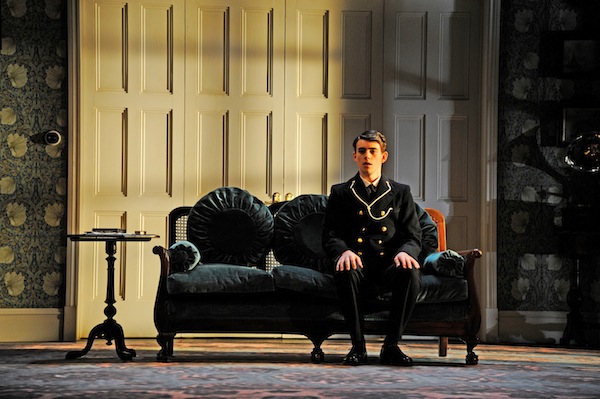 REVIEW: A 13 year old boy is wrongly accused of a crime, writes Francis Fitzgibbon QC. His accuser is an unaccountable organ of the state, which finds him guilty without due process.
Pic: Charlie Rowe playing Ronnie Winslow. Credit Nobby Clark
The Winslow Boy is at the Old Vic, London and runs to May 25th
He can't get his case before a court and he appears to have no redress at law. His respectable middle-class family would normally side with the establishment, apart from his decorously rebellious sister, but they are seized by a desire for justice for the boy. His father sacrifices his health, his daughter's dowry and his son's university fees, and risks his marriage in a relentless pursuit of it, when it all seems futile and doomed to fail. The press take the family up, but only as a human interest item. The boy has one ace, and it proves decisive: the support of a brilliant and powerful lawyer who is also an MP and runs a political and legal campaign for him.
Terence Rattigan wrote the Winslow Boy in 1945, at the end of the horrors of World War II. He set it in 1913-14, and the coming war casts its shadow: Dickie Winslow, the Bertie Woosterish elder brother of Ronnie, the eponymous Boy, looks forward to it as 'a bit of a scrap'. The Universal Declaration of Human Rights and the European Convention are still in the future.
Ronnie's case is described as 'much ado about damn all', but the sense of outrage at his treatment by a harsh bureaucracy that has immunity from challenge burns bright.
The historical setting of the play, and the circumstances of its writing, invest a seemingly trivial affair with a depth of irony, because we know what powerful states did to unprotected individuals between 1914 and 1945, and continue to do.
The subplot concerns the romantic affairs of Ronnie's suffragette sister, and would be an undemanding drawing room comedy, but for the shockwaves of the case that disrupt her engagement and her prospects in life. This nice family can't escape politics: the world won't leave them alone. The play is far from a sentimental tale of the little guy beating the big battalions against the odds. It shows too much of the losses and suffering caused first by an injustice and then by an obsessive search for justice, for that. Brecht it's not: but within the conventions of a 'well-made play' Rattigan deftly tells you what you need to know about unchecked power, law, luck, and how they can knock lives off course.
The lawyer, Sir Robert Morton QC (a blend of those great Edwardian legal celebs Marshall Hall, Carson and FE Smith), is arrogant, self-interested, expensive – but utterly ruthless in his determination to win the case. The dramatic climax of the play occurs in his brutal cross-examination of Ronnie at the end of the first half, when he decides whether to take the case (no cab rank there, it seems), and the second half doesn't match it. Peter Sullivan who plays Morton may or may not be a QC manqué himself, but his performance is highly reminiscent of at least one star of today's criminal bar known to this reviewer.
It would be unfair to single out one performance from such a strongly cast ensemble piece, but the character whom Rattigan developed most is Ronnie's father, Arthur Winslow, played with extraordinary power and sensitivity by Henry Goodman. This is a man who loses his faith in the institutions that he has always thought wise and benevolent; who discovers that his place in the world is far less secure than he believed; and who finds that events beyond his control are destroying his health and his family life. He is the hero of the drama.
In Ronnie Winslow's Britain there was no legal aid; no access to justice in a case against the State; no formal recognition of human rights such as the right to a fair trial; and a press more interested in the family's curtain fabric than their case. Sounds familiar, doesn't it?