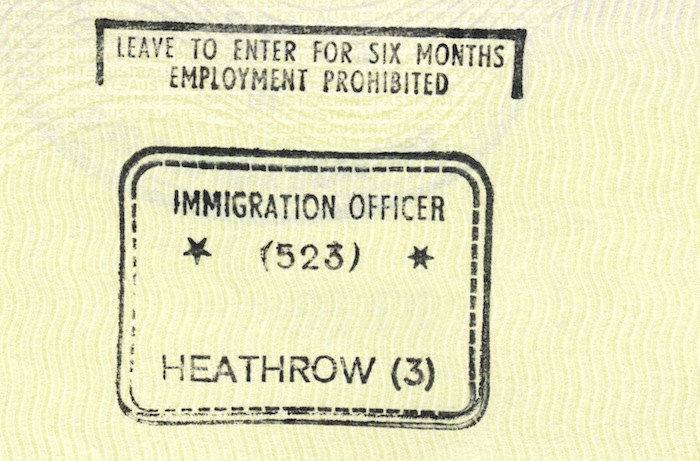 [contextly_auto_sidebar id="Ocjo58cdChAdjg3DQp5lXFp42agnswem"]
Between July and November 2013, three Syrian refugees fleeing the Assad regime were each convicted for failing to produce a passport after they arrived at Heathrow Airport to claim asylum. On 16 April 2015, the Criminal Cases Review Commission (CCRC) referred these magistrate court convictions to the Crown Court. All three served sentences of imprisonment, the youngest in a Young Offender Institution. All have been recognised as refugees.  (This brings the number of convictions involving asylum seekers and refugees to be referred to the appeal courts since 2005 to 34).
These cases show how refugees have to resort to unlawful entry to and exit from countries because legal avenues are often closed to them. The Syrians would have relied on 'agents' (smugglers or traffickers) to escape – they used a combination of car and air travel via the Lebanon, Egypt or Turkey – and they were fortunate in being able to avoid routes via the Mediterranean. This reliance on unlawful methods was obvious to the drafters of the 1951 Refugee Convention who included the important article 31(1). Article 31(1) provides that refugees shall not be penalised on account of their illegal entry or presence provided that they come within certain criteria.
In R v Uxbridge Magistrates' Court and another ex parte Adimi [2001] QB 667, the High Court held that the prosecution of refugees and asylum seekers for offences arising from the use of false documents or deception was unlawful where the prosecution had occurred without regard to the protection from the imposition of penalties in article 31. The CPS and Home Office agreed that the situation was 'most unsatisfactory'. The government created a defence for refugees in section 31 of the Immigration and Asylum Act 1999. However, this is applicable to a limited number of offences which does not include section 2 of the Asylum and Immigration (Treatment of Claimants etc) Act 2004 which criminalises the failure to produce a passport. Instead, section 2 has its own 'reasonable excuse' defence.
In R v Mohammed and Osman [2007] EWCA Crim 2332, the Court stated that section 2 'represents the current stage in the process by which the [UK] gives effect to the obligations created by article 31(1)'. The Parliamentary debates in 2003 and 2004 reveal that the s 2 offence was not directed at those who for various reasons did not have passports or documents and who had to pay agents to take them to safety (such as the Syrian refugees). Refugees may not have their own passports with them, may not be issued with them or be from a country where it is virtually impossible to obtain one. Section 2 was directed at those who deliberately destroyed or tore up documents in order to disguise their identity or make it more difficult for them to be returned.
Beverley Hughes, the Minister for Citizenship and Immigration, specifically noted that:
'It is not to catch the people who may be able to arrive here without the passport or other documentation that enables them to travel but perhaps with some evidence of experiences testifying to their claim to be refugees and in need of asylum. The clause is not to catch those people; it is precisely to catch people who we believe have deliberately destroyed their documents.'
It can also be argued that the defence applies to those who are unable to leave their country of origin on their own documents because of the fear of being identified on leaving or who destroy their own documents because they fear being returned to persecution.
There are a series of important cases in relation to the reasonable excuse defence for refugees (and others who may not have documents) who arrive at a port or an asylum interview with no passport. These cases include Soe Thet v DPP [2006] EWHC 2701 (Admin); Mohammed and Osman, R v Asmeron [2013] EWCA Crim 435 and R v Hasan [2015] EWHC 917 (Admin). If the refugee is able to provide a reasonable excuse for not providing a passport (whether a genuine document or a false document), s/he has a defence under the 2004 Act.
The CCRC referred these convictions on the basis that the refugees were wrongly advised to plead guilty and were thereby denied the 'reasonable excuse' defence which would have likely succeeded. However, it is important to note that these are not technical miscarriages of justice. These cases should never have been prosecuted.
The immigration authorities, police and the CPS have responsibilities in identifying refugees who arrive in an irregular manner so that they are not prosecuted to conviction. Hundreds of people with no documents have been prosecuted. The Syrians were recognisable on arrival as being persons to whom article 31(1) applied and who were all therefore likely to have a 'reasonable excuse' defence under s 2 of the 2004 Act. In these circumstances, there can be no public interest in such prosecutions.