The number of defamation court cases fell 15% last year, according to the legal publisher Sweet & Maxwell. Public scrutiny following the phone hacking scandal has led to 'a lower appetite for risk for some media outlets', reckons Korieh Duodu, author of Defamation: Law, Procedure and Practice, a partner at specialist media law firm David Price Solicitors and Advocates.
'Phone hacking has put journalistic standards under the microscope like never before,' Duodu says.
'Media companies are concerned that the phone hacking scandal could lead to the imposition of a statutory media standards regulator, and they are have made every effort to put their own houses in order to avoid this.'
Korieh Duodu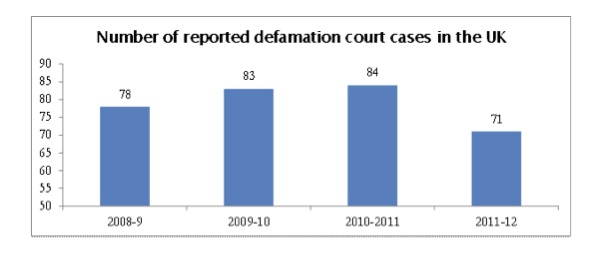 The lawyer also argues that the rising use of privacy law by high profile individuals, as opposed to the libel laws, 'to control their media profile' might have contributed to the figures.
Privacy injunctions had become 'increasingly fashionable' as they could prevent damaging articles from ever seeing the light of day, argues Duodu. 'By contrast, defamation law cannot generally be used to prevent allegations being published, but only to set the record straight through an action for damages after the event. This made the privacy injunction an extremely powerful legal tool for individuals in the media spotlight. The other advantage of a privacy claim is the ability to kill stories which are true.'
Sweet & Maxwell reports that there were only seven defamation cases this year involving celebrities  – down from nine cases last year  – and the lowest number in five years.
Celebrities that were involved in defamation litigation this year include Big Brother star Imogen Thomas, Welsh singer Charlotte Church, former Smiths frontman, Morrissey, and Nancy Dell'Olio.
Other high profile individuals included Lord Ashcroft, Russian businessman Boris Berezovsky and financier Nat Rothschild.
Sweet & Maxwell also reported a 36% drop in the number of cases against traditional media companies (newspapers and broadcasters) which reached a five-year low of just 27 cases.