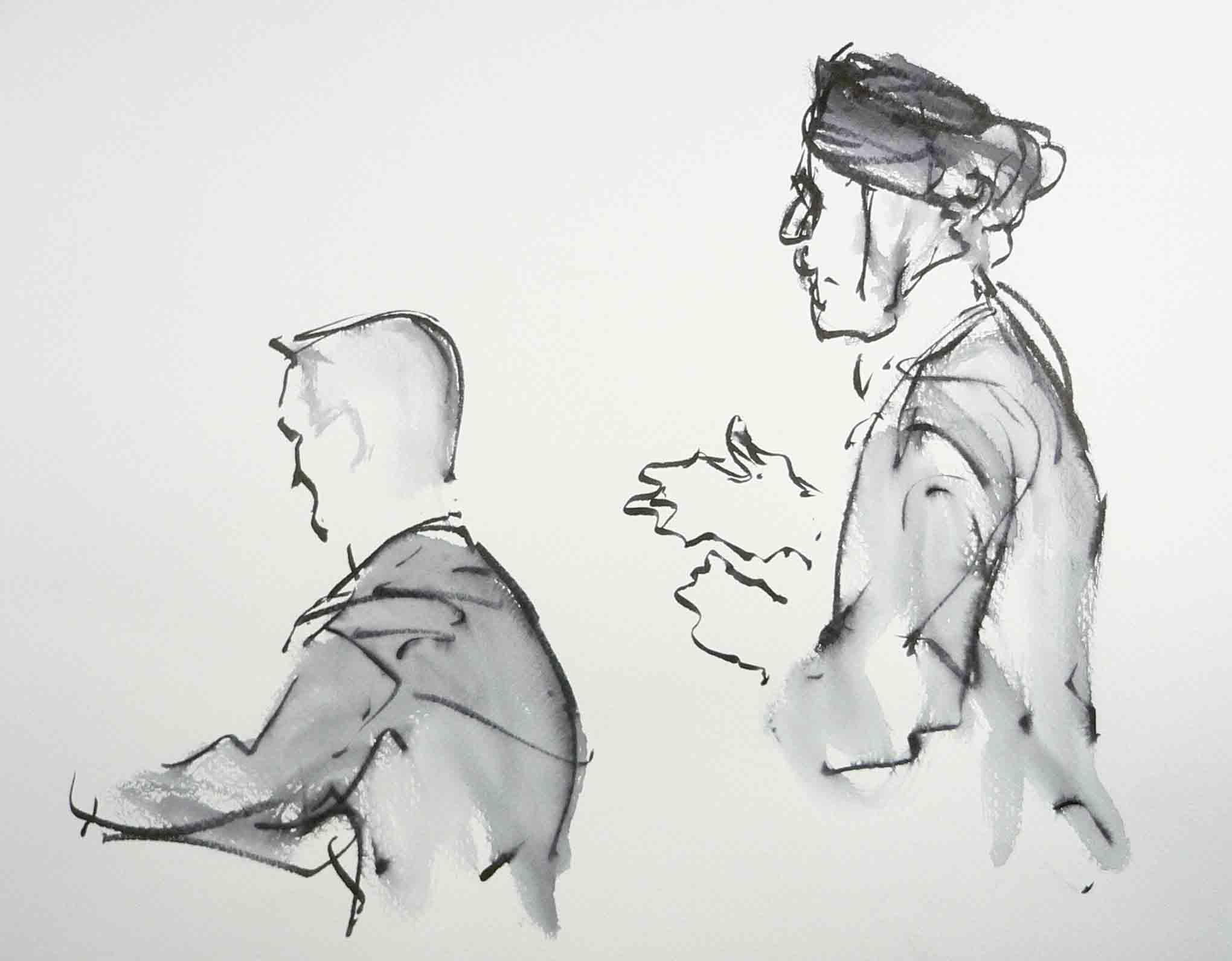 Imagine that you are in prison… in a shipping container in the desert. It is very hot during the day and very cold at night. You manage to escape. You are a refugee fleeing persecution. You arrive at Heathrow and claim asylum. You are arrested because you used a false passport on entry or in transit. Or you did not have a passport. Or you used deception to enter. You are taken to a police station and interviewed. The next day you go to court and plead guilty, on the advice of a lawyer. By your third day in the UK, you are…in prison. You are lucky as your prison term is only three months but others like you may be sentenced to imprisonment for 10, 12, 14 or even 16 months. . Sketch by Isobel Williams of AA (Somalia) v Entry Clearance Officer (Addis Ababa) in the Supreme Court – see Isobel's website
The Criminal Cases Review Commission last month referred the conviction of Busani Zondo to the Court of Appeal. Zondo, a Zimbabwean national, pleaded guilty to possessing an improperly obtained false instrument contrary to the Identity Cards Act 2006 in March 2008. He was sentenced to 10 months' imprisonment. The referral is made on the basis that Zondo, who has been granted refugee status, was advise by his lawyer to plead guilty when in fact he was entitled to a defence under section 31 of the Immigration and Asylum Act 1999. So far 14 such cases have been referred to the appeal courts on the CCRC's recommendation and 12 convictions quashed. "You're talking about the waste of very considerable sums of money," Richard Foster told the Commons' justice select committee last week.
This is a scenario which has happened to thousands of refugees over the years. Richard Dunstan first wrote about it in 1998. The case of Adimi (R v Uxbridge Magistrates Court & Another ex parte Adimi [1999] 4 All ER) followed in 1999 when the High Court castigated the practice of prosecuting refugees in these circumstances, a practice which was contrary to the UK's obligations under article 31(1) of the 1951 Refugee Convention which exempts asylum seekers and refugees from penalties for offences relating to unlawful entry or stay. The UK fully supported the drafting of article 31(1) and was one of the first signatories to the Convention. Refugees often cannot get passports from governments which are persecuting them or they may have to leave suddenly. They may destroy documents because they are in fear of being returned to a country of persecution. They may be told to destroy documents by agents whom they have paid to get them to a place of safety. As a result of the Adimi case, the UK government enacted section 31 of the Immigration and Asylum Act 1999 which provides a defence based on article 31(1) of the Convention. Refugees convicted of failing to produce a passport (under section 2 of the Asylum and Immigration (Treatment of Claimants etc) Act 2004) are not able to rely on section 31 as the offence is not included. However, there is a 'reasonable excuse' defence in the 2004 Act, inserted to meet the UK's obligations under the Refugee Convention.
Refugees may flee torture, imprisonment due to their political or religious beliefs or because they love someone. Yet, if they arrive with a false passport or no passport, they may face immediate prosecution. The first four asylum cases at the Criminal Cases review Commission were magistrate court cases which were referred to the Crown Court in 2005. Two were a couple from Libya. They had a child and the woman was pregnant when they transited Heathrow using false passports. They pleaded guilty on advice and he was sent to prison. The impact these convictions had on their lives was immense. They were unable to benefit from a Home Office policy which granted families asylum who had been in the country for a number of years. This was because of their criminal convictions. The other two were Christians from Iran who had been recognised as refugees. They were unable to travel to visit relatives in the Americas because of their convictions.
Another refugee, whose conviction was referred to the Crown Court in 2012, had trained to be a teacher but could not work. Other refugees have tried to work in hospitals or with children with no success. A striking example is that of a refugee whose conviction was quashed last year (R v Mateta and others [2013] EWCA Crim 1372). He wanted to become a London black cab driver but he could not apply for a taxi licence because of his conviction under the Identity Documents Act. Instead he supported his wife and child by working as a dustbin man. On the day of his appeal hearing at the Court of Appeal, he could not get time off work. He was informed by his lawyers that the conviction had been quashed. He then phoned to thank the CCRC when he had finished work. He said it was the first time since he had arrived in the UK that he had been listened to by anyone.
A refugee, such as in the latest Commission referral of Mr Zondo, will not be successful in his or her settlement application if s/he has convictions (whether s/he has received less or more than 12 months' imprisonment). The impact of wrongful convictions on refugees reveals the appalling effect of legal advice to refugees to plead guilty to these offences. Prosecuting the persecuted undermines the criminal justice system, creates criminals from the most vulnerable and cannot be justified on grounds of humanity, efficiency, cost or justice.