'We need to treat Tasers as lethal weapons'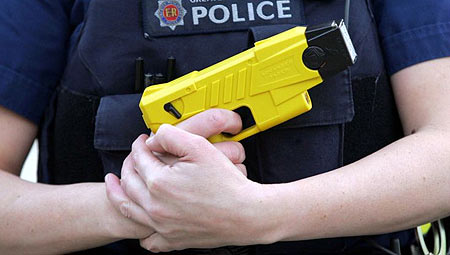 Last week an army veteran was paid £50,000 in compensation by Bedfordshire police after he was tasered while suffering a flashback triggered by post-traumatic stress disorder. The case follows the death in August of former Aston Villa footballer, Dalian Atkinson, who died after he was reportedly tasered three times by police who were attending an incident outside his home.
---
According to figures were made available by the Home Office following a Freedom of Information Act request by the Justcie Gap, two-thirds of all people Tasered by the police in England and Wales between 2010 and 2014 were identified as mentally ill. See Ollie Persey's analysis here.
You can read Alastair Logan (Let's not follow the US on example on Tasers)
---
Over the summer there were also reports that Devon and Cornwall police had settled a case against them brought by the family of Andrew Pimlott, who was tasered while doused in petrol. An inquest had found that the spark caused by the Taser was the most likely cause of the fuel igniting, resulting in Andrew's death from severe burns.
These cases raise considerable concerns about the way in which police are deploying Tasers.  Since they were introduced in 2003, Taser use has risen rapidly – Home Office statistics show deployment increased from 3,128 cases in 2009 to 10,329 last year. During this time Taser use has been authorised in a growing number of situations and has been extended to a larger number of officers.
Tasers are seen as safe way for police officers to resolve potentially violent situations but they are known to be dangerous to those with heart conditions and can cause serious injury or death. Dalian Atkinson's death is the eleventh to be linked to the use of Tasers in the last decade and the IPCC has seen complaints about Taser use rise considerably.
Even for those who are physically unscathed, the experience of being tasered by police officers – effectively receiving a 1,500-volt electric shock – is incredibly painful and traumatic. This is particularly true for those suffering from mental illness, a group that is far more likely to be subject to their use. Home Office figures covering 2010-2014 show that more than two thirds of people who had a Taser used against them were identified by police as mentally ill. The figures also show that Tasers are disproportionately used against black and ethnic-minority people and their use against children is increasing.
Tasers can cause long term trauma. The army veteran tasered during an episode of PTSD described the massive impact that the experience had on his life. It left him too terrified to leave his own home in case he saw the police again. He would stay up all night looking out the window because he was scared that the police would come and hurt him. He eventually moved to another part of the country to avoid seeing the same officers again.
As a specialist in actions against the police, I have advised on a number cases in which my clients have been injured by Tasers.  It is accepted that Tasers can cause serious injury or death and yet they are not classed as lethal weapons. In consequence only three days' training is required for officers authorised to use them. In contrast, firearms officers undergo a rigorous selection process and at least seven weeks of training. This lack of training, including poor awareness of the risks associated with Tasers, has been evident in the cases I have seen.
Firearms can only be used if the suspect poses an immediate threat to life, whereas a Taser can be used wherever it is proportionate to the officer's objectives. This leaves a lot of room for an individual officer's discretion. As a result, Tasers are being used in situations where there is no threat to life, nor even a serious threat of violence, and the approach differs considerably from officer to officer. This is unacceptable.
Taser use can be particularly dangerous for some but it will rarely be possible to identify those individuals by their appearance. Certainly police should be exercising even greater caution when deploying them against older people and those with an evident mental illness. However in the majority of cases it will not be possible to run through a checklist of risk factors before deploying a Taser, such as whether the subject suffers from a heart condition or PTSD. This means that the public will only be adequately protected when Tasers are classified as lethal weapons and their regulation is brought in line with that of firearms. Given the growing evidence of the dangers posed by Tasers, the Home Office must ensure that they are only used a last resort and officers authorised to use them are properly trained.