For the first time the number of young offenders from a black, Asian and minority ethnic background in custody has outstripped the number of white offenders. The latest figures published by the Ministry of Justice revealed that in May this year there were 415 young offenders locked up compared to 396 white offenders.
The latest figures reveal the extent to which young people have been diverted from the justice but also how increasingly those left are from BAME backgrounds. The figures go back to 2005 when figures peaked at 2,189 young white offenders in custody compared to 738 black and 161 Asian offenders – see table below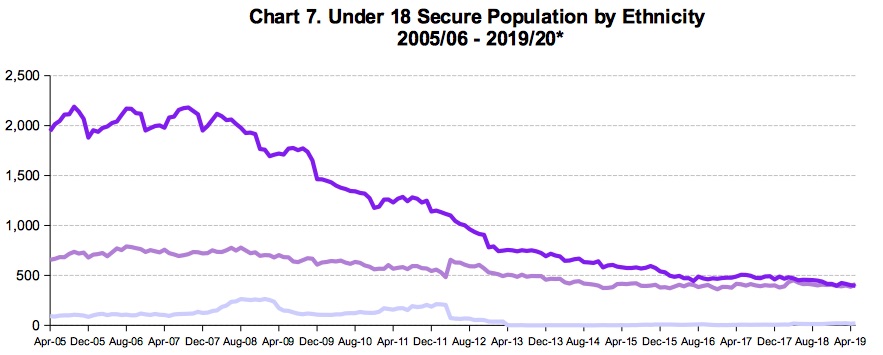 Pippa Goodfellow, director of the Standing Committee for Youth Justice, told The Times that the figures were 'a cause of great concern'. '[They] demonstrate the sheer extent to which the criminal justice system is disproportionately propelling black and minority ethnic children into prison.'
The Labour MP Lucy Powell recently questioned whether a group of teenagers cleared over the fatal stabbing of a private schoolboy would have been found not guilty if they had been black and state school educated. The MP for Manchester Central has spoken out about her concerns about joint enterprise and the racial discrimination in the law's application.
You do have to ask if these defendants were black, at state school and from, say, moss side whether they would have been acquitted … https://t.co/VYsSXhMU5M

— Lucy Powell MP (@LucyMPowell) July 12, 2019
Yousef Makki had been stabbed in the heart with a knife in a wealthy area of Cheshire. Two teenagers, known as Boy A and Boy B, were charged in connection with his death and cleared of all charges following a four-week trial at Manchester Crown Court at the end of last week.
Boy A claimed he acted in self-defence and was cleared of the charge. He admitted perverting the course of justice by lying to police and possession of a knife. Boy B was cleared of perverting the course of justice but also admitted possession of a knife.
According to BBC News, the jury heard the stabbing was an 'accident waiting to happen' as the boys indulged in 'idiotic fantasies' playing as middle-class gangsters 'calling each other "Bro" and "Fam" and the police "feds"'. They posted videos on social media 'making threats and posing with "shanks" or knives'.
the teenagers arranged to buy cannabis and planned to rob the dealer. But the robbery went wrong and Yousef and Boy B fled, leaving Boy A to take a beating. He then later pushed Yousef who called him a 'p****' and punched him in the face.
He told the jury Yousef pulled out a knife and he responded by also taking out a knife and his victim was stabbed. A local man passing by, a heart surgeon, performed emergency surgery in the back of an ambulance but Yousef suffered catastrophic blood loss.