[contextly_auto_sidebar]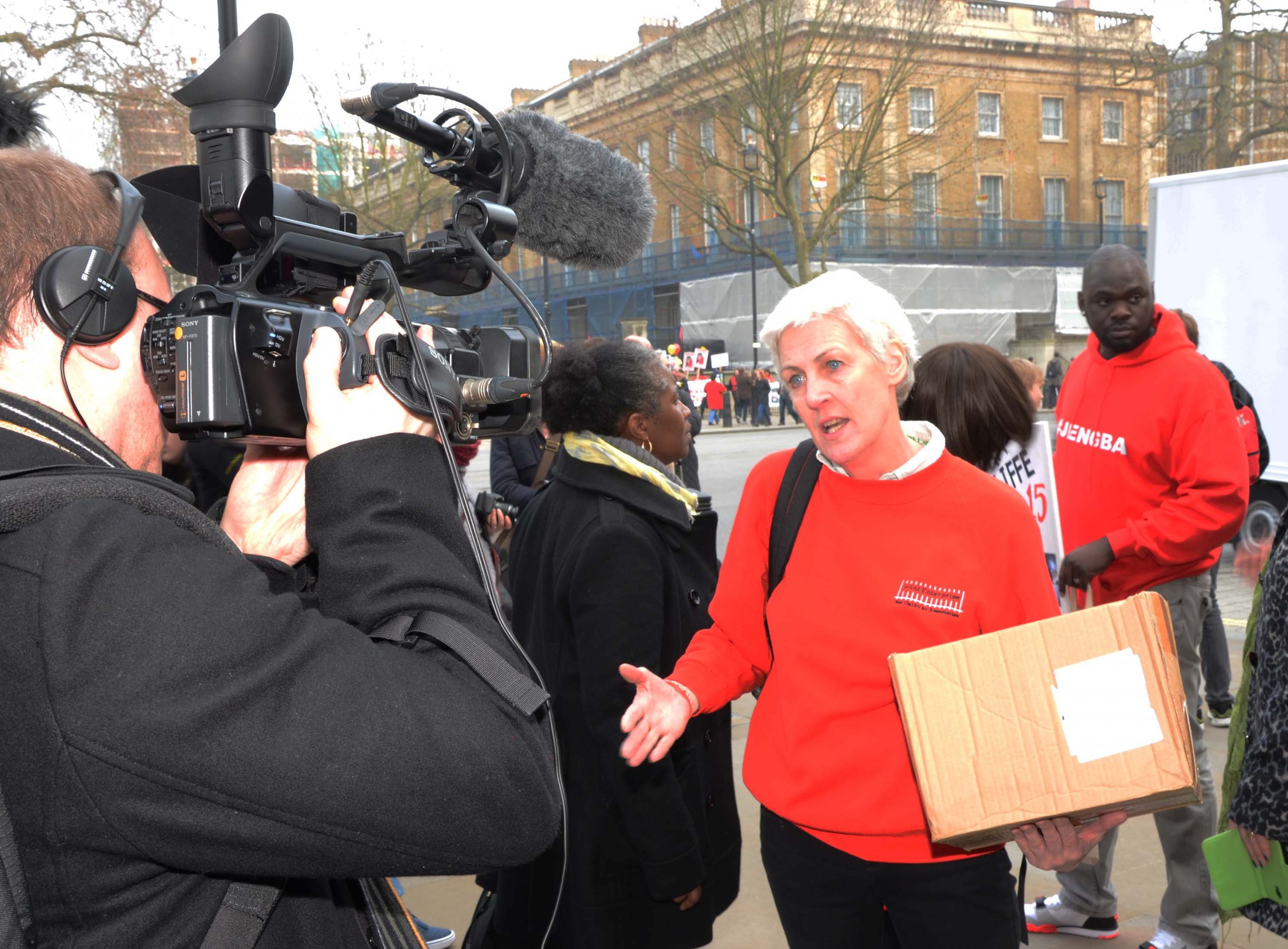 The Metropolitan police has been sending out 'potentially unlawful' letters threatening alleged gang members with prosecution for 'just being present when a serious crime is committed' under the common law of joint enterprise.
The letter (see below) was hand-delivered to a 22-year-old man from the Isle of Dogs at his flat by police officers. He insisted that he had never been in a gang. 'It is arguably unlawful for the police to write letters telling members of the public that they might be liable for arrest and prosecution in circumstances where their conduct does not amount to a criminal offence,' comments Simon Natas, from ITN Solicitors who advises the campaign group JENGbA (Joint Enterprise Not Guilty by Association).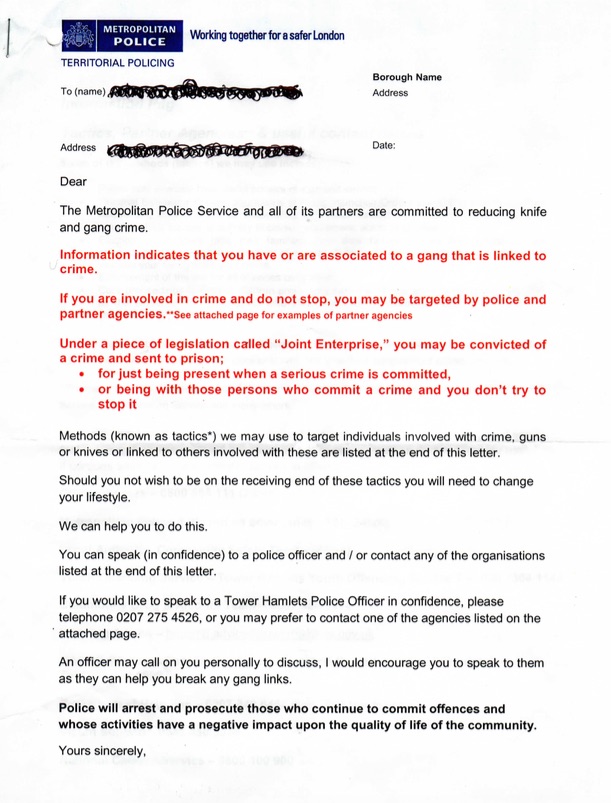 Today the Supreme Court will for the first time consider the highly contentious common law doctrine of joint enterprise in a critical test case (R v Jogee). At the end of last year the House of Commons' Justice Select Committee called for an urgent review of joint enterprise.
In its submissions to the select committee, the Prison Reform Trust raised concerns that joint enterprise acted as 'a drag-net, bringing individuals and groups into the criminal justice system who do not necessarily need to be there'. The campaign group JENGbA has been invited by the Supreme Court to intervene and the £10,000 costs were raised through a crowdfunding campaign through CrowdJustice.
'There is a real danger in justifying the joint enterprise doctrine on the basis that it sends a signal or delivers a wider social message, rather than on the basis that it is necessary to ensure people are found guilty of offences in accordance with the law as it stands.'
Alan Beith
The 22-year old who received the letter from the Met told the Independent on Sunday that, although he had been convicted for drugs offences, he had 'never been a member of a gang or carried a knife'. 'I have been regularly stopped and searched by police in the street, but this was a shock when it come through the door,' he said. 'I have been trying to go straight and have been volunteering for a charity, but it is frightening to think police are watching you like this.'
Simon Natas argues that the Met has got the law wrong. 'It is not an offence simply to be present when a crime is committed, serious or otherwise – and it is not an offence to be with someone who commits a crime and do nothing to stop it,' he explains. 'In order to commit a crime as a secondary party, you must actually participate through assistance or encouragement. The wording of this letter is misleading. If the police are going to write to people, especially young people, telling them they may be liable to arrest then they are under a duty to ensure that they get the law right, otherwise they may be acting outside their powers and duties.'
The lawyer also argues that the letters are likely to be counter-productive. 'How are the police expecting young people to act? Letters such as this are just as likely to alienate young people even more from the police and the authorities and that will make it much more difficult to deal properly with gang crime. Crime is tackled primarily through detection rather than punishment – and detection can happen only with the consent and co-operation of the public – the police need people to come forward and agree to give evidence in court. People aren't going to do that if they see the police as the enemy.'
'Placing people under this kind of scrutiny in a way that is threatening to them is likely to have completely the opposite effect to that intended. That said, you could've scared them and got the law accurate. The law is scary. But if they are going to send out these letters, at the very least they could get the law right.'
Simon Natas