Following the JusticeGap's Wrongly Accused debate at College of London in Store Street, London in April, we are running a second debate in Manchester. We are organising it with the barristers' chambers Garden Court North. The details are as follows.
WHERE: BPP Law School, 1st Floor, St James's Building, 79 Oxford Street, Manchester M1 6FQ
WHEN: June 27th, 2012, 6pm to 730pm
WHAT: The launch for Wrongly accused: Who is responsible for investigating miscarriages of justice?, part of the JusticeGap series (and published by the Solicitors Journal). You can download it HERE.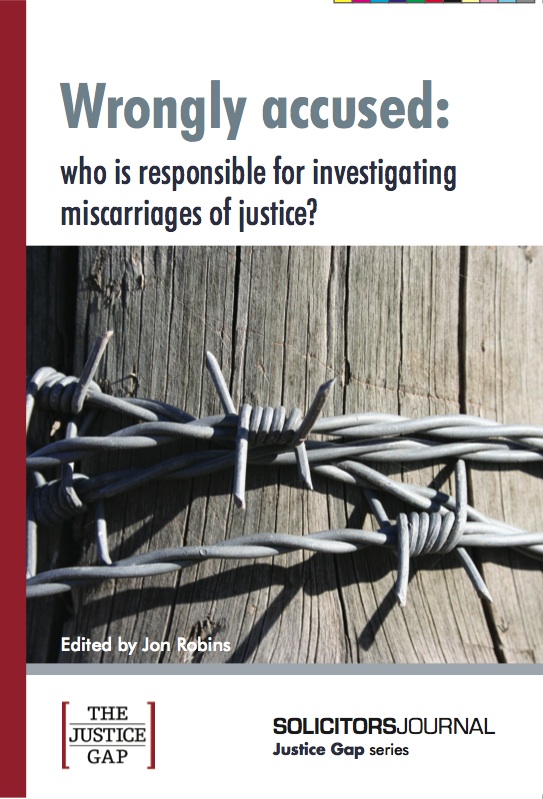 The event is being organized with the barristers' chambers Garden Court North.
Pete Weatherby QC, Garden Court North, will chair a discussion with:
Eric Allison, the Guardian's prison correspondent;
David Jessel, investigative journalist (Rough Justice, Trial & Error) and former commissioner at the CCRC;
Campbell Malone, defence lawyer who specialises in miscarriages of justice and chair of the Criminal Appeal Lawyers Association. Campbell was acclaimed for his role in the overturning of Stefan Kiszko's life-sentence for murder, 17 years after his imprisonment for a crime it was later proven he could not have committed;
Robert Lizar, of Robert Lizar solicitors. Robert's work as a criminal lawyer has included a number of Manchester miscarriage of justice appeals. He worked with 'Rough Justice' on the cases of Michael and Patrick McDonagh and Anthony Mycock and with the journalist Eamonn O'Neill on Robert Brown's case. He worked for Jamal Al-Harith to obtain his release from Guantanamo Bay. Robert now specialises in Mental Health law.
Mark Newby, a solicitor advocate at QualitySolicitors Jordans and advisor to INUK with a strong track record of quashing convictions including the well reported cases of Sheikh, Joynson, Lawless and Fulton to name but a few.
Dr Hannah Quirk, is a lecturer in criminal law and justice at the University of Manchester. She worked as senior researcher at the Legal Services Research Centre and as a case review manager at the Criminal Cases Review Commission. In 2005, she spent six months on a research sabbatical at the Innocence Project New Orleans, before joining the Law School at Manchester. Hannah has been a visiting scholar at the University of Melbourne and Queen's University Belfast.
Criminal Cases Review Commission representative (tbc)
TICKETS ARE FREE BUT SEATS ARE LIMITED: If you want to come please email kim@thejusticegap.com or hray@gcnchambers.co.uk (max 2 seats per person). The event is likely to be oversubscribed. If you claim tickets but subsequently can't make it, PLEASE let us know.