[contextly_auto_sidebar]
If everything goes according to plan, then Greater Manchester Law Centre will open its doors to the public in August. John Nicholson, immigration barrister and chair of the law centre's management committee, has been checking out new premises on Princess Road, in Moss Side.
'We went along to have a look and three people turned up with plastic bags wanting legal advice,' he reports. 'There is a definite need and a real excitement from those supporting us.'
Six years ago there were three law centres in Manchester (South Manchester, Wythenshawe and North Manchester). Presently there are none.
Since the April 2013 legal aid cuts under the Legal Aid Sentencing and Punishment of Offenders Act (LASPO), 11 law centres have shut down. According to the Law Centres Network, its members lost 40% of their income as a result of the cuts (and over 60% of legal aid revenue). As we reported recently, advice and assistance under the legal aid scheme has collapsed to a third of pre-LASPO levels and  representation is around two-thirds of what it was before the April 2013 cuts.
The Greater Manchester Law Centre's business plan starts thus: 'We are establishing ourselves in the harsh conditions of the international recession, without prospect of financial support from either central or local government, and with harsh competition for support from the charitable funding sector.'
The opening of a new law centre is a big deal.
---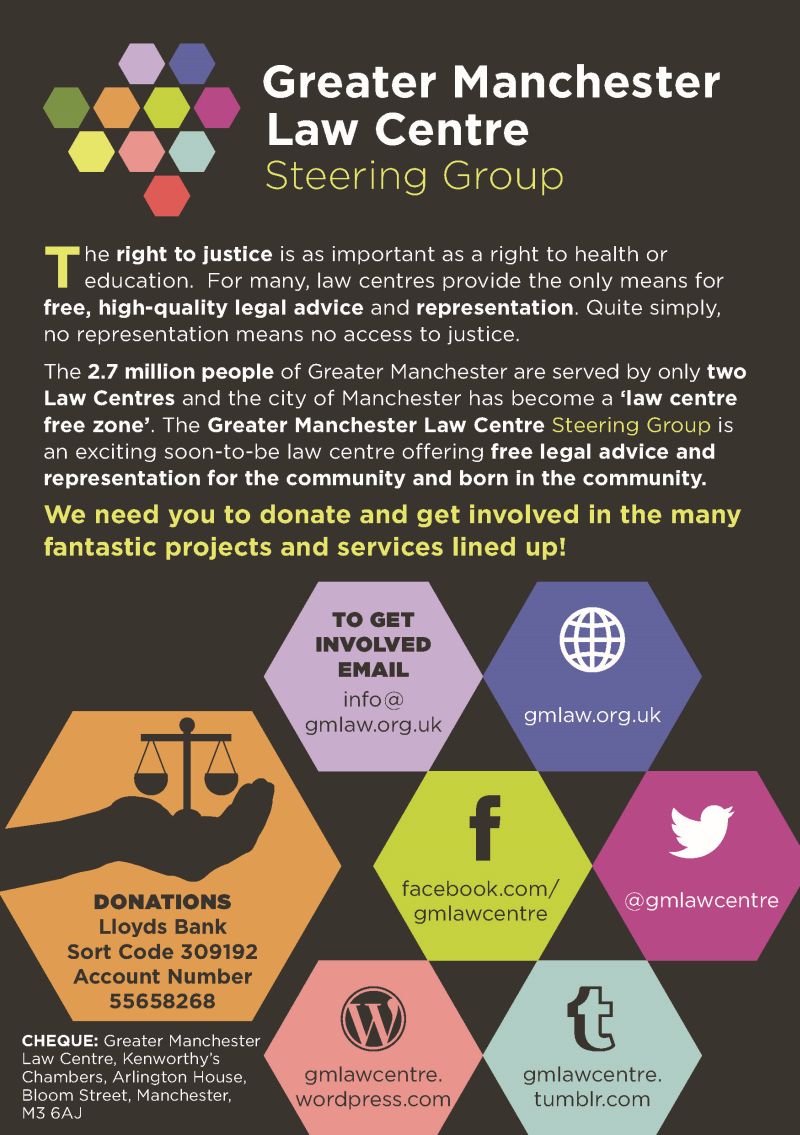 The steering group behind the nascent law centre is looking to raise £200,000 in its first year. To that end, it is looking to lawyers (more later), support from trade unions and community groups, as well as individual sponsorship to help fund its work.
'This is a "community" law centre,' says John Nicholson. 'We will get the support from the commitment of the community. It will be owned and run by the community, for the community.'
It might be a bleak picture, but this project is fuelled by idealism and – as they put it on their site – 'hope'. This is their pitch to the public:
 'Law centres and the people power that has been their backbone are doing fantastic things across the country in ensuring that access to justice is maintained. This is why you are so important. You are going to be a part of a movement, from its very beginning, to create a new law centre. You'll be a part of a history that will defy the odds.'
The barrister points out that the Peoples History Museum and the 'people's football club' FC United of Manchester have both managed attract the support of their communities and, he says, 'both are founding supporters of ours – so we will have a people's law centre.'
Start of a debate
The network of lawyers, advice sector workers, and campaigners behind Greater Manchester Law Centre also want to kick start a debate a much needed debate about the role of publicly funded legal advice in our society.
'Part of what we are doing is to develop the idea of "Greater Manchester Law Centre" as a concept. We need proper public funding for legal advice and representation. We need a new generation of social welfare lawyers. How are youngsters going to get into the legal profession when they have £40,000 worth of debt to pay off? Inevitably they will go for training contracts with the big commercial firms.'
They are looking at different ways of working. For example, they hope to replicate Avon and Bristol Law Centre's Legal Advocacy Support Project assisting people wrongly declared fit for work by the Department for Work and Pensions. That scheme, staffed by students from the University of the West of England and the University of Law, who prepare cases and represent claimants at their appeal hearings and has a 95% success rate. The law centre will work with Salford University.
John Nicholson has a long history in the voluntary sector in Manchester – for example, developing George House Trust, initially known as Manchester Aidsline, at the end of the 1980s. He was practice manager of Bury Law Centre and now specializes in immigration law at Kenworthy Chambers.
He has no illusions about the scale of the challenge of setting up a new law centre in the post a post-legal aid age of austerity. 'Lawyers are about as unpopular as accountants –maybe even bankers,' he says. 'You can't possibly say at a meeting of ordinary people that lawyers are poor – some of us are – but it doesn't ring true. You have to make the campaign about the people who will lose out,' he says.
The Manchester lawyers are about to reignite the contentious debate about the imposition of a levy on lawyers to fund access to justice. 'We have been saying for a while lawyers should put their hands in their pockets and give something towards pro bono or law centre type work,' Nicholson says.
There is a long history to this. In 1994, Sir Geoffrey Bindman, as part of a Law Society pro bono working group, tried (in vain) to persuade his colleagues to support a scheme. Michael Gove hinted at co-opting the idea through a compulsory tax in his 'two nation' justice speech last year.
The Manchester Law Centre has written to lawyers asking them to pitch in 0.5% of their monthly earnings through a 'Lawyer Fund Generation Scheme'. This works out as £12,50 a month for lawyers earning £30,000. Back in 2012 Paul im Thurn, a solicitor on the Manchester steering group, proposed adding £25 to the solicitors' practising certificate.
Unsurprisingly, there has already been 'some kickback', as Nicholson puts it, not least from cash-strapped legal aid firms. 'We are going to make clear that this is an interim solution to the problem of a lack of legal aid provision,' he says. We aren't trying to let the government off the hook. It will be alongside a campaign to reinstate legal aid. We will use the money to fund service provision. The money we raise will go directly to advisors, the cots of premises and running sessions.'
---
Slow decline
The demise of the legal not-for-profit sector in the northwest was the result of years of cuts and an unwanted reorganization forced upon beleaguered advice agencies. 'There are 10 districts in Manchester. There used to be nine law centres,' recalls Nicholson. 'There are only are two now left, Bury and Rochdale, and they are struggling against the odds to keep going. The whole of the inner area – so Manchester city, Salford, and Trafford- is a law centre free zone.'
New Labour plans to reconfigure the provision of social welfare law through community legal advice centres marked the beginning of the end. The idea was a national network of CLACs, 'one stop shops' for legal advice, jointly funded by the Legal Services Commission and the local authority.
There was deep cynicism that the scheme was less about the better planning of local services and more about the imposition of a crude tendering process that showed little regard for existing providers or the needs of communities.
'We lost most of the law centres when the community legal advice service came in and the Citizens Advice Bureau won the contract for housing and welfare rights,' Nicholson reports. In Longsight, where South Manchester Law Centre was based and where the barrister lives, the CAB shut down, as did the Pakistani Community Centre, leaving no provision in an area previously well covered.
Nicholson acted for South Manchester Law Centre in its legal challenge of the city council's decision to end funding. 'The Law Centre clung on for four years fighting by judicial review at a national and local level successfully,' he says. It was 'the dead-end contracts' with the Legal Aid Agency that 'proved too much', he added.
'People were forced into these contracts. It became all about filling in the forms, completing matters starts and doing what was needed to fulfill the contracts. Then the contracts were cut and more work was spent complying with the reduced contracts just to keep going before the next round of cuts.'
John Nicholson
'The terrible thing about the contracting culture was that it set people in competition,' Nicholson continues. 'It doesn't matter who wins or loses the contract. Everybody loses. In Manchester, we lost the lot.'
Post-LASPO, that won't be a problem.
Nicholson reckons that the Coalition government agenda is to 'close down buildings'; put information online; and scrap face-to-face advice.
'There are vulnerable people who don't have English as a first language or access to the Internet. They need somebody to help them go through the system,' he says. It might be fine for someone who is 'professional and articulate' to work their way through 'a hedge dispute with a neighbour' with just an online guide. 'But we're talking about housing tenants having a bad deal from the landlords or employees suffering from the sharp practices of their employers. They have the state, the judiciary and popular opinion against them.'
Nicholson is confident of their prospects.  'We are overdue a fight back,' Nicholson says. 'We are going to say openly we need legal aid. Do I rate our chances? Yes. We have to do it.'
Find out more – and support them – here