[contextly_auto_sidebar]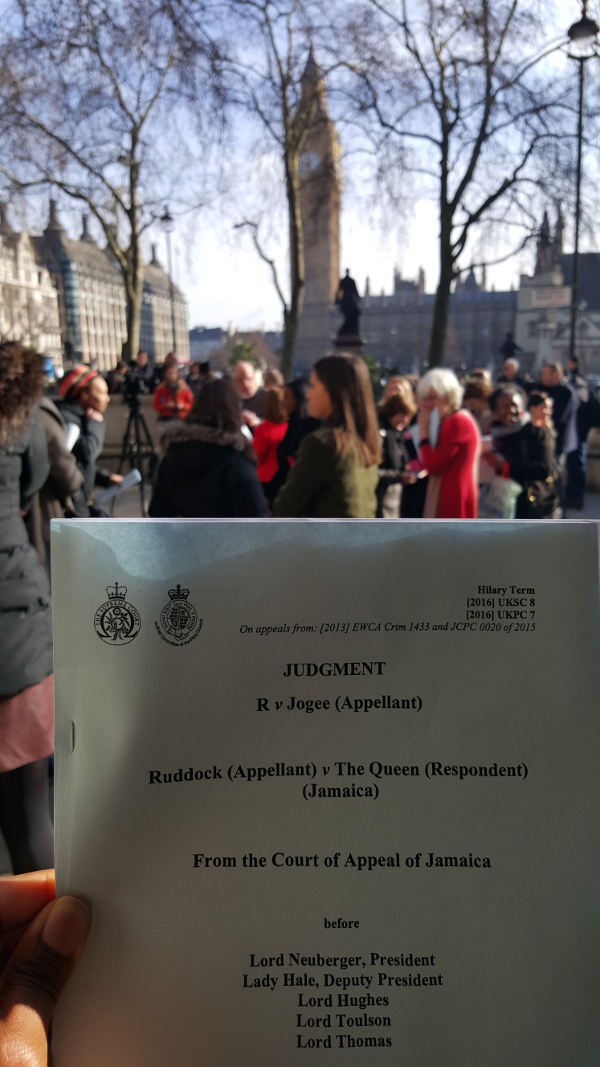 This morning, in Court 1 of the UK Supreme Court (UKSC), Lord Neuberger delivered the long-awaited and much anticipated judgment in the appeal of R v Jogee, which was joined together with a Privy Council decision in R v Ruddock.
In October, in a three-day appeal, the UKSC had heard from 26-year-old Ameen Jogee's legal team who sought to challenge Mr Jogee's conviction for murder under 'joint enterprise' principles.
In 2012, Ameen Jogee had been convicted of the murder of acquaintance Paul Fyfe. Mr Fyfe had been stabbed to death in the hallway of his girlfriend's home in June 2011 by Mr Jogee's friend Mohammed Hirsi. Mr Hirsi pleaded guilty to Mr Fyfe's murder but Mr Jogee, who was outside the property when Mr Hirsi dealt the fatal blow, did not. Nevertheless, both men were found guilty of murder and both sentenced to life imprisonment.
Today's appeal was not solely a matter of interest for Mr Jogee and his family. Over recent years, many families and criminal lawyers up and down the country had begun to voice concerns over the growing number of young people – usually young men from deprived communities and backgrounds – who were being convicted of serious crimes under 'joint enterprise'.
The Jogee family, backed by indefatigable campaigners, Joint Enterprise Not Guilty by Association (JENGbA), and others, managed to convince ITN solicitors and Defence Law solicitors to take up Mr Jogee's case and a series of appeals was lodged culminating in this morning's Supreme Court judgment.
In a ruling instantly hailed by legal commentators for its accessibility and clarity, the Supreme Court justices unanimously decided that Chan Wing-Siu and Powell and English, which had been the previous leading cases on joint enterprise, had "taken a wrong turn" and that Mr Jogee's appeal should be allowed.
In essence, the Supreme Court restored a pre-1984 rule to joint enterprise cases. That rule was, that for someone to be found guilty of a crime, then they either needed to have committed the crime directly or – if they were a secondary party present at the scene – to have "intentionally assisted or encouraged" the crime committed rather than merely having had some "foresight" that the crime might take place. In the court's words: "The correct rule is that foresight is simply evidence (albeit sometimes strong evidence) of intent to assist or encourage, which is the proper mental element for establishing secondary liability."
There were audible gasps from the JENGbA campaigners filling Court 1 of the Supreme Court, as Lord Neuberger read out his judgment. "The law took a wrong turn in 1984 and it is the responsibility of this court to put the law right," he said.
But today's judgment does not kill off the principle of joint enterprise. The Supreme Court justices made it very clear that their ruling "does not affect the law that a person who joins in a crime which any reasonable person would realise involves a risk of harm, and death results, is guilty at least of manslaughter". They continued: "Manslaughter cases can vary in their gravity, but may be very serious and the maximum sentence is life imprisonment."
The Supreme Court also stated that the judgment "does not affect the rule that a person who intentionally encourages or assists the commission of a crime is as guilty as the person who physically commits it".
Finally, the court stated that "it is a commonplace for juries to have to decide what inferences they can properly draw about intention from an accused person's behaviour and what he knew".
As Lord Neuberger finished delivering his judgment and the court rose, the worried expressions of years of pain worn by the families of those convicted under joint enterprise, turned to tears of joy.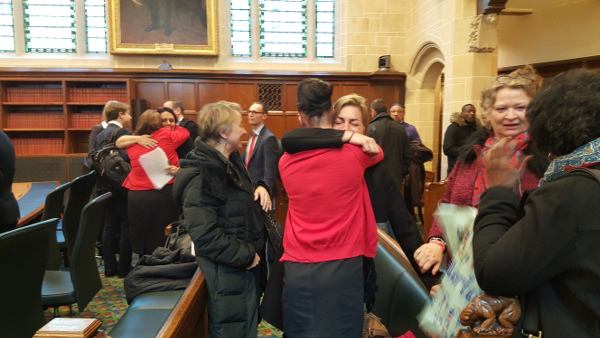 'JENGbA mums' embrace each other in Court 1  after the judgment
"What does this mean for my boy? What does this mean for my Ken?" Jengba campaigner Gloria Morrison cried out.
Noel Williams, who has three cousins in prison, convicted under joint enterprise, spoke for many of those present when he said: "This is an absolutely massive day for everyone involved. We couldn't have asked for anything more. I think it's a massive step for everyone in society."
'No Justice, No Peace!'
Outside the court following the judgment, excitement began to build. "The Court said that the law's been going in the wrong direction since 1984!" one of the JENGbA campaigners told reporters.
"At least this won't happen to anyone else ever again. No one else will have to go through what we've gone through," said Jan Cunfliffe, mother of Jordan, convicted and currently in prison for joint enterprise.
Simon Natas, who acted for JENGbA, told the waiting TV cameras: "It does raise the question about how many people there are currently serving life sentences who frankly should not be in prison and JENGbA will continue to work to seek justice for all those people."
Barristers Felicity Gerry QC and Adam Wagner represented Ameen Jogee. Reacting to the Supreme Court's judgment, Felicity Gerry QC said: "It's very exciting for lawyers, a big change in the law is always exciting for lawyers but for me, it's always been about the mums, all those mums that watched their sons unjustly convicted. I think that now we have a better law that people will be able to understand. It's not about gangs, it's not about people who intend to participate in serious crime. It's about those who are accused of assisting or encouraging or on the periphery and that we make sure that we deal with trials in a fair and balanced way, not just scoop everybody up and send them to prison."
The ruling was welcomed by lawyers working with children and young people. Shauneen Lambe, Director of charity Just for Kids Law, which intervened in the case, said: "In the last 10 years, Just for Kids Law has seen a rapid increase in children being charged and convicted of the gravest of offences, including murder, under the controversial extended principle of joint enterprise, which means that they did not even have to intend an offence to happen to be found guilty of it. This has led to numerous miscarriages of justice – with vulnerable and learning-disabled children locked up for crimes that they did not intend to happen nor were they directly involved in."
A law that targeted young black men
Just for Kids Law's evidence to the Supreme Court against the expanded use of joint enterprise included research by Dr Ben Crewe, from Cambridge University Institute of Criminology, demonstrating the disproportionate way that joint enterprise is used to convict young black men of serious crimes.
A 16-prison study by Dr Crewe of men convicted on the basis of joint enterprise found white prisoners were under-represented, while the percentage of black prisoners was three times higher than in the general prison population.
The study found that 37% of joint enterprise prisoners were black – a figure that is almost three times the proportion of black prisoners in the general prison population (12%).
The same study also found that nearly one in five of those convicted on joint enterprise was 18 or younger when sentenced; And all of them were age 25 or younger.
Race inequality in the Criminal Justice System
Such is the concern about racism in the criminal justice system that, in January, Prime Minister David Cameron asked Labour Member of Parliament David Lammy to lead a new cross-party Commission into race inequality in the British criminal justice system. Reacting to the news of David Lammy's appointment in an article for the Justice Gap, JENGbA campaigner Gloria Morrison called on David Lammy to "tackle joint enterprise as a matter of urgency".
Joint Enterprise consigned to history?
This morning, the Supreme Court didn't consign joint enterprise to history as some, writing on this website, had wanted, but it appeared to begin to provide some of the justice and peace that, before today, many families of young people convicted under joint enterprise thought they would never have.