[contextly_auto_sidebar id="2NbhcEkHba2Nzj4dOpnBUr4TSHvS0xk9″]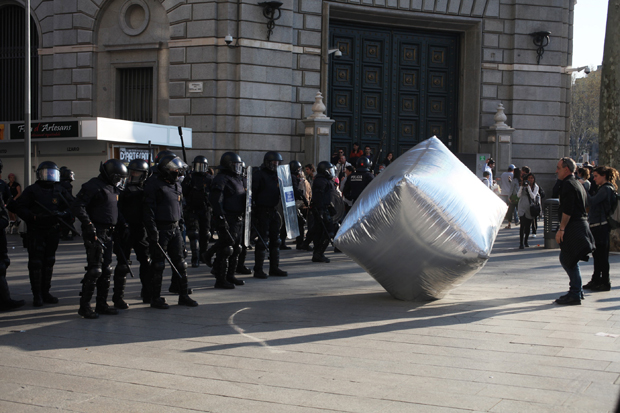 Recently I visited the Disobedient Objects exhibition at the Victoria and Albert Museum, which has just opened and runs until 1 February 2015 . It's a great exhibition, and was packed with people – partly perhaps because it is free, but also because the subject matter and exhibits are so fascinating. As the V&A itself proclaims, it is 'the first exhibition to explore objects of art and design from around the world that have been created by grassroots social movements as tools of social change'.
Many of the exhibits are on loan from activist groups around the world, and will be returned to them after the exhibition. The exhibits include banners, such as one from the Greenham Common Peace camp, the giant inflatable cobblestones thrown at demonstrations in Barcelona (pictured) and a data-visualisation mapping of all protests since 1979, as well as various pamphlets and documents that celebrate 'creative disobedience'. Perhaps playfully, some 'how to' guides are given away for free, and available to download, including how to make a Book Bloc Shield and a Makeshift Tear Gas mask – the latter something perhaps more effective than the lemons depicted on the front of The Stone Roses album that I blogged about earlier in the year.
One arresting aspect of the exhibition is the badges and t-shirts on display. As someone who avidly collected badges in the 1970s and 1980s – largely ones attached to record labels such as Postcard and Factory – and later many political badges, these were especially interesting.  These included a series of anti-apartheid badges, ACT UP badges and, intriguingly, and as a great idea that appealed to my own aesthetic approach, a badge fashioned out of a 'moc rezystor'. This was a power resistor, taken out of a radio in 1980s Poland and pinned to your lapel in a more subtle and oblique show of  'solidarity' with the Polish Solidarnosc movement. For me it's a poignant metaphor that reminds me of John Peel playing Joy Division's New Dawn Fades, as part of his Festive Fifty in 1981, with many of the votes coming from Poland where martial law had recently been imposed.  A version of New Dawn Fades, taken from the film Control, can be seen here.
Within sport the issue of protest, and wearing badges or making other shows of a political nature, are seen as problematic. The same week that Disobedient Objects opened,  the England cricketer Moeen Ali was prevented by the International Cricket Council (ICC) from wearing wristbands proclaiming 'Save Gaza' and 'Free Palestine', notwithstanding the fact that he had previously been cleared to wear them by the domestic body, the England and Wales Cricket Board (ECB). The ICC statement, as reported in The Guardian, decreed:
'The ICC equipment and clothing regulations do not permit the display of messages that relate to political, religious or racial activities or causes during an international match. Moeen Ali was told by the match referee that while he is free to express his views on such causes away from the cricket field, he is not permitted to wear the wristbands on the field of play and warned not to wear the bands again during an international match'
These sort of restrictions are of course not new or unique, and are common across various sports and events. During Sochi there was even an instance of the use of black armbands being  vetoed, even though no overt political statement was being made. More sensibly, during the Commonwealth Games in Glasgow, officials and competitors from the Malaysian team were allowed to wear black armbands in memory of the Malaysian Airlines crash. Interestingly, and I am indebted to my colleague Professor Mark James for this point, sport is unique in that Ali's wristbands, or a pro-Malvinas banner displayed by Argentina at a World Cup match, are banned in a sporting context notwithstanding that they would be  lawful, and even protected as free speech, in any other context.
Elsewhere at the Commonwealth Games, the restrictions on what activities can take place, and what items are prohibited from venues, has been more pronounced. In particular, visitors to the Glasgow Green 'live site' (essentially these lives sites, or live zones, are an extension of event venues and might also be described as fan parks – something that is becoming more and more prevalent at such events) have apparently been asked to remove their 'Yes' badges, proclaiming their support for Scottish independence in the upcoming referendum.  This seems a bizarre extension of the regulations, especially given that this was in one of the live zones rather than a formal venue where the sporting activity was taking place – although the Commonwealth Games regulations were carefully crafted to capture these spaces too. This is emblematic of what might be termed the privatisation of public space, a contentious development that has been seen in the Royal Parks in London and elsewhere.
Indeed, this very notion of privatisation was noted by Kelvin Holdsworth, Provost of St Mary's Cathedral, Glasgow is his blog when he noted the extensive restrictions on what you could take into Glasgow Green for the duration of the Games. He also stressed the irony of the fact that, notwithstanding  a rich history of dissidence and protest that had taken place there,  many forms of freedom of expression were now being curtailed, and resulted in a members of the public being asked to remove or cover up a badge with the word 'yes' on it in order to gain entry to what is normally a public space.  A badge is evidently a dangerous weapon, although as the mighty Billy Bragg said back in 1985, perhaps not enough as 'Wearing badges is not enough, in days like these'.
Follow Guy on Twitter @prof_guy_osborn