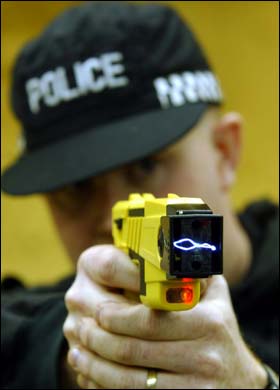 Police forces must avoid 'mission creep' over their deployment of Tasers following a 200% increase in use over the last four years, warned the Independent Police Complaints Commission (IPCC) in a report published today. The watchdog considered all complaints made regarding the weapon between 2004 and 2013.
IPCC commissioner Cindy Butts called for each use of a Taser to be 'robustly justified' so as to to avoid 'mission-creep' and using Tasers simply because they were available rather than necessary.
Over the last four years the use of Taser grown from 3,128 in 2009 to 10,380 in 2013 which was an increase of 232% – complaints had shot up by 211% over the same period (from 44 to 137 complaints). Since 2004, 434 complaints had been made to the IPCC and over three-quarters (78%) were subject to investigation.As of 2009, police forces have been required to refer all complaints regarding Taser use to the IPCC.
You can watch Shocking Britain' a documentary made by Matt Spencer for www.thejusticegap.com
You can download the report here (PDF)
From 2004, all firearms officers were able to use Tasers; in 2007, officers were given the right to use Tasers in incidents where use of firearms was not authorised; the following year, 'specially trained units' in 10 police forces were allowed to use Tasers; and in 2010 additional finance was provided by the Home Secretary to purchase the weapon.
The IPCC expressed concerns about what is known as 'drive-stun mode', a form of 'pain compliance' used in situations where officers struggle to restrain a person. In a number of its investigations, the person was not restrained which led to repeated use of Taser. The watchdog questioned how a situation escalated to one in which the Taser became the only viable option.
'The IPCC has major concerns about the use of Tasers in drive-stun mode, where the Taser is applied directly to the body without a cartridge rather than fired from a distance. When used in this way it was 'purely a means of pain compliance', he said. 'Yet in several of the cases we reviewed, where it was used for the purpose of gaining compliance, it had the opposite effect, stimulating further resistance.'
IPCC commissioner James Dipple-Johnstone
Also of concern was the use of Taser in custody. The IPPC questioned whether such use was ever justified given the controlled environment.
In the words of the IPCC, there was a 'mismatch' between the police and public perception of Taser use. Police officers commonly reasoned they used Taser as it was one of the lowest forms of force available to them and it was deployed to avoid more serious injury. The ability to use Taser without any contact was central to their reasoning. Where as the public  regarded Taser use in itself was a high level use of force.
IPCC made the following recommendations:
stronger and clearer guidance on the use of Taser in custody, where the IPCC believes it should only be used in the most exceptional circumstances
wider safety training for non-Taser equipped officers working with Taser-trained officers
robust monitoring of Taser use by local forces to ensure it is not being used too readily or too often by particular officers or teams
ensuring the selection process for Taser-trained officers and subsequent supervision is robust