A man died over the weekend after being Tasered by the police and falling into the Thames from from Chelsea Bridge. Officers had been called following reports that the 41 year old was armed with a screwdriver shortly after 9AM on Saturday morning. The Daily Mail reported that the man, Oladeji Adeyemi Omishore, had a history of mental health issues.
According to the police watchdog, the Independent Office for Police Conduct, which is currently appealing for witnesses, a Taser was deployed by one of the officers and the man had to be rescued from the water after the arrival of a Royal National Lifeboat Institution vessel and taken to Lambeth pier where first aid was given by ambulance staff. He was taken to hospital but died on Saturday evening.
After we were notified by the MPS on Saturday we sent investigators to the scene and to the police post incident procedure to begin gathering information.
IOPC Regional Director Sal Naseem said: 'We have an independent investigation under way, which is looking at the interaction between officers and the man on the bridge. While we have footage we would appeal to people to get in touch with us without delay if they saw or recorded any part of the incident, either on the bridge, after the man came to be in the water, or at Lambeth pier when the man was taken there.'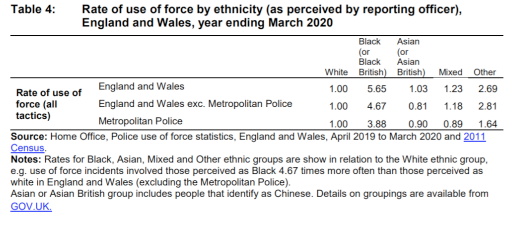 The use of Tasers by the police has increased significantly last year – CEDs (conducted energy device – i.e., Tasers) were used in 32,000 incidents, a 37% increase on the previous year, although not discharged in the vast majority of those cases (86%). There have been a series of controversies involving Tasers – for example, earlier this year the IOPC found that a Met Police officer who tasered a 10-year-old girl should face gross misconduct proceedings. The girl had been said to have been threatening a woman with garden shears and a hammer.
As horrific cases like this demonstrate, the use of Tasers often unnecessarily escalate situations.

Too often we see officers reaching for these dangerous weapons, with devastating consequences.https://t.co/KfYldeTMj3

— Liberty (@libertyhq) June 6, 2022
The police are five times more likely to use force on black people in England and Wales as reported on the Justice Gap. Tasers were first trialled in 2003 and rolled out to all 43 police forces in 2013.