INTERVIEW: The media needs to 'live up to its responsibility' and re-engage with the difficult subject of miscarriages of justice, argues investigative journalist Louise Shorter. As her new series Wrongly Accused begins this week on CBS Reality exploring some of the most biggest scandals  in British criminal history, Shorter – founder of Inside Justice and former producer on the BBC's Rough Justice – talks to Beatrice Yahia.
Barri White did not have time to mourn when he was charged with the murder of his girlfriend, Rachel Manning, just two days after she vanished in 2000. He was convicted for her murder in 2002 along with Keith Hyatt. The convictions were largely based on forensic evidence that was later identified as untested and inaccurate.
Six years into a life sentence, and as a result of evidence unearthed by BBC's Rough Justice, both convictions were quashed in 2007; they were acquitted at a retrial the following year.
Shorter worked on White's case for three years at Rough Justice and his story kicks off her new series. She vividly recalls how the case found its way to her desk: 'I received a letter from this prisoner maintaining his innocence. So I travelled to Milton Keyes expecting to meet one or two family members… but instead there were loads of people waiting for me, I couldn't believe it. They were all so committed to believing their innocence, and so our investigation began.'
The BBC series was credited with contributing to the establishment of the Criminal Cases Review Commission, the public body responsible for reviewing possible miscarriages of justice. Falling victim to budget cuts, the series was axed in 2007. The day White and Hyatt were acquitted was the very same day that the National Audit office revealed the BBC had overpaid almost £2m to its highest earners.
Was Rough Justice's cancellation part of an already existing motion in terms of media detachment from miscarriages of justice?
'The media was absolutely already disengaging with miscarriages of justice,' Shorter says; arguing the media should be playing 'a more active role' and that it needs to 'live up to its responsibility'.
The concept of a programme investigating miscarriages of justice was not new: the Court of Last Resort was first broadcast in the US in 1957,  ITV's World in Action had a wider remit and Channel Four's Trial & Error began in 1992. 'They all eventually dropped off, either formally axed or just a switch of their brief. It's a shame our media has fallen out of love with doing these types of programmes… the likes of which can, very often, do more than lawyers can, even if legal aid is available.'
Do we need to revive Rough Justice? Is it part of the public service remit of national broadcasters and indeed national newspapers to take a critical view of the justice system?
Shorter believes that 'a public sector broadcaster is absolutely the right home' for these programmes. 'A wrongful conviction is about that individual's plight, their family and their community but it's also about the safety of our criminal justice system; the wider ramifications which affect us all,' she says.
The journalist frequently receives approaches from production companies with proposals but, as she explains, 'they want a live investigation and an outcome at the Court of Appeal all within six months. It just doesn't work in that way.' Cases often take years or decades to investigate. 'Casework goes at a glacial pace and being able to access evidence is phenomenally difficult,' she says. 'I think the public would be astonished as to the difficulties and complexities of our legal system.'
---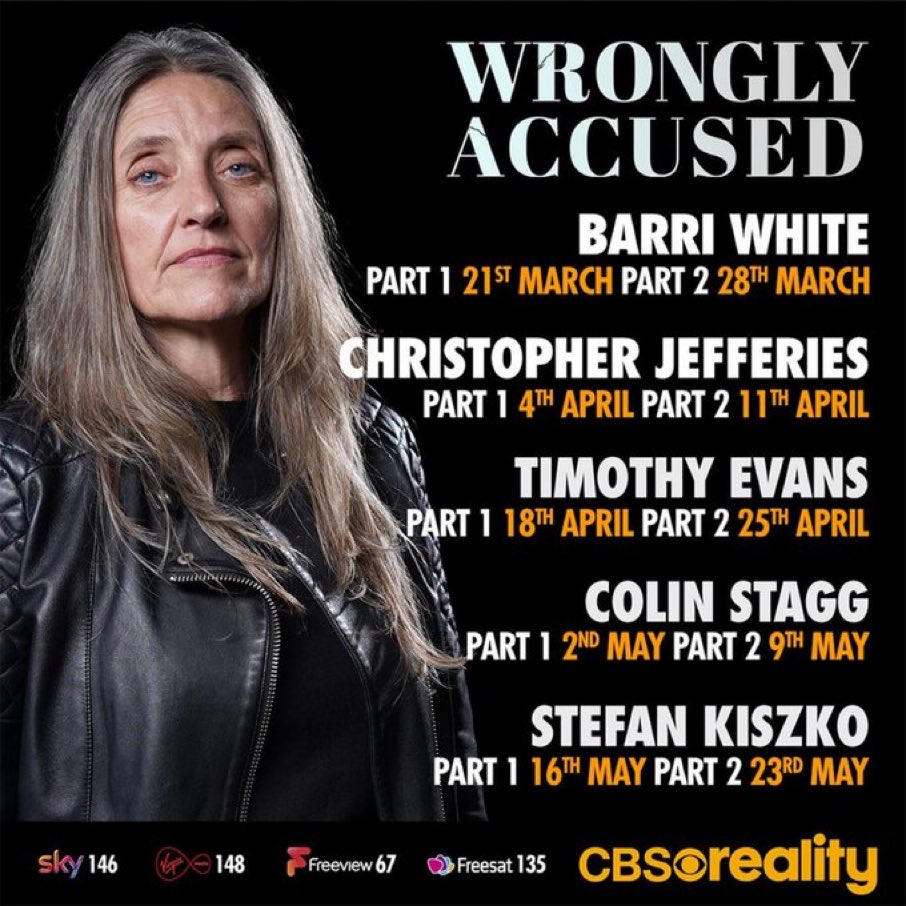 Often the media seem to burst over complexities in pursuit of a 'feel good' story about uncomplicated people or cases. Is that  a challenge?
The sense of 'trivialisation' within mainstream media when reporting miscarriage of justice cases isn't something new either, claims Shorter. 'When I started at Rough Justice, there were conversations of how the ideal prisoner was squeaky clean, no previous convictions, looks presentable and someone the public would feel sorry for.' The demand for 'light and fluffy' stories with quick turnarounds was present even back in the 90s, she points out.
So, what is Shorter's vision for a modern true crime programme?
'If I had my way, I would make a programme just like Rough Justice. Our remit would be clear and I'd ensure the people involved all have the skills required with an understanding of the legal framework.'
What about the huge popularity of true crime podcasts. Shorter flags up Serial, the award-winning American investigative journalism podcast with a global audience. 'Human beings have always loved crime, from witnessing hangings to watching true crime shows, there's always been a fascination. That's why Serial is so successful'.
She point out that not only there is no equivalent on this side of the Atlantic but there is a general lack of the kind media engagement with the issues found in America. However, she praises an episode of Tortoise Media's 'Slow News' podcast called 'Wronged'. Aired last month, the story of Patryk Pachecka and Grzegorz Szal's joint enterprise murder convictions and their later acquittals with the help of Shorter and Inside Justice.
How do you feel about the hurdles faced by those investigating miscarriages of justice? Are things getting worse?
Shorter says:'If I was investigating the Barri White case now, I would not be allowed to do any of the work which I was allowed to do at the time which led to getting the convictions quashed. I could meet him and obtain a DNA sample so we could do new testing. I don't think you would stand a chance these days at accessing a prisoner and hearing their concerns, let alone take forensic samples from them.'
Access to transcripts, documents, exhibits and forensic files is near impossible too, she adds.
Shorter is quick to place the blame with the police: 'Everybody but the police agree they should give disclosure where appropriate, but there is a complete misunderstanding within the force as to what the Nunn judgment says.'  The Supreme Court ruling in 2012 means that post-conviction disclosure is only required where there is a real prospect that a further enquiry will uncover something which may affect the safety of the conviction.
Shorter explains the perpetual cycle this causes; how can you prove the disclosure will uncover something beneficial without knowing the contents of the disclosure?
Issues with evidence storage mean that even if disclosure is granted, physically obtaining the evidence is another story. 'We have a statutory framework which says police forces should be keeping evidence for the duration of the sentence, but there's a lot of evidence to demonstrate that that isn't happening,' she says. 'Ultimately, if material is not disclosed, or gets lost, then appeals cannot be carried out.'
The impact of the legal aid funding cuts cannot be overstated too, not only in relation its role in investigating miscarriages of justice, but also arguably its role in allowing miscarriages of justice to occur in the first place.
'There's a storm brewing in our criminal justice system. We're just constantly losing faith. We look back to the 1980s with the Birmingham Six and the Guildford Four, and it's only a matter of time until we're back at that stage'
Louise Shorter
'Wrongly Accused': Why should the public be interested in these old cases? What – if anything – do they say about the kind of system issues that are problematic in our justice system, and either create or conceal miscarriages of justices?
On her new show 'Wrongly Accused', viewers are given an insight into the workings of our justice system – including the disastrous consequences when it all goes wrong. The series reflects on some of the greatest miscarriages of justice within British criminal history. She hopes that examining these cases will prevent them from happening again.
She notes the double-edged sword of forensic science as a key feature in the series. 'Law likes finality, there's a trial and that's the end of it. But science is all about developing knowledge. If the law thinks something has gone wrong it creaks and gets scared the floodgates will open, but science embraces mistakes and uses it to develop.'
Shorter continues: 'As jury members, we think DNA evidence is solid and it means the person is guilty – that's simply not the case. Science is in our courts every single day, so by understanding how science went wrong in these old cases, it's a warning to all of us that it could happen again.'
---
Watch Louise Shorter's new series Wrongly Accused starting on CBS Reality this week.