In an interview with www.thejusticegap.com, the national lead for the police force on armed policing, raised the prospect of every officer being kitted out with a Taser weapon. 'If you talk to the average police officer on the ground they will say: "We want all to be issued with Taser for our own protection, and to protect the public",' said Simon Chesterman, deputy chief constable of West Mercia Police.
'Shocking Britain' is a documentary made by Matt Spencer for www.thejusticegap.com
Pics from Flickr, under Creative Comms (Trojan631)
As of last year, there were 14,700 officers trained to use Taser in the UK – see Alastair Logan OBE (Tasers: the 'non-lethal' weapon reckoned to have caused more than 500 deaths). As Andy Harding, the Association of Chief Police Officers' lead on Tasers, pointed out in the documentary, eight out of 10 times a Taser is 'used' it brings a resolution to a situation without the need for the device being fired.
During a Taser refresher course with the London Metropolitan Police (filmed exclusively for the www.thejusticegap.com), constable Phil Munt said: 'There's been a couple of situations where if we didn't have Taser the person we were dealing with would have probably been CS'd or batoned. Having the Taser meant that nobody had to touch them. We could deal with it at a safe distance, and nobody got hurt.'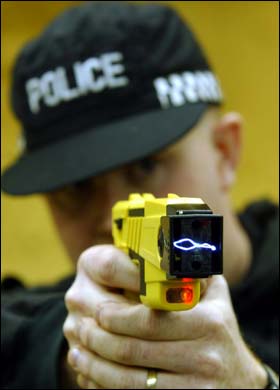 Taser: a non-lethal weapon?
However US reports, where Taser is much more readily available to police officers, show that there have been over 500 Taser-related deaths – nine out of 10 of those involved situations where the person being Tasered was either not armed or did not pose a life threatening situation. In the UK, there have been 10 such Taser-related deaths, seven of which have been investigated by the IPCC and found no direct link that Taser was the cause of death.
UK cases include 10 deaths which have occurred in the aftermath of the victim being tasered, the latest one being a man in Plymouth who was tasered after police had been called because he was about to commit suicide by setting himself alight. The use of the taser ignited the petrol he had poured over himself.
Alastair Logan
'It would be impossible for anybody to turn round and say that Taser is 100% safe,' said Andy Harding. 'The reason being that when we're using force there is no such thing as a 100% safe option, all options that we have carry some form of risk.'
Amnesty UK accepts the benefits of using Taser in situations where there is an imminent threat to life. However the human rights group's policing and arms control expert, Olly Sprague cites the case of Colin Farmer, a blind man who was tasered on suspicion of carrying a Samurai sword which was later found to be his white stick.
'If the Taser is used at that high level of threshold then the officer can always justify it,' Sprague says. 'When it becomes more tricky is when it is used lower down on the threshold of serious injury and then it becomes more of a compliance issue.'
'Unfortunately because Taser is an electroshock weapon – it leaves few physical marks – and because it inflicts severe pain at the flick of a switch, it can be misused as a tool for pain compliance and it is utterly wrong.'
Olly Sprague, Amnesty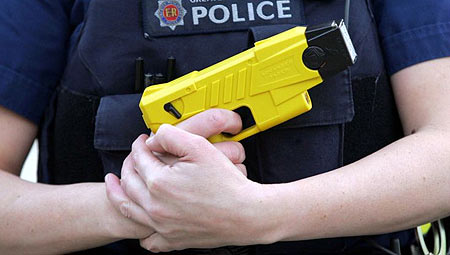 What next?
Currently being looked into by the Association of Chief Police Officers are two new models of Taser: the X2 and the X26p. The latter being the same size, weight and style as the current X26c model used in the UK. The difference being that the X26p has an increased memory/recording system which should make officers using Taser more accountable for their actions.
The X2 has two cartridges aimed to deal with the perceived difficulties of using the present model – in particular, slow and complicated reloads. 'The opportunity to fire it twice is reasonably attractive, but we're just looking at the technology now to see if it's fit for purpose,' commented Simon Chesterman.
The X26p was the favoured choice at London Met's training course because it was hoped that increases in information recorded would cut down on having to rely upon officers' own note-taking.
The fact that the X2 can fire two cartridges will cause concern. 'In the end, it comes down to how these weapons are going to be used,' Amnesty's Olly Sprague said. 'We are concerned that the justification for Taser, the rules that say when you can and when you can't use Taser, are not sufficiently clear.'
As the Met's Andy Harding put it: 'I couldn't tell you here and now that there is a set criteria for officers to get to before they actually pull the Taser out, it is down to the individual to justify how they have done it.'