The Rotherham 12: A tale of 12 Pakistani Men fighting institutional racism
You can be forgiven if you thought the reference to 12 Pakistani men from Rotherham related to a trial involving allegations of child sexual exploitation. It's an easy mistake to make because the small Yorkshire market town and its Muslim community have become synonymous with child abuse.
Following the report by Professor Jay, the current chair of the national Child Sexual Abuse inquiry, which highlighted that 1,400 young, predominantly, white girls had been sexually abused by men of mainly Pakistani heritage, the town has been in national and international headlines, as well as being becoming a hot bed for far-right racists.
All 12 men had been charged with violent disorder after they defended themselves against a group of far-right racists. The case against the last two defendants collapsed last week at Sheffield Crown Court. It has been two years of hell for these individuals and their families for charges that, in my view, should never have been brought not least because the prosecution made clear in their opening that the far-right group started the violence.
In August 2015, Muhsin Ahmed an 81-year-old grandfather was murdered in a racially motivated attack. This was the culmination of months of hostility and intimidation of the local Muslim community which saw 14 far-right marches through the town, people being subjected to vile abuse on the street, bomb threats sent to the mosques, vandalising of Muslim-owned businesses, and innocent taxi drivers put into hospital.
In response to the racist murder the local community decided to hold a vigil in the victim's memory. This was a coming together of people from all segments of the town. The racist group Britain First (whose deputy leader was re-tweeted by the leader of the free world, President Trump) decided to hold a march in the town on the same day.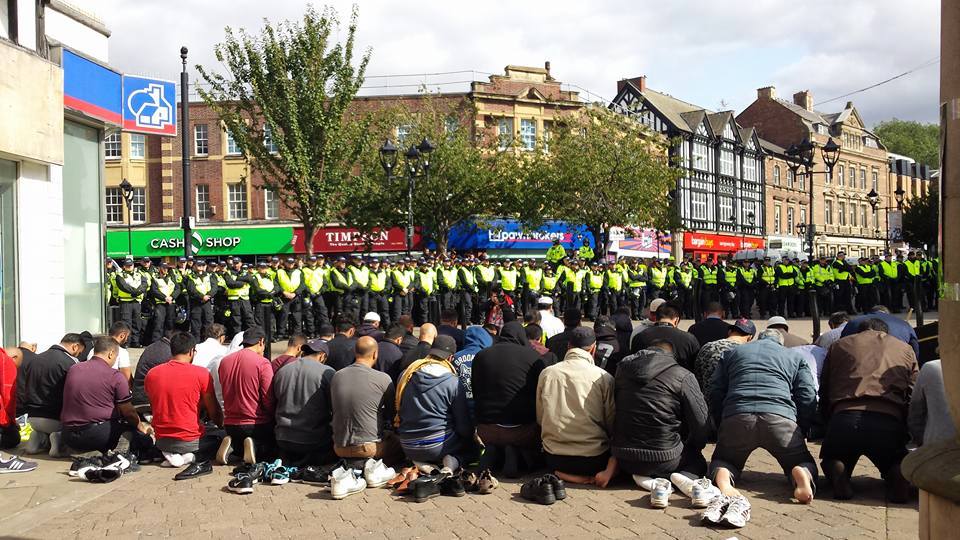 A show of defiance
This vigil was the first time the Muslim community had come out in a show of defiance against the racist onslaught that they had been suffering under. There were counter-protests on each of the previous 14 occasions but the Muslim community, on the advice of the Mosques and 'community leaders' in conjunction with the police, stayed away.
As someone who attended some of meetings with South Yorkshire Police in the lead up to the vigil, it was noticeable that they did not want the Muslim community to come out on this occasion either.
But the murder really was the final straw. The decision to allow the local community to gather in the heart of the town center was taken at 5PM the night before, after a highly-charged meeting between members of the Muslim community and the borough commander.
On the day there was something unnerving about the attitude of the police who attended. As we gathered in the square we were charged at with police horses and attacked with batons for no apparent reason. We were kettled for around 4 hours with no one allowed to leave, this included many elderly individuals. Because we were not allowed to leave, people were forced to hold the afternoon prayer in congregation in the square, surrounded by heavily armed police officers. It was almost as though the police were trying to goad us into reacting.
Eventually, when we were dispersed we were directed passed a pub which was locally known as haunt for racists and, low and behold, a group of racist demonstrators began attacking us with bricks, bottles and anything else they could find.
How these men ended up at this pub is a mystery when they should have been at the other side of town? The number of officers on duty that day outnumbered all the protestors by a ratio of 2:1, but it took them almost 10 minutes to arrive, although they were stationed a few hundred yards away. Call me cynical, but the decision to make us walk that route did not smell right.
The 12 men put themselves between those hooligans and people like myself and protected us. Rather than being honoured for their bravery and valour, they were rewarded with raids at the crack of dawn by dozens of officers attending each property, as though they were part of a terrorist cell.
The oldest of the 12 was aged 47 and the youngest 18. Most of these individuals had never met each other before. However in the weeks and months that followed they travelled on journey together that exposed them to elements they could never have imagined, and will no doubt live with them forever.
Politically motivated
We felt, though we couldn't prove it, that the charges these men were facing were racially and politically motivated. As a community we knew we had to do something, but we didn't quite know what to do. It started of with a total boycott of engagement and dialogue with South Yorkshire Police by the Muslim community in Rotherham. Then, with the help of a few trade unionists and anti-racist campaigners we launched the 'Rotherham 12 Defence Campaign' and roped in the help of hard-working solicitor Matt Foot. We contacted veterans of the anti-racist struggle including Suresh Grover of The Monitoring Group, who rolled up his sleeves after decades of fighting racism not just on the streets but the kind of institutional racism exposed in the aftermath of the murder of Stephen Lawrence. Suresh was able to call upon solicitor Imran Khan as well as the indefatigable Michael Mansfield QC (who knew all aboutSouth Yorkshire police representing the families at the Hillsborough Inquest).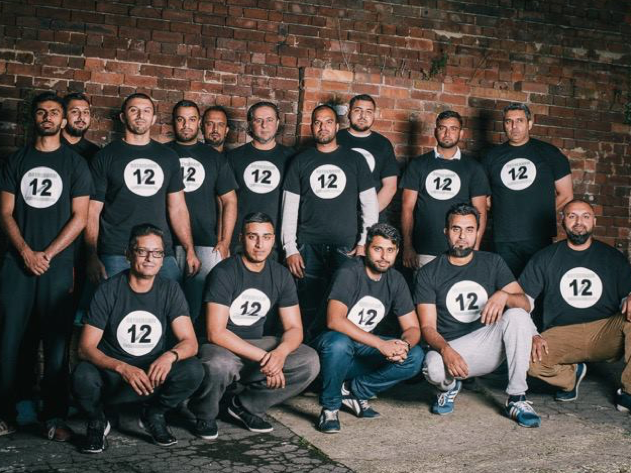 We set off on the path to achieve justice for these 12 innocent men. We went from city to city, community hall to community hall. We spoke to a room of five people through to a conference hall of 3,000 people. With every individual coming onboard it gave new life to our struggle. Campaigners from the Hillsborough campaign walked with us. We stood side by side with the Orgreave Truth and Justice campaign. We managed to galvanise the South Asian community to come out of its shell and call out racism in our institutions.
It wasn't all plain sailing though. We received a barrage of abuse from far-right groups. Fascists rang my parents' home and threatened to kill me and other key members of the campaign. The idea of the Muslim community in Rotherham asking for justice after some of their number had abused 1,400 girls and 'got away' with it, was beyond comprehension for some. We were always expecting this.
What we did not expect was ridicule and derision from the political class. The official line was that they could not get involved in a live investigation, even though we made it explicitly clear that that was not what we were asking for. However, this claim rang a little hollow when the same politicians were vociferously calling for the victims of sexual abuse to get justice (quite rightly so), and there were live trials pending in relation to them. We had one local politician attend one of our meetings and the individual made it clear that they did not want to be photographed because there could be repercussions. One of our key campaign activists had been selected as a Labour candidate in the up-coming council elections, but was removed from the position and a rather opaque explanation provided. We asked for a motion of support for our campaign to be passed by the local constituency but the regional Labour Party stepped in and prevented the motion being debated.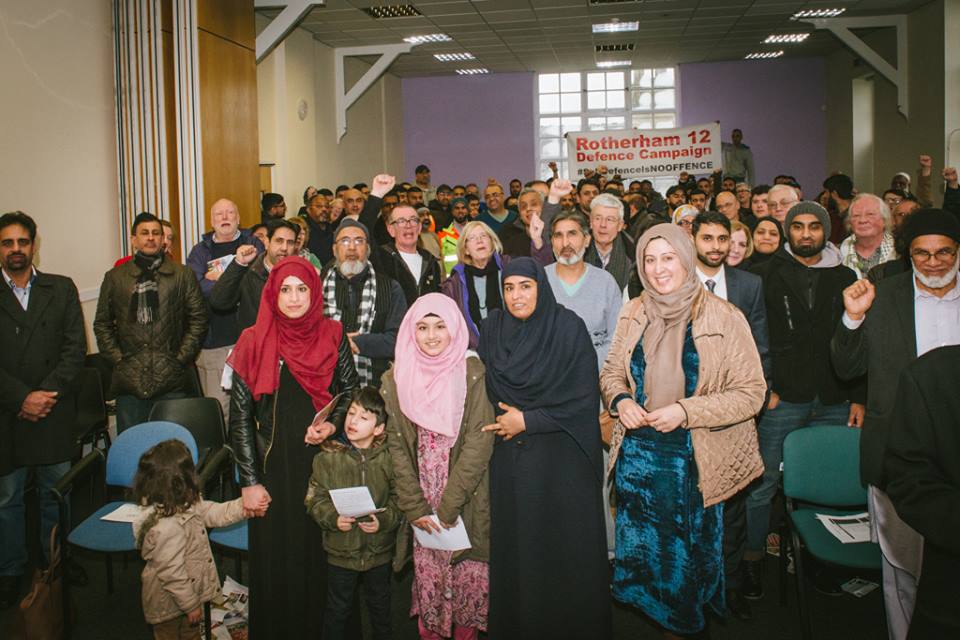 This ridicule entrenched in our minds that something more sinister was at play. Call it extreme, but it seemed as though the local establishment wanted to make an example of these men. To show the people of the Rotherham that they were getting 'tough' on the Muslim community after their rape and abuse of young white girls.
At least that's how it feels when – after 14 far-right violent demonstrations and scuffles with the police (many of them worse than the one which happened in this case), as well as attacking local businesses, mosques and other property – not a single violent disorder charge was brought against the racist marchers. But the one time the local Muslim community came out to attend the vigil, and they are attacked by the far-right, 12 of them end up getting charged. The double standards at play here were obvious for all to see.
Despite all the hostility we stood firm, and carried on going inspired by past stories about marchers on Cable Street, a bridge in Selma, and a dilapidated cell on Robin Island. Ten of 12 defendants went on trial in October 2016 and were unanimously acquitted by the jury. The other two vacated their original guilty pleas after the first trial, and had the case against them dropped following further material being disclosed, last week. 7 of the racists were charged and 4 of them were found guilty after trial, and given lengthy custodial sentence.
Even now after the defendants have been exonerated and the campaign vindicated, not one of the people who previously shunned us, has approached us to hear our concerns.
It's like it all never happened.
A nasty taste
No concern shown about why 12 men were on almost sent to prison for something they never did. But as members of the Pakistani Muslim community we should shouldn't expect anything else. Only this week our local MP, Sarah Champion was on Channel 4 News talking to presenter Cathy Newman discussing the Rotherham child abuse scandal.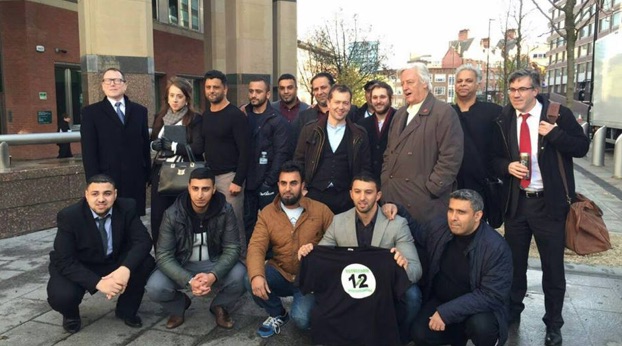 She claimed that she believes there is still 'nervousness' when talking about the race of the perpetrators.  Well, only a few month ago Sarah wrote a piece for The Sun. Its headline read: "British Pakistani men ARE raping and exploiting white girls…it's time we faced up to it."
Yes, that's me, the 12 defendants, my father, brothers, friends and neighbours all tarred with the same brush. Apparently, we are all sadistic rapists on the hunt for young white girls. If this is what people say when they feel nervous, I dread to imagine what they say when they can speak comfortably without any worries.
On a side note, it is important to recognise just how valuable having such committed and dedicated lawyers was. All that the campaign achieved, without the lawyers seeing it through in court, would have counted for nothing. To a certain extent we saw this when two of the defendants acting on advice they received pleaded guilty. This case demonstrates just how important legal aid is in preventing miscarriages of justice. It was standing up in the face of injustice that made me pursue a career as a barrister; so when we stand up and take action against the destruction of legal aid, its not about our personal remuneration, but about people like these 12 men. Without such a safety net it's very likely that these men would be sitting in a prison cell right now.
We may have got the outcome we wanted but it should never have come to this. The acquittal of these men raises more questions than the answers it provides. There is something about the case and the approach of South Yorkshire Police that leaves a really nasty lingering taste.
You may be thinking that I am indulging in some sort of conspiratorial nonsense but things just don't add up. South Yorkshire Police has form. As a campaign we are not going to stop until we establish what the real motivation behind this attempted prosecution was, because if we know one thing, it had nothing to do with justice.
This article was first published on February 23, 2018