Proof magazine, issue 3 launch: #legalaid matters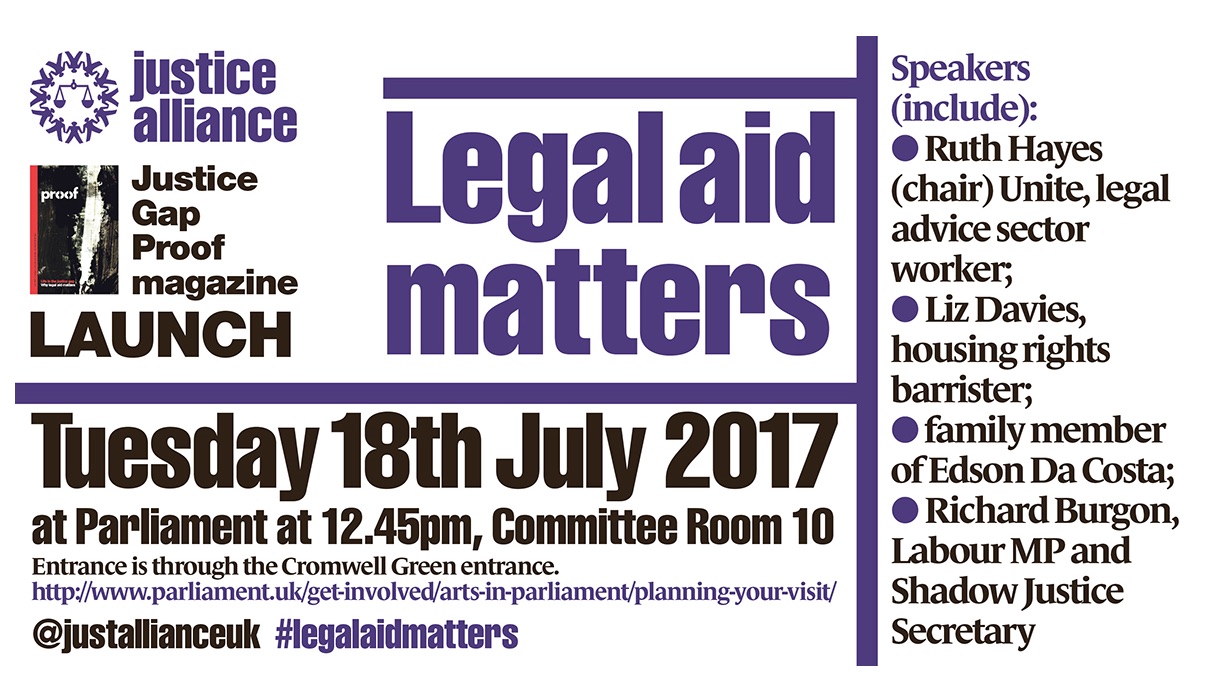 Join us at the launch of Proof magazine, issue 3 – at the House of Commons, Tuesday July 18
---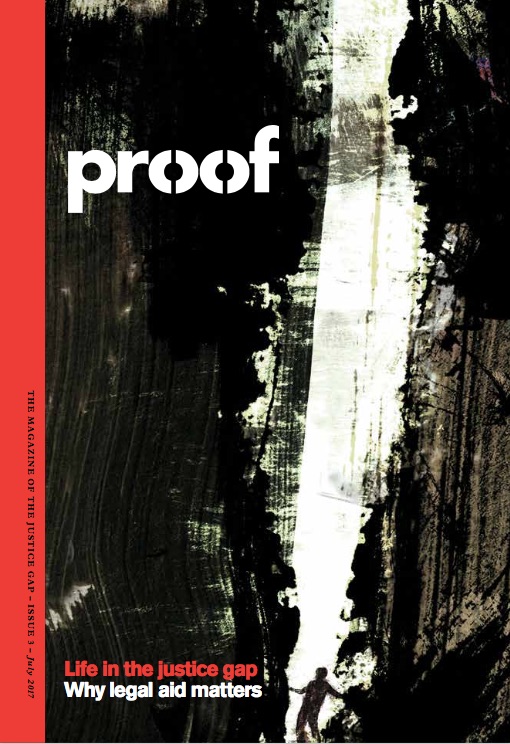 A time to rethink
From the introduction of Proof, issue three – Life in the Justice Gap: legal aid matters – by co-editors Matt Foot, Rhona Friedman and Jon Robins
---
'I genuinely believe "access to justice" is the hallmark of a civilised society.' It was with those rousing words that Ken Clarke, as Lord Chancellor, introduced the Coalition government's legal aid reforms back in 2010.
Now more than four years after the implementation of the Legal Aid Sentencing and Punishment of Offenders Act 2012, it seems a good time to survey the scene.
The impact of the 2013 legal aid cuts has been even more devastating than first feared. Whilst the government celebrated Magna Carta, LASPO became the charter for the bullying employer, the Rachman landlord and violent partner, who could act knowing their victim was denied access to legal help.
The human consequences of those cuts is the subject of this issue of Proof magazine.The Justice Gap, an online magazine about the law and justice, was launched as LASPO was going through Parliament.
Then in 2012 things got even worse – Chris Grayling was made Justice Secretary. He removed access yet further for prisoners and asylum seekers, and sought to decimate any quality in criminal legal defence. The Justice Alliance sprang into life to protect vulnerable defendants from yet more cuts and to campaign against the erosion of justice wrought by LASPO.The campaign recognised an urgent need to reframe the debate and seek common cause with the broadest constituency of concern, those who use and need legal aid, lawyers and workers in the justice system, grass root organisations and campaigners.
After court cases and a three-year campaign many of Grayling's 'reforms' have been reversed.There are serious battles ahead. As a nation, we instinctively 'get' schools and hospitals and their place in the welfare state. By contrast, the issues around 'access to justice' can seem technical and abstract and propelled by professional self-interest. In the same way that protections afforded by human rights have been the subject of concerted vilification, the public perception of legal aid has been skewed by a focus on recipients of legal aid who can be easily monstered by the tabloid press.
Is there now an opportunity for a reinvigorated restatement of access to justice as an essential public good? It seems that for electoral reasons the seven year austerity project has run its course with people unwilling to vote for the dire consequences of continued underfunding of health and education.
We urgently need a recognition of the equally parlous state of a justice system that forces the 'just about managing' to beg and borrow to pay for legal help or else navigate the system on their own.
MPs are well aware of the effects of the evisceration of our system of publicly funded law. Constituency surgeries are deluged with people struggling without legal help to challenge wrongs and enforce their rights. Utter despair is the result.
In a changing political landscape, it is the right time to rethink our approach to legal aid and access to justice with a new commitment to a justice system fit for all not just those with the ability to pay.
YOU CAN ORDER PROOF

HERE
---
ISSUE 3
100 pages
Editor: Jon Robins
Commissioning editors: Matt Foot, Rhona Friedman
Deputy editor: Will Bordell
Art director: Andrew Stocks
Illustrations: Simon Pemberton
Crowdfunding campaign: Miranda Grell
Publisher: Justice Gap
Issue 3 was co-produced with the Justice Alliance. It was funded through a crowdfunding campaign on the CrowdJustice site (here). Thanks to all who supported us.
---
CONTENTS
Part 1: Reports from the frontline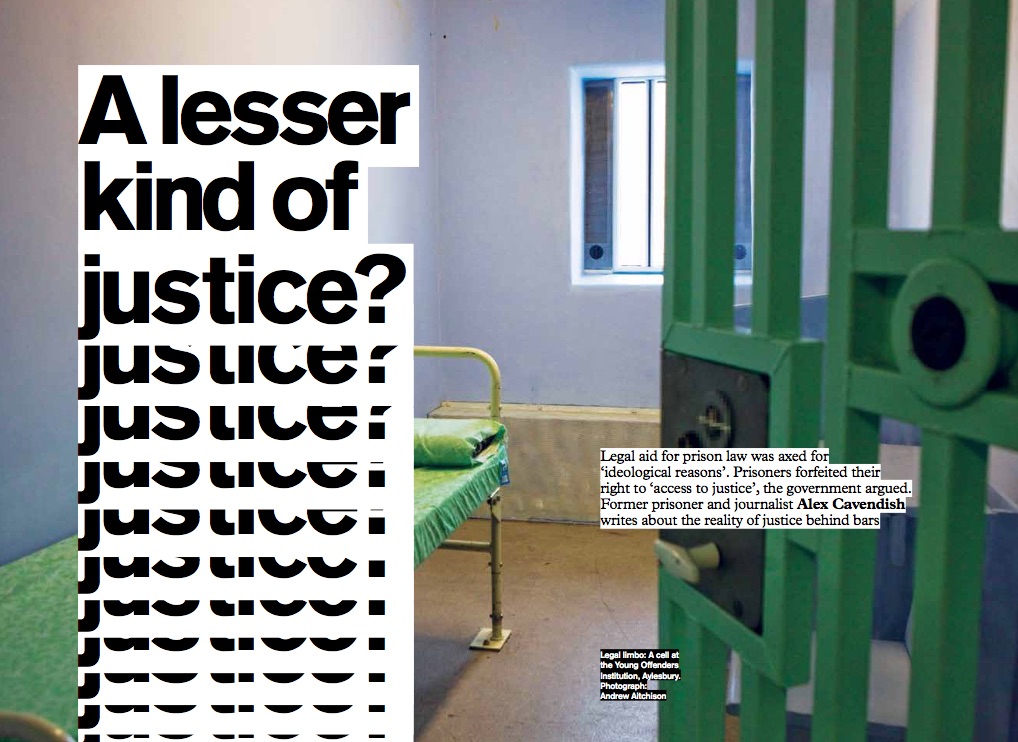 Life in the Justice Gap, Rebecca Omonira-Oyekanmi
A lesser kind of justice? Alex Cavendish
The other villain of Hillsborough David Conn
Interview: Margaret Aspinall Jon Robins
The cuts that hurt Rachel Logan
A cut too far Estelle du Boulay
No one can hear you cry 'Mishka' and 'Abi'
Part 2: The fightback

The Justice Alliance: The story so far
Battles won and battles to come Zita Abila and Niamh Quile
Who are you calling fat cats Zita Abila and Niamh Quile
Radical roots, uncertain future, Zita Abila, Niamh Quile and Jon Robins
Making a drama out of a crisis Christabel McCooey and Jon Robins
Uncontrollable dopeness Awate
How the build a law centre John Nicholson
Part 3: The bigger picture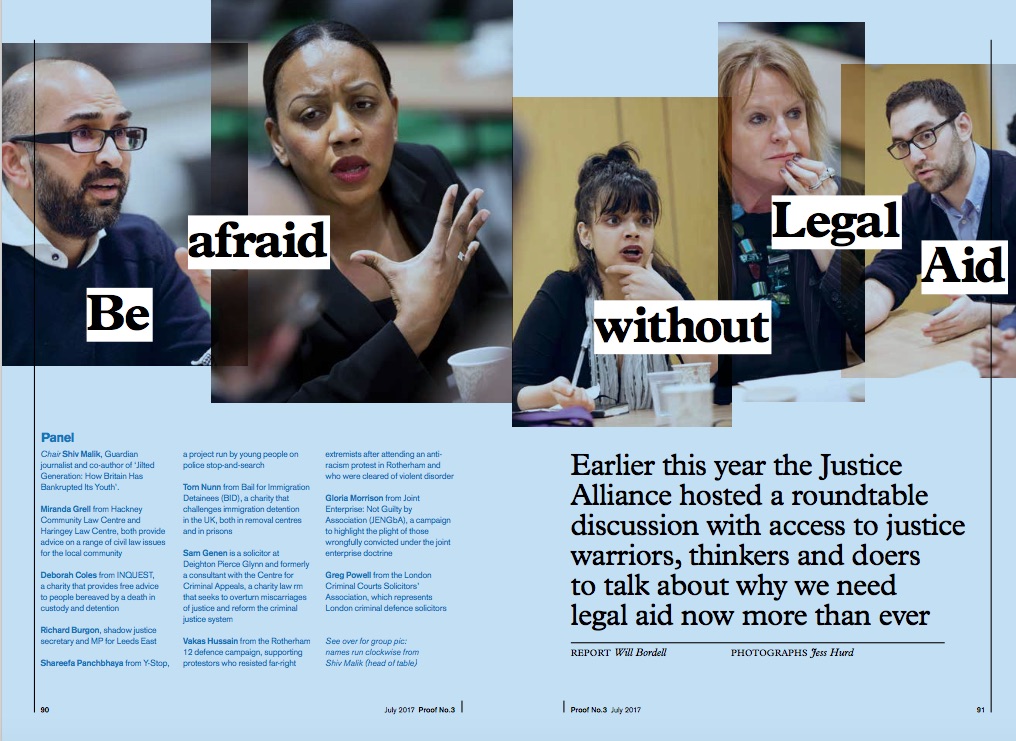 The Conversation: Helena Kennedy QC and Martha Spurrier Will Bordell
Interview: Lord Tony Gifford Jon Robins
Where will the next generation come from? Oliver Carter, Ronagh Craddock, Rachel Francis and Siobhan Taylor-Ward
Be afraid without legal aid
Will Bordell