The latest issue of the Justice Gap's print magazine Proof is out next week. The 'crime & punishment' issue is 100 pages and has as twin themes, the prisons crisis and miscarriages of justice. Contributors includes former inspector of prisons Professor Nick Hopkins, ex prison governor John Podmore and the journalists Duncan Campbell and Hardeep Matharu.
You can read a full list of contributors here
You can buy Proof magazine through www.thejusticegap.com here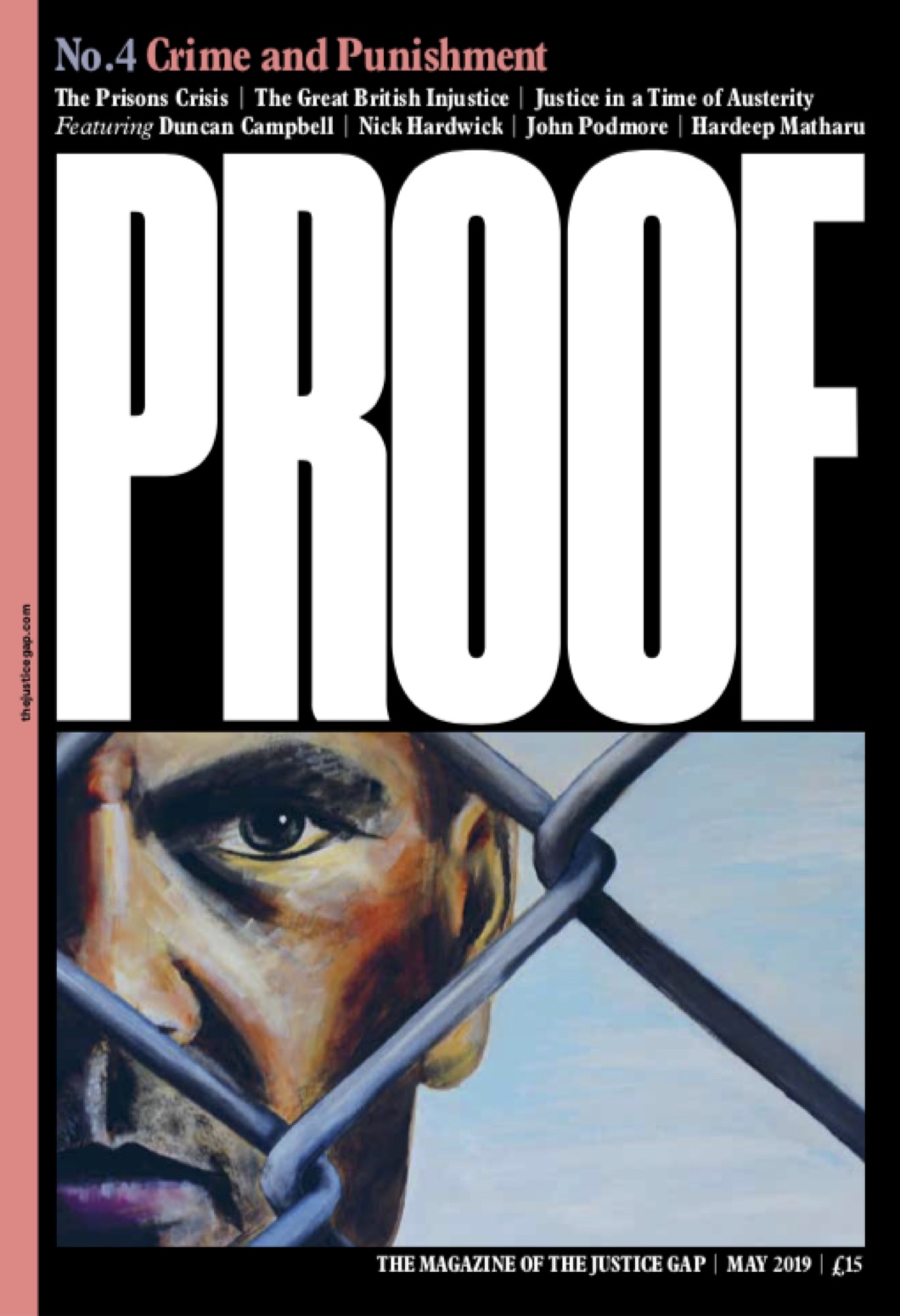 The issue also features a prison art special featuring Koestler Award prize winners as well as an interview with the artist Patrick Maguire who at the age of just 14 year was wrongly imprisoned. John Podmore writes about the need for genuine radical thinking around prison reform and former chief prisons inspector Nick Hopkins takes a critical look at the inspections regime and what it really tells us about the state of our prisons.
'Yes, we need to reduce the prison population – to lock up only those we are afraid of, not those we are mad at. Prison is not for those whom the rest of society has simply given up on.'
John Podmore
'Most of us cannot go inside our jails.We rely on prison inspections to provide both a window and a mirror: a window so we can see the conditions that exist and a mirror to expose the conditions we tolerate. It is a sobering picture if we care to take a look.'
Nick Hardwick
Professor Francis Pakes recalls his time spent in two Icelandic prisons (as a criminologist) and Dr Paul McGuinness asks whether 'dignity' could become the political concept that frees our prison system from lurching crisis to crisis.
There were 87 self-inflicted deaths in prisons in 2018. INQUEST's Rebecca Roberts looks at the increasing number of deaths in custody and what they say about our justice system. Hardeep Matharu reports on the spice epidemic. 'How and why the state has come to provide an environment in which people are complicit in their own dehumanisation should alarm us all,' she argues. 'If spice isn't symbolic of a prison system that has truly lost its way, it's hard to see what else could be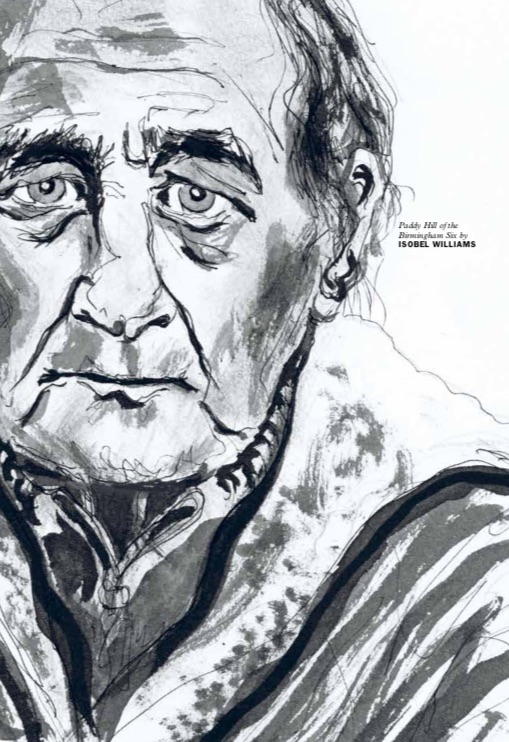 The issue also looks at the legacy of the Birmingham Six, Guildford Four and Maguire Seven cases. The solicitor Alastair Logan OBE recalls his time representing the Maguire family in an article entitled Perjury on an industrial. Meanwhile Patrick Maguire, the youngest of the family to be imprisoned, talks about how the trauma of being wrongly convicted has informed his art. 'When we got arrested, the colour went out of my life, quite literally,' he says.
'I still break down and cry even now. It's like a big black cloud descends on you. I don't even know what I'm crying about. sometimes I pull the shutters down, and stare at the walls for days.'
Paddy Hill of the Birmingham Six
---
Proof magazine would not be possible without help. We are very grateful to the following for their generous support for making the latest issue happen.
This issue of Proof magazine was sponsored by Manchester University's School of Law.
Thanks also to Winchester University's crime and justice research centre for their continued backing.
We would also like to thank Sussex University's crime research centre.
---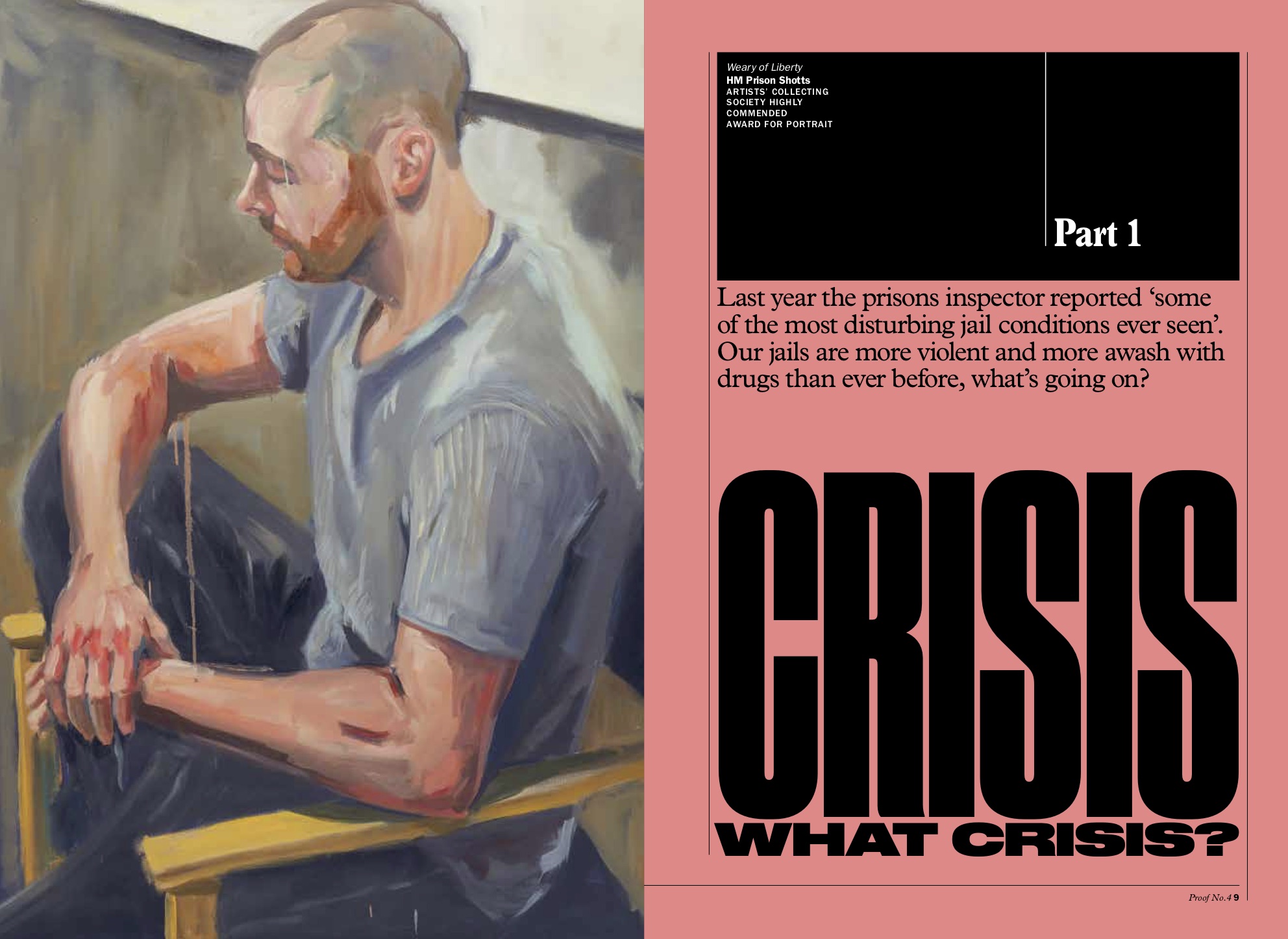 In this issue's introduction, barrister Mark George QC, head of Garden Court Chambers, and Professor Claire McGourlay of Manchester University
It was 45 years ago that a Labour home secretary said that if our prison population passed 42,000 that would represent a crisis. Today the figure is almost double and, sure enough, our jails are in the grip of almost perpetual crisis.
Prisons have become more dangerous places than ever. Self-harm and violence have hit record highs. That crisis is the theme of the fourth issue of the Justice Gap's Proof magazine.
It is symbolic of a wider malaise in a failing justice system. since 2010 the justice system has been subjected to unprecedented cuts as part of the austerity programme. Huge swathes of cuts introduced under the Legal Aid, sentencing and Punishment of offenders Act pretty much decimated social welfare law advice in 2013 (as also covered in this issue). The same year, a second wave of cuts removed prison law from the scheme depriving prisoners of access to help.
This issue also covers the scandalous treatment of victims of miscarriages of justice who, having had their convictions overturned, are released from prison without any support . After a change in the law in 2014, to be eligible for compensation from the Ministry of Justice the victim of a wrongful conviction has to prove their own innocence which is an almost insurmountable hurdle. As a result, two innocent men who served more than a quarter of a century in prisons were left to challenge the new scheme on the basis that it offended the presumption of innocence.
Their fight went all the way to the supreme Court. Can there be any greater illustration of how our justice system has gone astray than that sad case?
Mark George QC and Professor Claire McGourlay 
---
Part 1: Crisis, what crisis?
A window on a hidden world Will Bordell takes a look at what has been going on in our prisons over the last year
Another week, another shock The inspections regime is both a window on to a hidden world and a mirror revealing the conditions that society is prepared to accept, argues Nick Hardwick
Let's just lock up those we're afraid of John Podmore offers some radical thinking about how to deal with our failing prisons
Unlocked Prison arts special featuring some Koestler awards most compelling prize winners
Dignity crisis Can 'dignity' become the political concept that liberates a prison system lurching from crisis to crisis? Paul McGuinness makes the case for a new approach
A different way of doing things Criminologist Francis Pakes reflects on his time spent in two Icelandic prisons
Part 2: The human cost
Up in smoke The spice epidemic has had a calamitous impact on our prisons. Hardeep Matharu reports
Monuments to injustice 87 prisoners took their own lives last year. Rebecca Roberts on deaths in custody
Locked up & abused Laura Janes on children at risk
Interview Artist Patrick Maguire (above) speaks to Jon Robins about how he has come to terms with his years in prison for a crime he didn't commit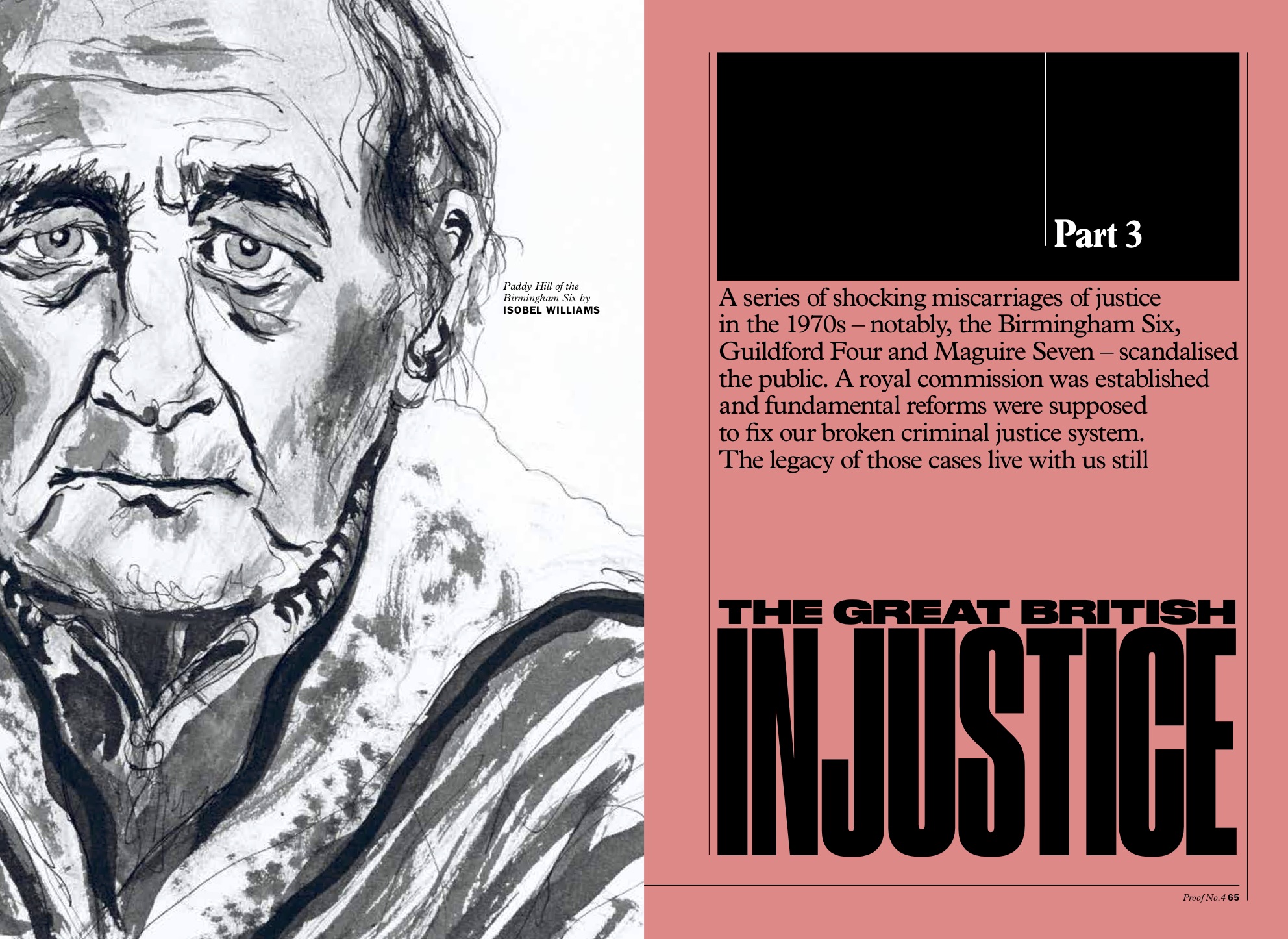 Part 3: The Great British Injustice
The great British injustice Alastair Logan OBE recalls the Maguire Seven
The biggest miscarriage of all Paul May charts the waning political interest in wrongful convictions
Innocent – but not innocent enough You can have your conviction overturned but you're still not 'innocent'. Jon Robins on the shocking case of Sam Hallam
Challenging unsafe convictions Carolyn Hoyle and Lucy Welsh on the CCRC
Rebranding miscarriages Brian Thornton on how the right wing press re-appropriated the language of wrongful convictions
A shabby day for British justice Duncan Campbell on the case ofWangYam