Prison assaults up 20% on previous year as 'rising tide of violence' continues
The numbers of assaults and self-harm incidents in prisons in England and Wales are at record high levels, new government statistics have revealed. Piers Barber reports
The Ministry of Justice's latest quarterly statistics bulletin, released just a week after Her Majesty's Inspectorate of Prisons' damning annual report on the estate, shows that there were 26,643 recorded assaults behind bars in the 12 months up to March – an increase of 20% on the previous year and 2% in the last quarter. The number of assaults deemed to be 'serious' rose by 22% to 3,606, while the 7,159 incidents of attacks on staff represent a record high and a significant increase of 32% from the previous year. Attacks on staff have trebled since 2013.
There were 40,414 incidents of self-harm in the 12 months up to March 2017, an increase of 17% on the previous year and a record high. Self-harm rates continue to differ greatly depending on gender. There were 1,835 incidents per 1,000 female prisoners, compared to 409 per 1,000 in male institutions. The proportion of self-harm incidents requiring hospital attendance in male prisons increased by 14% to 2,616, though decreased by 1% to 155 in female establishments.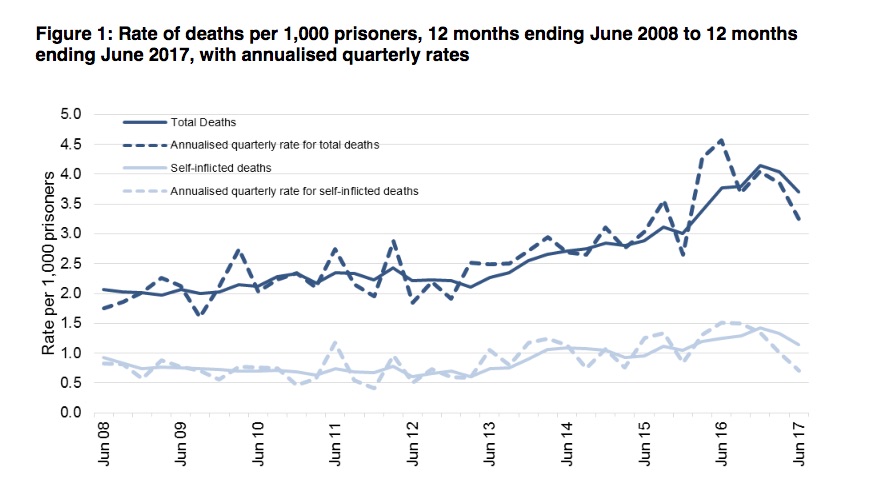 A total of 316 people died in prison in the year up to June 2017, a rate of 3.7 deaths per 1,000 prisoners. This is a slight decrease from 322 in the previous year – the first year-on-year decrease in deaths since March 2013. Of these deaths, 97 were deemed self-inflicted, a rate of 1.1 per 1,000 in the male estate and 1.5 per 1,000 within the female estate.
Meanwhile, annual rankings demonstrate that ten prisons are performing at levels which are causing 'serious concern'. The number of institutions receiving this lowest rank has increased from six in the previous year.
Frances Crook, chief executive of the Howard League for Penal Reform, said: 'The rising tide of violence and human misery gets higher and higher as chronic overcrowding and staff shortages continue to drive the prison system into chaos. How many people have to die before action is taken?
'The new Secretary of State for Justice must act now to stop the death toll. The first step to recovery is to recognise that there is a problem. The second step is to do something about the problem. By taking bold but sensible steps to reduce the prison population, we can save lives and prevent more people being swept away into deeper currents of crime and despair.'
---
This article was first published on July 28, 2017