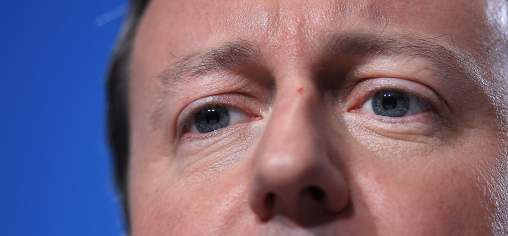 On the first day back from the summer recess, David Cameron announced new anti-terror measures to strip terror suspects of their passports yesterday. The new legislation has been put in place to stop British-born extremists from returning to the UK.
In a wide ranging Commons statement responding to crises in Ukraine and the Middle East, Cameron said that the loss of life this summer has been 'truly appalling'.'To confront the threat of Islamist extremism we need a tough, intelligent, patient and comprehensive approach to defeat the terrorist threat at its source, the PM told MPs.

The UK's terror threat level was raised to 'severe' from 'substantial' on Friday. The Prime Minister told MPs that the European Council had agreed to work together to crack down on those travelling from its countries to fight in Syria and Iraq.
'We are proud to be an open, free, and tolerant nation but that tolerance must never be confused with a passive acceptance of cultures living separate lives or people behaving in ways that run completely counter to our values. Adhering to British values is not an option or a choice it is a duty for all those who live in these islands.'
David Cameron

Cameron said that passports 'are not an automatic right' and announced plans to introduce specific and targeted legislation that will provide the police with a temporary power to seize a passport at the border during which time they will be able to investigate the individual concerned. The Home Secretary already has executive powers to seize the passports of those travelling abroad in certain cases but the Prime Minister said a 'forensic focus' was needed to prevent people from travelling abroad in the first place and to deal with British jihadists returning to the UK from conflict zones.
Under the new proposals, UK nationals suspected of being involved in terror acts would be allowed to keep their British citizenship, but they would be prevented from re-entering the UK for a period of time. In addition, terrorists will be required to undergo de-radicalisation programmes and airlines will be forced to hand over more information about passengers travelling to and from conflict zones.
In reaction to David Cameron's announcement, Labour leader Ed Miliband said a mandatory and comprehensive programme of de-radicalisation was needed 'not just for those who will be under Tpims but those who have been on the fringes of extremism in Iraq and Syria'. Although Miliband said that Labour would offer broad support to the government in its core objectives of keeping the UK safe, he said there was a lack of detail and that 'it was a mistake to get rid of control orders'.
In response to the terror announcement, Shami Chakrabarti, Director of Liberty, said:
'Sabre-rattling and thinly-veiled threats to the courts, but little detail from the Prime Minister. Why demand that the police seize passports on a discriminatory, dangerous basis rather than arrest those intent on committing murder and terror overseas? Control orders and Tpims become identical via internal exile at home, while the threat of external exile remains with the dangerous and innocent alike dumped like toxic waste on the international community.'