[contextly_auto_sidebar]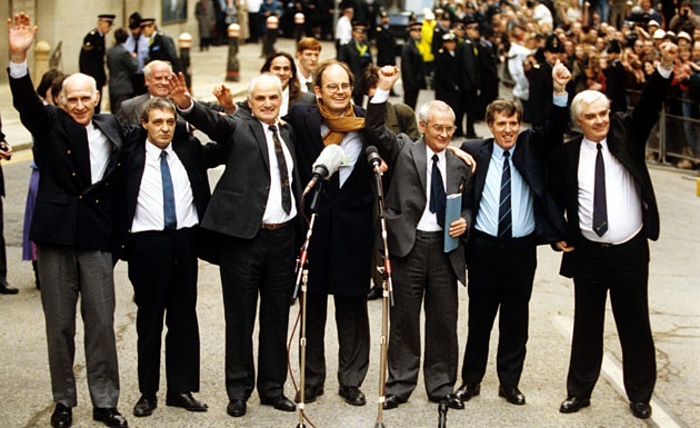 INTERVIEW: On March 14, 1991, Paddy Hill, Hugh Callaghan, Richard McIlkenny, Gerry Hunter, Billy Power and Johnny Walker – stood outside the Old Bailey, free after 16 years, having had their convictions overturned for the murder of 21 people. The famous images of the Birmingham Six on that day 25 years ago today capture the euphoria that greeted their release.
I ask Paddy Hill, now 71 years old, what emotion he was feeling at the moment. 'Anger,' he replies instantly. 'What happened to us should never have happened. The Birmingham police allowed the guilty people to get away with it. If they had done their job properly, they would've caught the people responsible.'
The Birmingham Six remains the country's most notorious miscarriage of justice. Such was the outrage that a royal commission was announced on the day of their release and the collapse of public confidence led to the creation of the word's first independent, state-funded body to investigate alleged miscarriages of justice.
Paddy Hill insists that the fundamental change promised never came. He believes that the victims of wrongful convictions are worse off than they were a quarter of a century ago.
'Our criminal justice system is probably one of the best in the world. It's not the system that's wrong. It is the bastards who sit on the bench who are indoctrinated into preserving the status quo.'
Paddy Hill
As for the Criminal Cases Review Commission, the miscarriage watchdog established in 1997 on the recommendation of what became the Runciman Commission, Hill calls it a 'bastardisation' of the original proposals. The government 'only did half the job', Hill says; and should have instead designed a system truly independent of the courtss (as was recommended at the time by the likes of the human rights group JUSTICE).
The CCRC 'hasn't go the balls to stand up to the Court of Appeal', he says; adding that the Appeal judges are every bit as hostile to miscarriage cases as they were in the bad old days.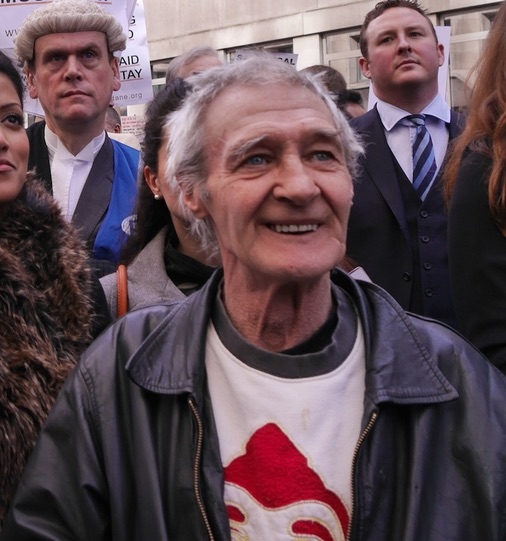 Hill quotes the infamous words of Lord Denning who said in 1988, in relation to the Birmingham Six case, 'hanging ought to be retained for murder most foul'. 'It is better that some innocent men remain in jail than that the integrity of the English judicial system be impugned,' Denning continued.
'In so many of these cases, the appeal court has had one chance after another to put it right and they don't,' he says.
Paddy Hill reckons there have been of all the successful appeals in the last 25 years: 'Not one police officer has stood trial. Not one has gone to prison.'
---
Paddy Hill left court a free man with only the clothes he was standing in and a £46 travel voucher. 'If you had told me then I wouldn't have been able to handle the outside world, I would have told you to go and fuck yourself,' he tells me. 'We've never had any help, nothing. Even though the British establishment admits – and we have this in writing – that they owe us a duty of care, they say they haven't got any money. They have plenty of money to go bombing fucking Syria.'
I interviewed Paddy Hill once before, about 18 years ago (about the Eddie Gilfoyle case still protesting his innocence and whose case is currently with the CCRC). His anger then was overwhelming, and the trauma wreaked upon him was painfully obvious (for example, saying that post-release he felt no emotion for his own children). A consultant psychiatrist, who counseled the hostages Terry Waite and John McCarthy, once described Hill as one of the most traumatised people he had ever come across.
Does life get easier? 'No, but you learn to control your emotions,' he says.
'I still break down and cry even now. It is like a big black cloud descends on you. I don't even know what I'm crying about. Sometimes I pull the shutters down, and stare at the walls for days.'
Paddy Hill
Paddy Hill set up Mojo (Miscarriages of Justice Organisation) to help other prisoners. 'I tell them it's like jumping out of the frying pan into the fire,' he says. 'You suddenly realise there is nothing out there for you. You don't belong.'
Hill continues: 'As a prisoner you have been conditioned to live in maximum-security prisons. People don't understand the tension prisoners live under. To this day, I do not sleep. I just catnap. Psychiatrists tell me it is like living in the trenches. Soldiers didn't fall asleep because if they did they might never wake up. We suffer from the same syndrome.'
'We were the most hated people in the country when we went in. We were treated even worse than Moors murderers – but we survived,' he says.
That said, Hill reckons that prisons are far worse today than when he was serving time. 'We got out at a good time – just before the heroin explosion took over prisons,' he says; adding that he met some 'wonderful prison officers along way'. 'Some horrible evil bastards as well,' he adds.
He warns prisoners that any post-release euphoria is short-lived.
'Happiness to us is an illusion. I tell the lads: "Some way down the line you might find a level of contentment, and where you do grab it with both arms. That is as good as it's ever likely get".'
Beyond reasonable doubt
This week the Court of Appeal considered the cases of Victor Nealon and Sam Hallam (here and here), in a test case challenging the new regime for compensation for the victims of miscarriages of justice. The Antisocial Behaviour, Crime and Policing Act 2014 restricts compensation to those who can demonstrate that a 'beyond reasonable doubt' that they did not commit the offence.
Paddy Hill visited Nealon in prison and supported Hallam's campaign. 'According to the government Victor and Sam aren't "innocent enough". It's disgraceful,' he says. 'The government might as well have said that the police have got the right to take you off the streets, lock you up for years and throw you out at the end. It is all about money.'
'Look at the Marchioness disaster, the Paddington rail crash, Lockerbie, Dunblame etc., as soon as these tragedies happen the government sends in counsellors for the people who were injured and their families They never offered us any of that. The reason for that is simple: we are victims of the state. If they help us, then it's an admission of guilt.'
Paddy Hill
Hill left prison with a £46 travel voucher – the same sum that Victor Nealon was discharged with when he left Wakefield prison three years. Again, he says: 'Nothing has changed.'
Paddy Hill recently joined forces with the families of the victims of the 1974 bombings. The coroner for Birmingham last month ordered West Midlands police to disclose information about the circumstances of the deaths of the 21 victims in the face of what she called an 'evidential vacuum'. What was it like meeting families? 'It was not a problem for me,' Hill says; adding that he together with Billy Power went to Birmingham a few months after they were released to appear on a local television show. 'I met some of the people who were injured in the hospitality room. I said I was happy to talk to any of them. Unfortunately none of them took up my invitation until a few years ago.'
'We are getting a bit closer to finding out the truth,' says Hill. The case is subject to 75-year public interest immunity certificate. 'If you look at all the terrorist cases, we are the only case that I know of that has a 75 year rule. They have a lot to hide.'
An edited version of this interview appeared yesterday in the Independent on Sunday (here)