Miscarriage watchdog refers 'Marine A' case for appeal following press campaign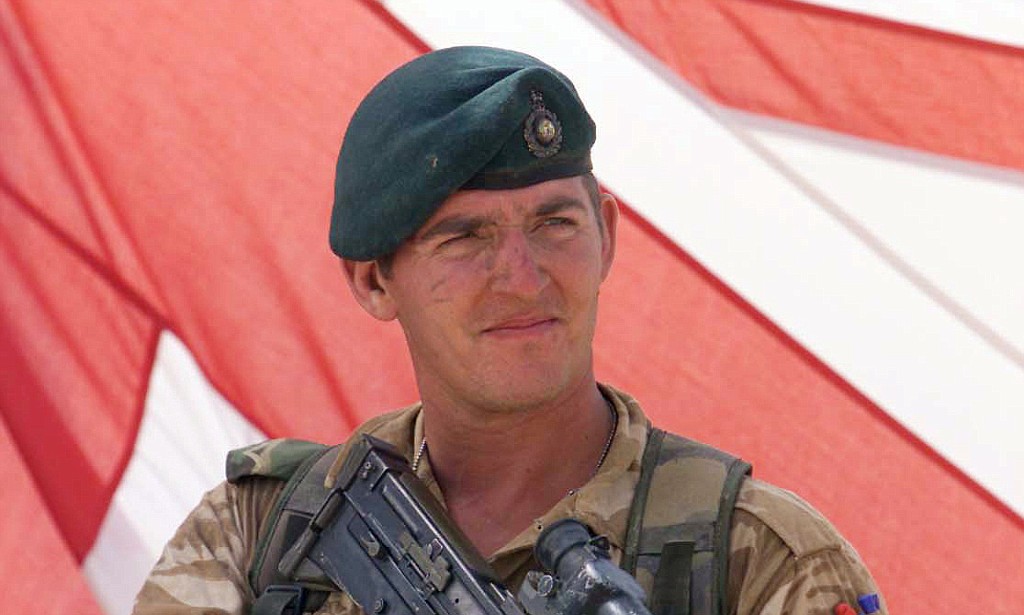 The miscarriage of justice watchdog has referred for appeal the case of 'Marine A' reckoned to be the only British soldier to have been convicted of murder on a foreign battlefield . Alexander Blackman was one of three Royal Marines tried by Court Martial for the murder of a man in Afghanistan and known throughout his trial as 'Marine A'.
Blackman was convicted of murder after graphic evidence from a helmet-mounted camera caught the Royal Marine shooting a badly-wounded Taliban prisoner in the chest at point blank and then declaring: 'I have just broken the Geneva Convention.'
The Daily Mail yesterday claimed the referral by the Criminal Cases review Commission as 'a major victory' for its readers who gave £800,000 to the Marine's legal fund. 'This is the most fantastic news,' said his wife Claire, who thanked her husband's backers. 'I am feeling a little dazed. It is very hard to express how much gratitude we both feel.' According to the Mail, the 'veteran commando', who served his country on six tours of duty, admitted to 'a split-second mistake on a tour from hell' and claims there is new psychiatric evidence which could support a defence of diminished responsibility which would lead to his murder conviction being dropped to manslaughter. Richard Drax, a Conservative MP and former Army officer, in a debate in parliament last year said that Blackman had 'an exemplary record and under huge pressure and under some sort of stress, he made one mistake and for that he has paid a very high price.'
Blackman pleaded not guilty when tried for murder at a Court Martial at the Military Court Centre, Bulford, Wiltshire in 2013. He was convicted contrary to section 42 of the Armed Forces Act 2006 and sentenced to life imprisonment with a minimum custodial term of ten years. He was also reduced to the ranks and dismissed with disgrace from Her Majesty's Service. His two colleagues were acquitted.
In May 2014 an appeal against conviction and last December Mr Blackman applied to the CCRC for a review. It has been reported that Blackman could be out of prison on bail by Christmas.
The Commission referred the case to the Courts Martial Appeal Court after an 11 month review which is quick work for the CCRC. Delays have always dogged the overstretched and underfunded organisation. An inquiry by the House of Commons' justice committee last year concluded that waiting times had become 'unacceptable'. As reported by the Justice Gap, it takes eight months for the CCRC just to look at a new case and 13 months if that applicant was out of prison.
The fast tracking of the high profile Ched Evans case following a 10 month investigation led to comment that the watchdog was giving it special treatment because of the huge media interest. 'We don't approach things in that way,' the CCRC's chief executive Richard Foster told the Justice Gap. He pointed out that the CCRC has a policy on the prioritisation of cases – for example, 'if someone is very ill and they might die; if there is evidence that might be unattainable if we wait too long; if there is a risk because of the high interest in the case that evidence might become contaminated'.
By contrast the high profile Eddie Gilfoyle case- championed for years by the Sunday Times – was rejected by the CCRC after being looked at by the organisation for almost five years despite a series of revelations casting serious doubt on the safety of the conviction.
The Commission claims that Blackman review has been 'extensive and detailed' and relied upon its statutory powers to obtain material from various military sources including the Ministry of Defence.
'We have scrutinised this murder conviction in minute detail and after a thorough investigation we have concluded that there are new issues – principally relating to Mr Blackman's state of mind at the time of the shooting – which in our view raise a real possibility that an appeal against conviction would now succeed,' commented David James Smith, lead commissioner. 'On that basis we are sending the case back to the Courts Martial Appeal Court so that a fresh appeal can be heard.'