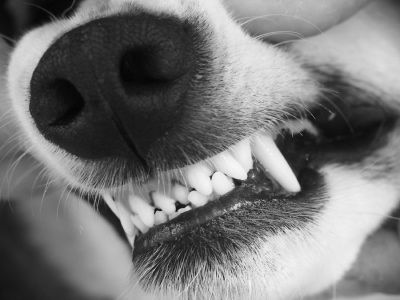 Stricter penalties have come into force in England and Wales for owners who allow their pets to attack people. The maximum prison sentence for allowing a dog to carry out a fatal attack on a person has now increased from two years to 14 years. In addition, the term handed down when injury is caused is up from two years to five.
Previously the Dangerous Dogs Act (1991) enforced tough rules on dogs bred for fighting, muzzling and leads and specific rules of seizure, entry of premises and evidence – rushed through parliament by John Major's government as a result of a media frenzy about pit bull terriers attacks on children (and described as 'probably the worst bit of legislation that's ever come onto the statute books)'. With an average of 10 guide dogs being attacked every month, changes to legislation within the Act now protect assistance dogs, such as guide dogs, from attacks, with guilty owners facing up to three years in prison. Guide Dogs' chief executive Richard Leaman said:
'An attack on a guide dog can be devastating. It can rob someone with sight loss of their independence and freedom, leaving them virtually housebound.'
Leaman added that he was 'delighted' that irresponsible owners can now be given tougher sentences if their dog attacks an assistance dog.
Additional changes to the Dangerous Dogs Act include the prosecution of owners should their dog attack a person within their own home or any other type of private property, excluding trespassers.
It is incidents such as the deaths of six-day-old Eliza-Mae Mullane, mauled by a family pet in Pontyberem, South Wales, in February, and the death of 11-month-old Ava-Jayne Corless, killed by a pit bull terrier in Blackburn two weeks later that have urged tougher sentencing. Animal Welfare Minister Lord de Mauley said that dog attacks could  have 'horrific consequences for victims and families and it is only right those responsible should face tough punishments'.
Lord de Mauley went on to explain how these new rules will give protection to those who provide vital services in the community – postal workers, nurses, utility workers – as well as people visiting family and friends.
The changes will also see new preventative powers for the police and local authorities so they can act early to stop dog attacks before they occur. New measures for owners to address their own or their dog's behaviour include: attending dog training classes, repairing fencing to their property to prevent the dog escaping and requiring their dog to be muzzled in public.
Freedom of Information responses have found many police forces seizing growing number of dangerous dogs. For example, West Midlands Police revealed that they had seized 412 dogs under the Dangerous Dogs Act in 2013, up from 360 the year before and a rise of 50 per cent on the 2011 figure of 275.
Crime Prevention Minister Norman Baker said that the government was ' already making real progress in defending the public from out of control dogs and their irresponsible owners. Today's measures will protect individuals and also assistance dogs, which bring security, confidence and independence to their handlers'.
Further measures to help tackle irresponsible dog ownership will come in to force in April 2016 when microchipping will be a legal requirement for all dogs in England, and from March 2015 in Wales.