[contextly_auto_sidebar id="vRGsa7AzpH7YdeQJ8pZANJMREnC2kI7V"]
Justice Gap editor Jon Robins has won this year's Bar Council legal reporter of the year. The award presented by the former attorney general Dominic Grieve and was in recognition of two articles – both for the Independent on Sunday – on the cases of Victor Nealon and Sam Hallam.
Both Nealon and Hallam have been denied compensation under the Anti-Social Behaviour, Crime and Policing Act 2014. That legislation further restricted eligibility for compensation to only those who can demonstrate their innocence 'beyond reasonable doubt'. It is the second time that Jon has won the award which is not in its 24th year. He won 10 years ago for his article in the Observer (Insult to injury).
Sanchia Berg won the broadcast award for her Radio Four Today programme piece on failures of the Court of Protection to provide efficient adjudication or appropriate representation to those facing deprivation of liberty. The runners up in the print and online category were Louise Tickle, the Guardian ('How the UK's legal system is failing victims of domestic violence'; and 'Is pressure to speed up adoptions leaving children out in the cold'), and Frances Gibb, the Times (Young Muslims fuel huge rise in Sharia marriage'; and 'You are free: One day in a mosque divorce court').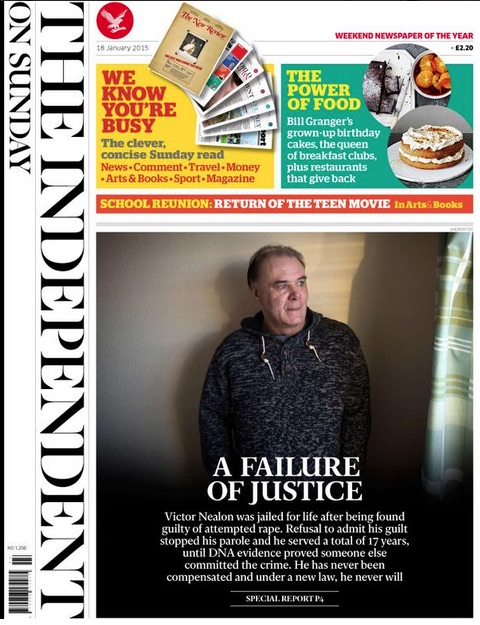 The runners up in the broadcast category were BBC Radio Four, Law in Action, 'Protecting the Innocent' – Richard Knight, Joshua Rozenberg, Chloe Hadjimatheou and Tim Mansel – and Unreliable Evidence (also on radio 4) 'Good Samaritan Law' – Brian King, Clive Anderson, Matt Willis, Amy Street.
 'The standard of entries to the awards was very high and covered a range of important issue. The entries demonstrated that legal journalism in the UK has an important role to play in bringing to the fore the challenges many people face when encountering our justice system. All the award entries, especially those who won or were runners up, were notable for the fact that they educated the wider public about legal issues which have a major impact on people's lives. The main reason we host these awards is to recognise the valuable contribution legal journalism plays in society.'
Alistair MacDonald QC, Chairman of the Bar