Prisons were 'unsafe, unsanitary and outdated' and half of all prisoners have felt unsafe at some point in their sentences, according to the House of Commons' Health and Social Care committee. MPs found that incidences of violence and self-harm were 'at a record high' and the number of post-release deaths was going up.
In 2017, there were 44,651 reported incidents of self-harm, up 11% from the previous year. The number of self-harming individuals increased by 6% to a new record high of 11,630. INQUEST told the MPs that almost 1,400 people died during post-release supervision in the community between 2010/11 and 2016/17, including 401 suicides.
Even the the most basic needs of prisoners, such as the provision of three meals a day continued to be threatened by spending cuts. MPs found that the amount of time prisoners spent outside of their cell was severely restricted with only 16% of prisoners being unlocked for the minimum 10 hours per day. According to the new report, half of prisoners report having felt unsafe at some time and seven out of 10 prisoners in large inner city local prisons such as Liverpool, Leeds and Pentonville.
This was the first time a parliamentary committee had recognised the 'alarming number of deaths of people after release from prison and the urgent need for oversight and investigation behind this growing problem', noted the legal charity INQUEST. 'Given the committees' admission that a healthy prison does not exist, the focus must be directed towards reducing the prison population and taking a public health approach to tackling ill-health in the community,' commented head of policy, Rebecca Roberts.
England and Wales have the 8th highest prison population per 100,000 in the EU – higher than Germany, Norway, Netherlands, Denmark and Sweden. The prison population was also ageing which, the report notes, reflected a shifts towards 'longer custodial sentences and an increase in the use of imprisonment for sex offences, including historic sex offences' as well as an ageing of the general population.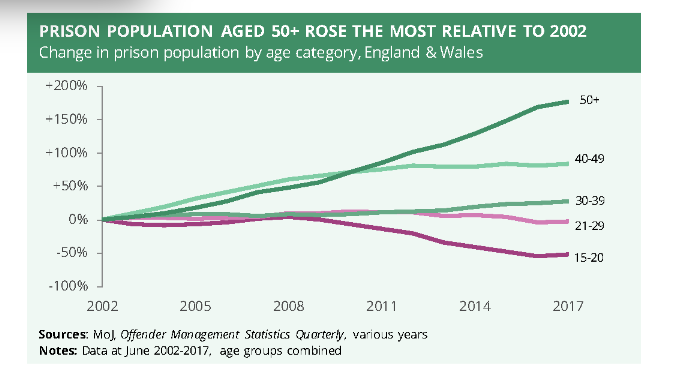 The report identified three causative factors: overcrowding of cells, staff shortages and the increasing use of new psychoactive substances, such as spice. It highlighted that such factors followed significant reductions in public spending, whilst the prison population simultaneously reached historic highs. The MPs called on the ministers to name a date by which most prisoners could be unlocked for the required minimum as well as to conduct an investigation of deaths during post-release supervision.