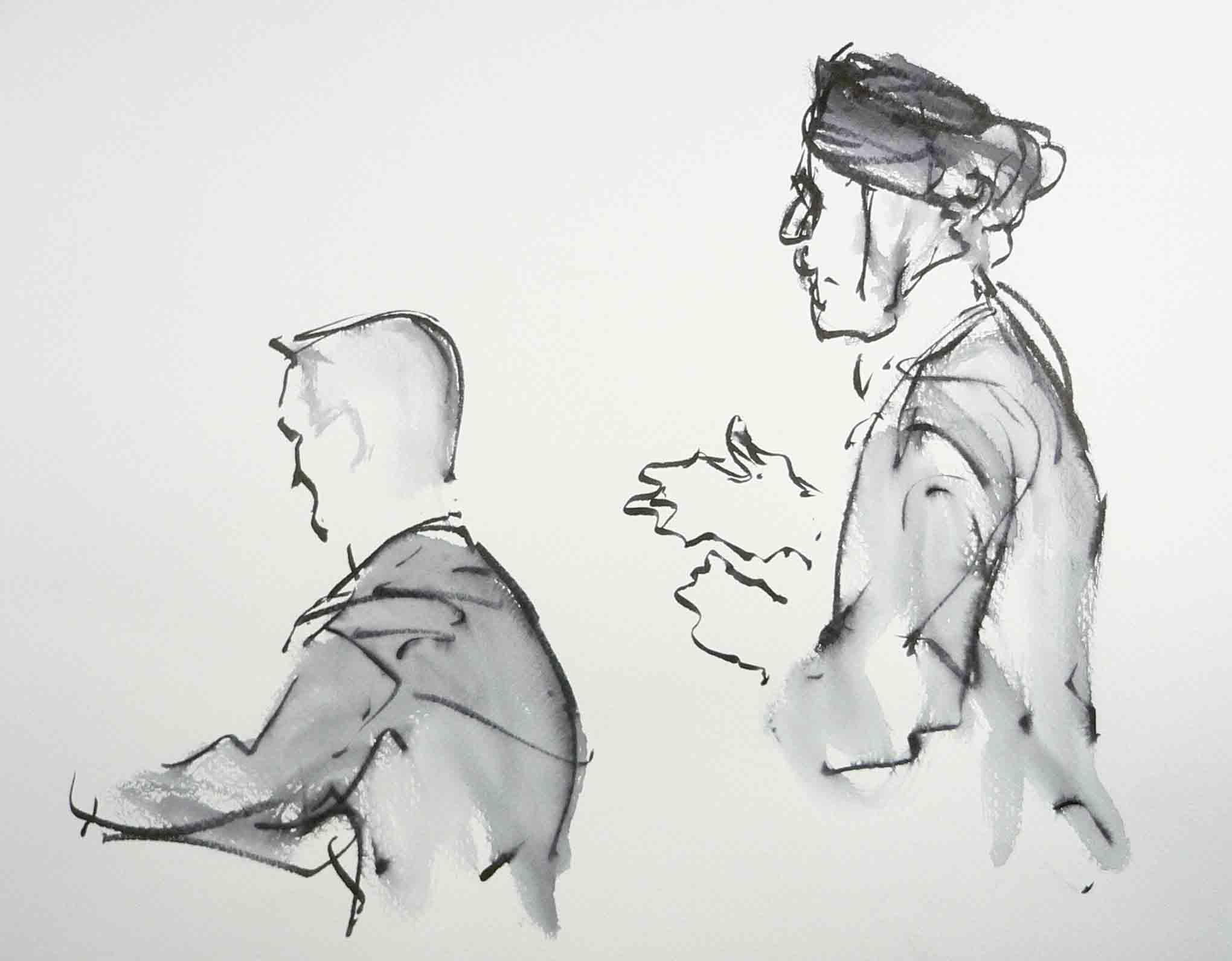 Theresa May is seeking powers to strip terror suspects of UK citizenship even if it leaves them stateless, in an amendment to the Immigration Bill. The controversial legislation is due to have its report stage and third reading in the House of Commons today. Supreme Court sketch by Isobel Williams – visit Isobel's website.
The bill, originally created by the home secretary Theresa May, was designed to generate a "hostile environment" for illegal migrants to Britain. "What we don't want is a situation where people think that they can come here and overstay because they're able to access everything they need," May said.
The Home Secretary's last-minute addition to the list of about 50 government amendments would not apply to people born in UK, as reported by the BBC. "Citizenship is a privilege, not a right," said minister Mark Harper. "These proposals will strengthen the home secretary's powers to ensure that very dangerous individuals can be excluded if it is in the public interest to do so." The legal charity Reprieve described the plan as an "alarming development".
Earlier this week David Cameron called Conservative backbenchers to Downing Street in a bid to cull a rebellion in the form of proposed amendments by the Tory MP, Dominic Raab, to reintroduce controls on Bulgarian and Romanian Migrants.
On Thursday over 50 conservative "rebels" are expected to support changes to the bill, wanting to place restrictions on Eastern European migrants being reinstated until 2018.
The Prime Minister had told BBC Radio 4's Today programme earlier this week that a "reasonable" number of migrants had been coming to Britain since restrictions were lifted. While later admitting that he had not actually seen, "any official statistics".
"It's not a very constructive contribution to the debate. We are a long way from meeting out target on the number of migrants coming to Britain, it is an unfortunate thing for him to say," responded the Conservative MP Nigel Mills.
What are the Raab amendments?
Under the Raab amendments, limits would be placed on the amount of foreign criminals, who are to be deported, being able to use the right to family life defence under article 8 of the European convention on Human Rights. Under another Rabb change, only the home secretary would be able to block the deportation of a foreign criminal if it would "cause such manifest and overwhelming harm to his children that it overrides the public interest in removal."
According to many reports more than 100 MPs, including the former Labour Home Secretary David Blunkett as well as former Labour ministers Hazel Blears, Frank Field, Kate Hoey, Meg Hillier and Gisela Stuart have all given their support to plans to strip judges of the power to block deportations under human rights laws. On top of this the home secretary's decision could only be challenged on appeal to the high court, under the procedures of judicial review.
Raab, a Conservative MP for Esher and Walton, told Today programme that he is not "trying to raise the totemics over the EU or scrap the Human Rights Act. I am trying to find a practical solution to the biggest human rights problem we have got. I suspect that is why it has attracted such wide cross-party support."
The Home Office appears to echo these concerns. "Far too many foreign criminals abuse human rights laws to hide behind their so called family life. We are already passing legislation in the immigration bill to ensure that judges deal with article 8 claims in the right way and do not regard the right to family life as an absolute and unqualified one."
There are concerns that the Rabb amendments could have dramatic implications for the rule of law, as well as the rights of families who would not be able to use a defence under article 8.
May's original bill already includes critics such as Habib Rahman, of the Joint Council for the Welfare of Immigrants,  who said it was "a travesty and must be stopped." Rahman argued that it would divide society "creating a two-tier Britain, a return to the days of 'no dogs, no blacks, no Irish' and of ill people with no access to healthcare walking the streets of Britain".
Alongside these concerns, immigration welfare charities, housing organisations, leading lawyers, and even some landlords have warned of increased homelessness and discrimination – and the Rabbs amendments potentially making these fears worse.
What is Cameron doing to stop rebellion
There are only four hours available for the debate, with a number of government amendments to be discussed first. Raab has said it would be a "gift" to UKIP if the proposals are blocked.
"If the party bosses manoeuvre to prevent the most popular amendment to this Bill even getting 10 minutes' debate, it would reinforce the public's cynical perception that the political elite stitch up debate and ignore their concerns," he said.
While the Prime Minister was keen to articulate that he "shares the frustrations" of back-bench MPs he "cannot restore the restrictions".