#GE2017: Who will decide the country's fate?
With under three weeks to go until the country goes to the polls in the June 8 snap general election, many politicians and commentators have already dubbed this 'the most important election in our lifetime'. 'This election is the most significant of my lifetime. We are truly at a crossroads,' said Scott Cato, a Green Party MEP. Theresa May has described it as the 'most important general election in 60 years'.
Commentator Sean O'Grady in the Independent declared that 'this vote is the most important we've seen in decades', a general election which 'matters more than any other in a generation' given the issues at stake: Brexit, levels of immigration, wage levels, house prices, interest rates, public finances, public services.
Meanwhile, Peter Oborne in the Daily Mail has dubbed it a 'truly momentous' election which 'gives Mrs May the chance to do what every Conservative leader since Churchill has dreamed of – putting an end to Labour for ever'.
Elections usually attract hyperbolic descriptions, and it is easy to see why Washington-based magazine The Atlantic pleaded with pundits in 2012 to retire the phrase 'the most important election in our lifetime', as it is, they said, 'invoked so reflexively and so often that it no longer has any meaning'. It is certainly true that it is an overused phrase, with all elections described as fundamentally transformative. Many commentators now using the phrase (or some close variant) to describe this general election, for example, also used it as recently as 2015.
In truth, the EU Referendum last year was deserving of such a phrase. Brexit is a once-in-a-lifetime, seismic event for the UK. And one of the key issues before the electorate on June 8 concerns the Brexit fall-out. There are also fundamental questions arising concerning the funding and future of public services, access to justice, human rights, international relations and immigration.
But who gets to decide? Who is the electorate?
Most EU citizens excluded from the poll
It may be obvious, given the sheer number of consonants in my name, and the telling pauses which tend to precede attempts to pronounce it, but I am one of the 370,000 Irish people who live in the UK. This made me one of the comparatively few EU nationals resident in the UK who had a say in last year's Brexit referendum, and who will have a say in the general election on June 8. Although the 3.3 million EU citizens resident in the UK are profoundly affected by Brexit, the vast majority had no voice in the referendum, nor will they have a say in the general election.
Only citizens of three EU nations (Ireland, Cyprus and Malta) can vote in UK Parliamentary general elections, and thus could vote in the referendum which adopted largely the same criteria. Malta and Cyprus are Commonwealth countries. Ireland is not, but the Ireland Act 1949 granted Irish citizens resident in the UK the right to vote in elections to Westminster (a step taken after the Irish government left the Commonwealth and enacted the Republic of Ireland Act 1948).
This is reciprocal: UK citizens resident in Ireland are also entitled to vote in Dáil elections. There have been many complaints about the Irish having a vote. Ill-informed twitter complaints include 'Irish can vote. God knows why' and 'puzzled why Irish citizens are entitled to vote. We can't vote in their elections!'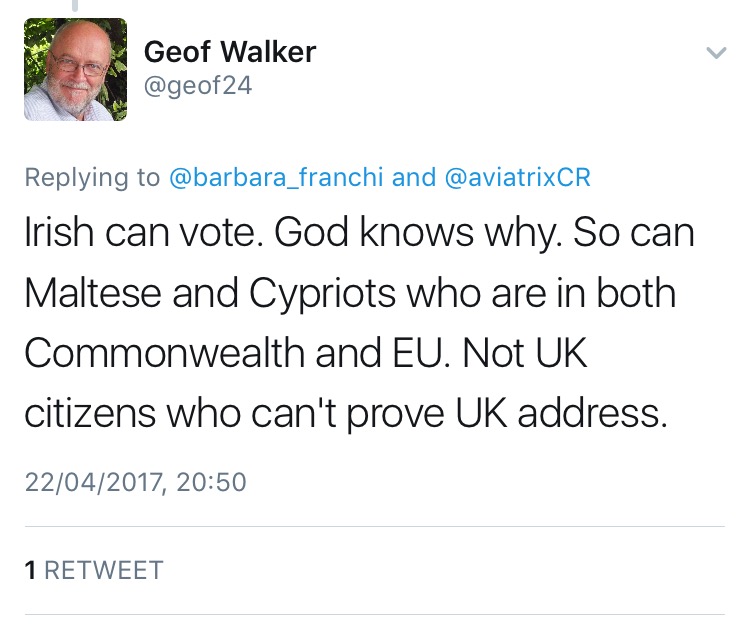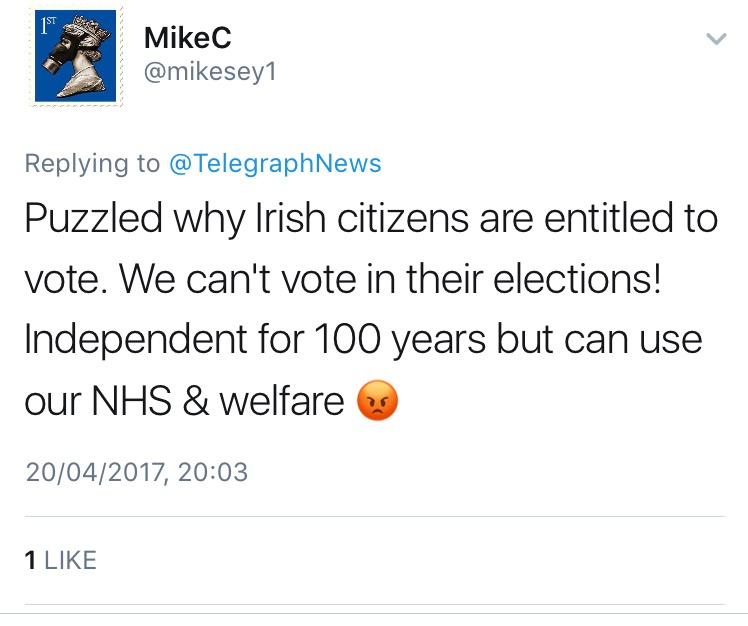 Other EU nationals resident in the UK may vote in local and regional level – at local government elections, in elections to the Scottish Parliament, National Assembly for Wales and the Greater London Authority – and in European Parliamentary elections (provided they have completed a form stating that they wish to vote in the UK and not in their original home country). But on national issues, their voices are excluded. In contrast, qualifying citizens from the 51 Commonwealth nations living in the UK are entitled to vote in general elections, and could vote in the EU Referendum.
Excluded groups
There are certain other groups which cannot vote on June 8:
members of the House of Lords (although they could vote in the EU Referendum);
UK citizens living abroad for more than 15 years;
anyone found guilty within the past five years of corrupt or illegal practices in connection with a election, regardless of the sentence received;
and – controversially – convicted prisoners detained in pursuance of their sentences, unless they were convicted of contempt of court. Remand prisoners, unconvicted prisoners and civil prisoners can vote if they are on the electoral register.
Groups which can vote, despite myths and misinformation to the contrary
It is now only a matter of hours before the general deadline to register to vote on the June 8. The deadline is 11.59 on Monday 22 May 2017, and registration can be done online within under five minutes for England, Scotland and Wales. The process for Northern Ireland is more complicated: the form is online but individuals must complete it and return it to their local area Electoral Office by 22 May.
More than two million people have registered to vote in the month since Theresa May announced she planned to hold a snap general election. The highest rate of registrations is for people aged under 25, and there have been a number of eye-catching campaigns urging 18 – 24 year olds to register.
Less high profile are the campaigns designed to maximise the chances of certain groups whose voices are often wrongly excluded from the electorate being heard this time: people with no fixed address; people with mental incapacity; and survivors of domestic abuse. Long-term, much more must be done to address the practical barriers which many of these groups face to registering and casting their vote, resulting in their effective disenfranchisement.
People with no fixed address
There are many reasons why someone may not have a fixed address, but they are nevertheless entitled to vote. For example:
Homeless people;
Patients in mental health hospitals;
Members of the travelling community.
If staying at an address for an extended length of time this can suffice to meet the residence requirement, and it is possible to register using that address, even if it is a hospital, hostel or (for remanded or civil prisoners) a prison. This can be done online in England, Scotland and Wales (and again, the process is more convoluted and difficult in Northern Ireland). If a person has no permanent address, it is still possible to register at an address where she or he spends a substantial part of time, or where she or he has some connection – such as a homeless shelter. Registration requires the completion of a form called a 'Declaration of local connection.' Full information on voting despite not having a fixed address is available from the Electoral Commission's Your Vote Matters campaign.
Mental Incapacity
Mental incapacity is not a reason to prevent a person from voting. The Electoral Commission's guidance is clear (at paragraph 5.3): 'a lack of mental capacity is not a legal incapacity to vote: persons who meet the other registration qualifications are eligible for registration regardless of their mental capacity or lack thereof'. The guidance also recommends (at 5.4) that people with learning difficulties 'receive information or other forms of support, if requested, to assist them with their application to register or to enable them to find out more about the electoral system'.
Writing in the British Medical Journal in 2010, Marcus Redley, Professor Julian Hughes and Professor Anthony Holland wrote:
'In England, 700 000 people have dementia and 1.2 million have a learning disability. Many of these will have wanted to vote in this year's UK general election and had the mental capacity to do so, but a substantial proportion may not have had the opportunity… If people are denied the opportunity to vote (because they are not encouraged to register or because voting is not facilitated) their rights as citizens are undermined.'
Five years ago, prompted by a discussion about care homes refusing to enter residents on the electoral register on grounds that they lack mental capacity to vote, Lucy Series wrote a superb article about the right to vote for people with mental incapacity, rightly arguing that, 'the biggest obstacle to people living in care services voting is not mental incapacity, but a lack of support to exercise their suffrage rights as a citizen'. The sole reason the Mental Capacity Act 2005 refers to voting is because section 29 prevents proxy voting on capacity-related grounds. It does not justify preventing someone from registering or voting due to their mental capacity; it simply means that someone without mental capacity to do so may not nominate a proxy voter.
Survivors of domestic abuse
In March 2017, weeks before the announcement of the snap general election, Women's Aid and Mehala secured a policy statement from the Cabinet Office, setting out 'the aim of ensuring survivors of domestic abuse can participate in our democracy' in order to have 'a democracy that works for everyone'. The statement set out proposals for anonymous registration, recognising that otherwise there would continue to be barriers in the registration process preventing voters from exercising their democratic rights, and invited feedback.
Regrettably, as Women's Aid has highlighted, the changes could not be implemented on time to enable many survivors to register safely for the 2017 general election. However, Women's Aid and the Electoral Commission have produced a Joint Guide to support survivors of domestic abuse to register to vote anonymously on time to vote on 8 June. The guide is essential reading for professionals working with survivors. The process is paper based and requires certain documentation to be provided (such as a court order or an attestation from a professional). Importantly, although the general deadline for registering to vote is Monday 22 May, the deadline for anonymous applications is Wednesday 31 May, allowing more time.
This may not be the most important election in our lifetimes, but it is certainly a very important election. Critical issues will need to be addressed by the incoming government, including Brexit, the NHS, cuts to public services and access to justice. Those of us who are entitled to go to the polls on 8 June, whatever our political leanings, must do so. And we must do whatever we can to assist marginalised groups to register, vote and be heard.