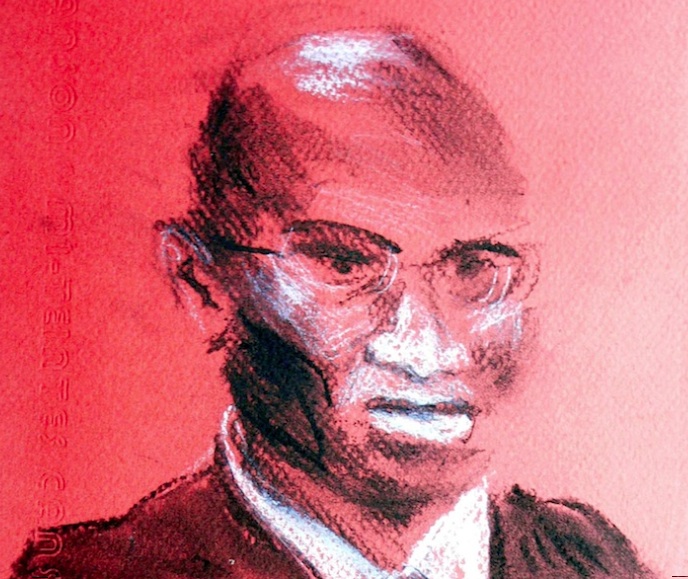 Opening a new prison is not an easy task, whether you are a public sector provider or a private company.
In 1991, before the days of mass privatisation, the public sector prison service opened HMYOI Brinsford, a youth offenders' insitution for 18 -21 year olds in Staffordshire, and within a short period had a mass disturbance and a prison officer taken hostage. The sketch is 'Court Usher' by Isobel Williams  (www.izzybody.blogspot.co.uk). Isobel will be talking about her work in the Supreme Court on Friday, October 18, 2013 from 6:00 PM at Birbeck College. Click HERE to book.
In the same year, HMP Whitemoor opened with similar difficulties and four years earlier, HMP Full Sutton in Yorkshire took a long time to develop a safe regime.
Opening a new prison is both a blessing and a curse.
Blank canvas
Inheriting new, modern buildings and being able to eschew the travails of Victorian architecture so redolent of huge parts of the prison estate opens up whole new possibilities for prison management. Employing new staff recruited and trained for a modern penal system and not immersed in a negative, dinosaur culture can provide a dynamic workforce committed to humane containment and rehabilitation. This is not to say that you cannot provide the best of custodial settings in an old run-down jail: there are numerous examples but it is just that a blank canvas should be able to get you to where you want to go more quickly and efficiently.
But remove the rose-coloured spectacles and the reality is different.
Builders of jails are no different to builders outside. The term 'finished' remains an elastic concept. Snagging your new conservatory is a doddle compared to finding elements of a complex prison institution that don't function as planned.
New staff may well be keen and enthusiastic but with that comes inexperience and an inability to deal with a sophisticated prisoner population well versed in the psychopathy of prisons and all its nefarious opportunities.
So whilst setting a new prison paradigm for a 21st century prison might be a reasonable aspiration, the reality is somewhat different.
This brings us to HMP Oakwood, the flagship new jail near Wolverhampton operated by G4S where Chief Inspector of Prisons, Nick Hardwicke was told by residents that they could 'get drugs but not soap'. At first sight, many of the problems are what you expect: things don't work either as planned or not at all; prisoners outwit staff; managers spin plates on sticks ever faster.
But Oakwood is 'supersize' or 'Titan' depending on your favoured term.
That's twice the size of anything opened in the nineties and indeed most of the existing estate. It is destined to hold up to 2,000 with the extension of cell sharing (also known as overcrowding). This is part of the Government's strategy to save money by cutting down 'cost per prisoner place', in other words to lock up people more cheaply. Oakwood is predicted to cost substantially less than the national average of over £40k per prisoner per year. The precise details are hidden, unfortunately, under the 'commercial in confidence' banner. But it is not size alone that will keep costs down: staff salaries and staff- prisoner ratios are key components. Inexperienced prison staff are being paid less and less to supervise more and more prisoners. They may be aided by new technology but that is of little use if it does not work or staff lack the confidence to use it.
The bottom line may be cheap but the long term costs of 1,600 prisoners leaving worse than when they went in is astronomic.
If we put aside the very relevant public safety issues, the saviour for the tax-payer should lie in the 'payment by results' doctrine. Oakwood will be operating on the basis of a contract, set and managed by the Ministry of Justice. It will contain penalty clauses for the failure to deliver such things as education or to penalise such things as assaults and ultimately escapes. Further down the line it will have a component that will withhold payment if reoffending rates are not reduced (albeit from an arbitrary level). This is an ideal opportunity for Government to demonstrate openness and transparency with its policy and tell us the financial implications for G4S of the lack of progress to date at Oakwood.
The other question worth asking is about transfer of risk, an absolute in terms of privatisation policy. If, heaven forbid, Oakwood was to burn to the ground (or indeed G4S's other large jail, HMP Birmingham), would G4S be totally liable for the prison and police costs of any disturbance, the temporary rehousing of 1,600-2,000 prisoners for three or four years and the rebuild of an entire prison? Or would G4S follow the lead of East Coast Mainline and simply hand the keys back?