The Supreme Court yesterday ruled against two men who spent a total of 24 years in prison for crimes they didn't commit and who were denied compensation by the Ministry of Justice. Sam Hallam and Victor Nealon had been denied compensation under legislation introduced by Theresa May when she was Home Secretary. It looks like their legal fight will go to the European Court of Human Rights.
The cases of Sam Hallam and Victor Nealon have featured extensively on the Justice Gap including in Jon Robins' new book Guilty Until Proven Innocent (Biteback, 2018)
You can also read Jon yesterday on the ruling in the Byline Times here.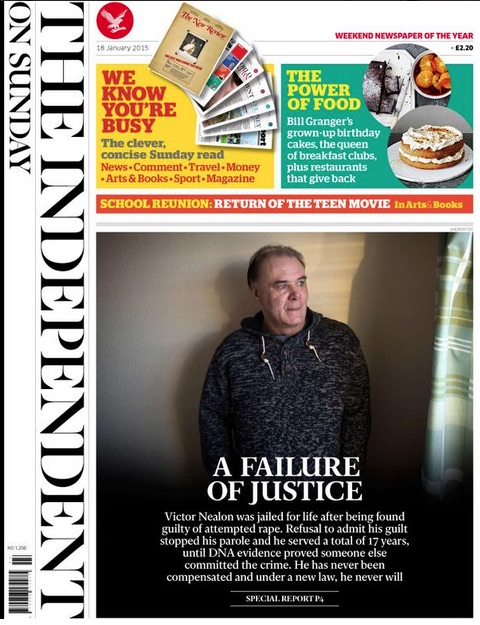 The Coalition Government's Anti-Social Behaviour, Crime and Policing Act 2014 amended the statutory 'section 133'  scheme for compensation and, now, in order to be eligible, they would have to be able to demonstrate their innocence 'beyond reasonable doubt'.
Victor Nealon's conviction was overturned by the Court of Appeal in 2013 after spending 17 years in prison for attempted rape because a DNA test pointed to another attacker. He was left homeless, suffering from post-traumatic stress and unable to work as a result of his wrongful conviction.
Sam Hallam became one of Britain's youngest miscarriage of justice victims when, at 17 years of age, he was convicted of murder after a trainee chef was stabbed during a fight in London. Hallam spent seven years in prison.
'It is devastating for Mr Nealon and an appalling reflection on the system that he should be denied compensation in circumstances where the state wrongly imprisoned him for so many years,' commented Nealon's lawyer, Mark Newby. 'He is still trying to pick up the pieces of his life and will now turn his full focus to the claim against West Mercia Police, whose officers carried out the investigation which led to his conviction in the first place.'
The Supreme Court rejected the appeals by a majority of 5-2, with dissenting justices noting that Mr Nealon is likely to succeed in obtaining a declaration from the European Court of Human Rights that the test is incompatible with Article 6(2).  'Mr Nealon will be continuing his quest for justice in Strasbourg, where he will argue that the justices who were in the minority (Lord Reed and Lord Kerr) were correct,' Newby said. In the meantime he has brought a malicious prosecution claim against the police who procured his wrongful conviction, with that case going to trial at the Birmingham Civil Justice Centre beginning 25 March 2019. 
Nealon's legal team claim investigating officers misled the Crown Prosecution Service and the Criminal Cases Review Commission over the strength of the case against him by stating the victim's clothes had been tested and nothing of note had been found. This new evidence was the key reason why Mr Nealon's conviction was quashed by the Court of Appeal.
Emily Bolton, legal director of the Centre for Criminal Appeals, said that the Supreme Court was 'wrong not to declare this shameful law incompatible with the presumption of innocence'.
'Miscarriages of justice destroy lives. Victims can never be truly 'compensated', but the current law needs to be scrapped. The Government should act to ensure all miscarriage of justice victims get the apologies they deserve, as well as the support they need to help rebuild their lives.'
Emily Bolton
'In making this decision the Supreme Court has damaged the public trust in the judiciary in this important area of law in upholding the rights of those such as Andrew Adams, commented Daniel Machover, head of civil law at Hickman and Rose solicitors.