[contextly_auto_sidebar id="TVfbTodeKL2PRUJy92OCmDniTyMcikon"]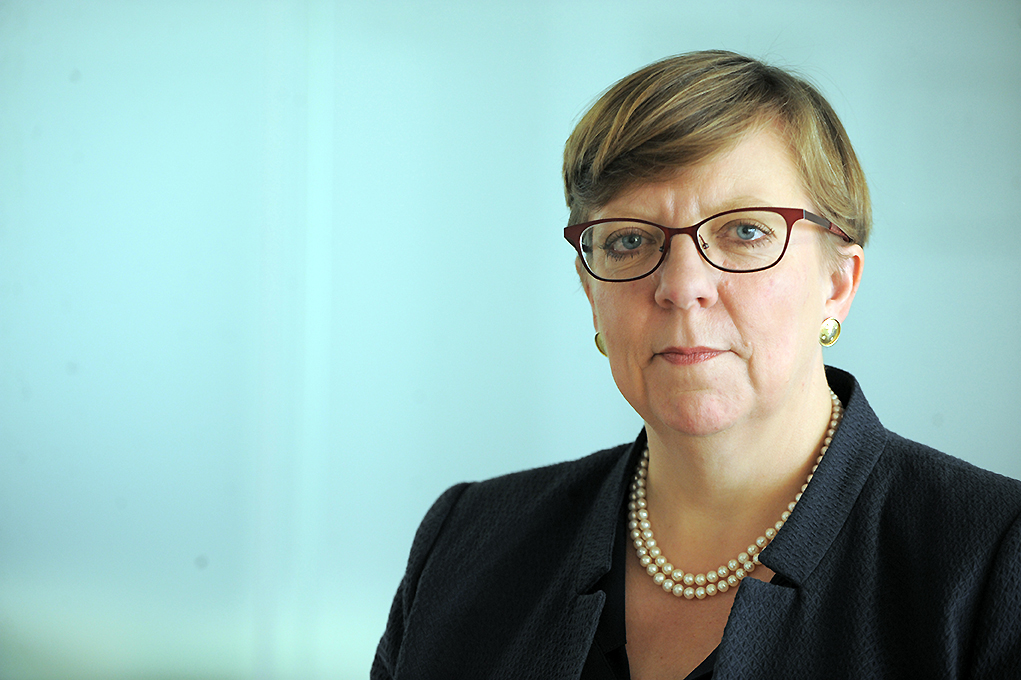 A renewed commitment to the transparency and openness of the Crown Prosecution Service was the central theme of a lecture given by Director of Public Prosecutions Alison Saunders last week.
See Alison Sauders' article for www.thejusticegap.com here
Delivering the Howard League's annual Parmoor Lecture, the DPP (pictured left) recalled joining the Service in 1986, when its charging decisions were scarcely explained to the police, let alone the public. She emphasised the CPS's increased willingness in recent years to explain these decisions.
Saunders said that publication of the Code for Crown Prosecutors had improved transparency. She outlined the Code's two-stage test for deciding whether or not to prosecute, requiring first an evidential review, followed by an assessment of whether prosecution is in the public interest.
The DPP said that televised trials had been successful so far, but reminded the audience of problems including the unintentional disclosure of witnesses' identity on live television. She maintained that televisation would not impact on the CPS's choice of counsel.
'The CPS regularly consults with interest groups, adopting a more open approach to policy making and employing experts to help draft guidance,' said Saunders. The CPS's new social media guidance has boosted publicity, she said, and the public consultation on assisted suicide received the most responses of any CPS consultation to date. 'Engaging across different media can help the public better understand the CPS's work,' she said.
Responding to concerns raised by an ex-Home Office audience member, the DPP said that immigration status had no formal impact on charging decisions, but accepted that individuals' fears over their immigration status could pose problems during prosecution. 'The CPS has good lines of communication with the Home Office and other Government Departments in this regard', she said, but admitted that difficulties persisted when distinguishing victims from perpetrators in exploitation and trafficking cases.
Judge Dredd?
A youth justice worker in the audience asked the DPP to address accusations that the CPS had acted like 'Judge Dredd' following the 2011 London riots. The DPP forcefully rejected this suggestion, reminding the audience that she had been Chief Crown Prosecutor for London at that time, and had been responsible for many of the charging decisions made. The Court of Appeal has confirmed the majority of appeals against both conviction and sentencing, she said.
Predicting an imminent crisis of representation following criminal legal aid cuts, one audience member asked how this might affect CPS decision making. The DPP responded by saying that the crisis had been averted – but didn't quite explain how. She reiterated the CPS's commitment to fair trials and access to justice, and said that her job was made easier when people were well-represented in court.
Saunders refused to be drawn into commenting on the age of criminal responsibility, which some have suggested is too low, maintaining that this was a matter for Parliament.
Probation privatisation
A probation officer of nearly 30 years expressed concern over changes to the probation service, with the abolishment of all trusts and 70% of the service being put out for private tender. The DPP responded that it was for individual civil service departments to make their case in the media, even though elements within the CPS remained reluctant to engage in this way.
The DPP said that the Victims' Right to Review Scheme, which makes it easier for victims to seek a review of a CPS decision not to bring charges or to terminate proceedings, showed that the CPS was becoming a mature organisation that was more prepared to listen.
Saunders accepted that it was 'odd' that under the Review Scheme prosecution decisions were reviewable but police decisions weren't, before pointing out that this would likely change once the EU Victims Directive comes into force next year.
Divided loyalties and fears
Saunders described the complicated considerations at play when charging people with child sex abuse and trafficking crimes. Many of those involved had themselves been past victims of trafficking, she said, and often harboured divided loyalties and fears over deportation. 'Increased specialisation and accreditation is being put in place at all levels of the CPS when dealing with such cases', she said.
The CPS currently undertakes a full review before deciding to charge a child and, according to Saunders, the organisation has increased its cooperation with other bodies such as the police, youth offending services, local authorities, and children's services in this regard.
'Typical victim behaviour'
New CPS guidance recognised the need to challenge stereotypes about sex abuse and 'typical victim behaviour', and there was need to treat victims in a way that avoids further victimisation and stigmatisation in their communities, the DPP said. She maintained that people prosecuted before the change in guidance would have to appeal through the normal channels.
The best way to deal with perpetrators was to punish them and send a clear signal that crimes will not be tolerated, the DPP stated. She nevertheless accepted the need to understand the root causes of crime, and light-heartedly suggested that her ultimate aim was to 'do herself out of a job' by eradicating crime entirely.