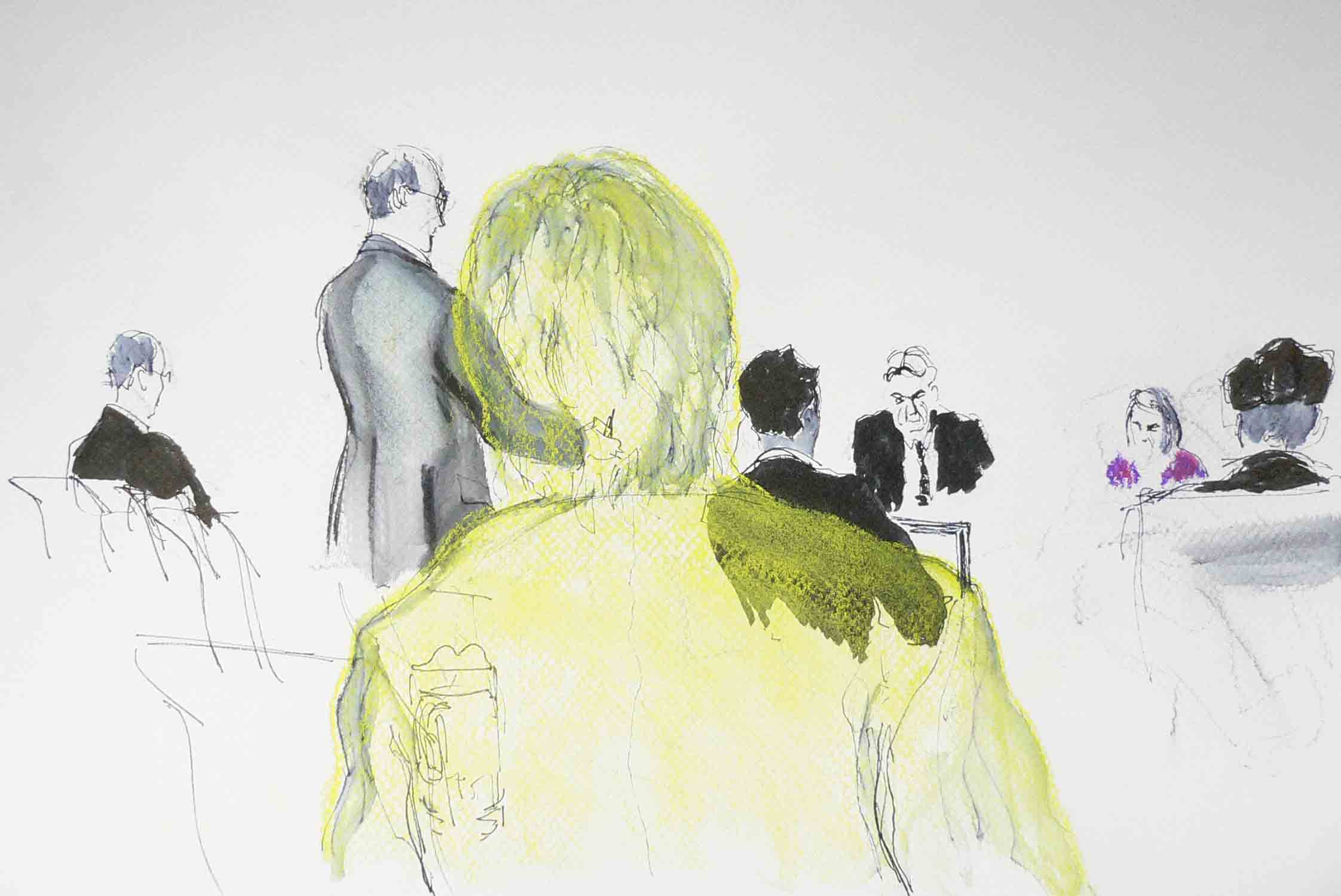 The Supreme Court judgment was handed down on Wednesday in the case of P (by his litigation friend the Official Solicitor) (Appellant) v Cheshire West and Chester Council and another (Respondents); P and Q (by their litigation friend, the Official Solicitor) (Appellants) v Surrey County Council (Respondent) [2014] UKSC 19. The AIRE Centre (represented by Leigh Day and Co) was an intervener in these cases. Supreme Court sketch by Isobel Williams
The issues
The most fundamental question addressed by the cases were whether the concept of physical liberty protected by article 5 is the same for everyone, regardless of whether or not they are mentally or physically disabled. Allied to this was a second question, namely what is the essential character of a deprivation of liberty, and are there permissible and non-permissible deprivations of liberty under article 5?
Specifically, the court looked at the criteria for determining when the living arrangements made for a person who lacks mental capacity to make decisions for themselves might constitute a deprivation of liberty and, if they do, whether that deprivation should be authorised by a court or by deprivation of liberty safeguards (DOLS).
DOLS are procedures contained in the Mental Capacity Act 2005 (MCA 2005), and introduced after a series of court rulings (HL v United Kingdom (2004) 40 ECHR 761 and its earlier domestic incarnation as the "Bournewood Gap" case). The purpose of DOLS is to ensure that there is an independent professional assessment of (a) whether the person concerned lacks the capacity to make their own decision about whether to be accommodated in the hospital or care home for care or treatment, and (b) whether it is in their best interests to be detained.
The background facts
P and Q (MIG and MEG) are sisters, subject to care proceedings when they were 16 and 15 respectively. MIG and MEG also have learning disabilities. MIG was placed with a foster mother, to whom by all accounts she was devoted. Although she had never attempted to leave, it was common ground that she would have been restrained had she ever tried to do so. MEG was in a residential care home, and she was sometimes subject to physical restraint and given tranquillising medication.
The Court of Protection, when considering these cases in the context of care proceedings, had held that these living arrangements were in the sisters' best interests and did not amount to a deprivation of liberty. This was a view subsequently upheld by the Court of Appeal.
A co-joined case concerned P, an adult with cerebral palsy and Down's syndrome, who required 24 hour care. Until P was 37 he had lived with his mother but her ill-health led the local social services authority to obtain orders from the Court of Protection that it was in his best interests to live in accommodation arranged by the local authority. P was placed in a staffed bungalow with other residents near his home, and provided with 1:1 support to allow him to pursue activities and visits. Intervention by staff sometimes occurred when P exhibited what was defined as 'challenging behaviour'. The Court of Protection had held that in this case these arrangements did deprive him of his liberty but that it was in his best interests for them to continue. However, the Court of Appeal disagreed and felt that the arrangements did not involve a deprivation of liberty. The test they used was with reference to disability, namely comparing P's circumstances with another person of the same age and disabilities as him.
The European Court of Human Rights had established general principles relating to the deprivation of liberty of people with mental disorders or disabilities. However crucially it had not decided on a case such as this, which involved a person without capacity, who appeared content with their care placement, and which had been initially authorised by a court.
The decision of the Supreme Court
The court unanimously allowed the appeal of P, and by a majority of 4 to 3 (Lady Hale giving the main judgment) allowed the appeal of MIG and MEG. All had been deprived of their liberty.
The Supreme Court said the test was not that set out by the Court of Appeal, namely that a person's life had to be compared with that of another person with the same characteristics and therefore what was a deprivation of liberty for some people might not be a deprivation for others. This confused the quality of the arrangements made with the question of whether these arrangements constitute a deprivation of liberty. As Lady Hale said 'a gilded cage is still a cage'. People who lack the capacity to make (or implement) their own decisions about where to live may justifiably be deprived of their liberty in their own best interests. They may well be a good deal happier and better looked after if they are. But that does not mean that they have not been deprived of their liberty.
Support for this view was found in the universal character of human rights, such rights as set out in the European Convention, being guaranteed to "everyone" (article 1). They are premised on the inherent dignity of all human beings whatever their frailty or flaws. The same philosophy underpins the United Nations Convention on the Rights of Persons with Disabilities (CRPD), ratified by the United Kingdom in 2009. Physical liberty is also the same for everyone, regardless of their disabilities. What would be a deprivation of liberty for a non-disabled person is also a deprivation for a disabled person.
Where was the dissent?
The key feature for the Supreme Court was whether the person concerned is under continuous supervision and control and is not free to leave [paragraph 49 of the judgment]. As the deprivation of liberty was, in these cases, the responsibility of the state, it was different from similar constraints imposed by parents in the exercise of their ordinary parental responsibilities [paragraph 54].
For the majority of the Supreme Court the person's compliance or lack of objection, the relative normality of the placement and the purpose behind it were all irrelevant to this objective question [see paragraphs 50 and 87 of judgment]. However in dissenting, Lords Carnwarth, Hodge and Clarke, expressed concern that nobody using ordinary language would describe persons living happily in a domestic setting, like MIG and MEG, as being deprived of their liberty. The degree of intrusion was, in their view, pertinent to the concept of deprivation of liberty
Conclusions
Deprivation of liberty has now been defined without reference to disability, but rather on whether action taken or care provided does, in fact, represent an intrusion and restriction on the lives of individuals. That this may be done in good faith, with the intention of enhancing the dignity, safety and/or wellbeing of others is not the point – it is still a deprivation of liberty.
Because of the extreme vulnerability of people like P, MIG and MEG, the court felt that they should always err on the side of caution when considering what constitutes a deprivation of liberty in these type of cases. There was a need for periodic checks to ensure that the arrangements remain in the best interests of vulnerable people, but these checks did not need to be as elaborate as those currently provided for in the Court of Protection or in the DOLS. The Court was also at pains to point out that such checks should not be seen as stigmatising to either the person concerned or their carers. Instead such checks were, in the Courts words, 'a recognition of their equal dignity and status as human beings like the rest of us'.