[contextly_auto_sidebar id="UwbaeCbeMGlg4cmLikm401heJiXkoiIf"]
INTERVIEW: 'We're not going to go away,' says Gloria Morrison, a leading light in the campaigning group JENGbA – Joint Enterprise Not Guilty by Association. At the end of last year, the House of Commons' justice committee called for an 'urgent review' of the controversial law of 'joint enterprise' that allows juries to find defendants guilty of a killing even if they did not deliver the fatal blow. The JENGbA families are still waiting.
Earlier in the year and before the election, the then Lord Chancellor Chris Grayling said that a review of the law in this most contentious of area was a matter for the next government. 'This isn't a political issue. It's not a left or right issue. It's a justice issue,' Morrison adds.
Today, the group will publish an open letter to the new Lord Chancellor, Michael Gove. 'We urge you to place an immediate moratorium on the Crown's use of the joint enterprise principle, until reform or preferably abolition occurs,' it will read.
---
Last week Gloria Morrison and two other volunteers – mothers of black sons serving 24 and 28 years – were stuffing 543 envelopes with their monthly newsletter for prisoners in JENGbA's headquarters, a rented room in the admin offices of a large council estate just off Ladbroke Grove, West London. The group is in touch with over 600 prisoners and ex-prisoners who have been convicted under joint enterprise.
The main news in issue 34 is the group's intention to intervene in a critical test case to be heard by the Supreme Court late October (R v Jogee). Today JENGbA is launching an appeal – through CrowdJustice – to cover the costs of that intervention. This will be the first time that the top court has looked at this most contentious area of the law.
As Gloria Morrison explains: 'The Supreme Court is looking at the question: "Does joint enterprise over-charge secondary parties?" Well, that's us. That's the story of our families. It's one of the reasons why we've seen sentencing in our courts go through the roof.'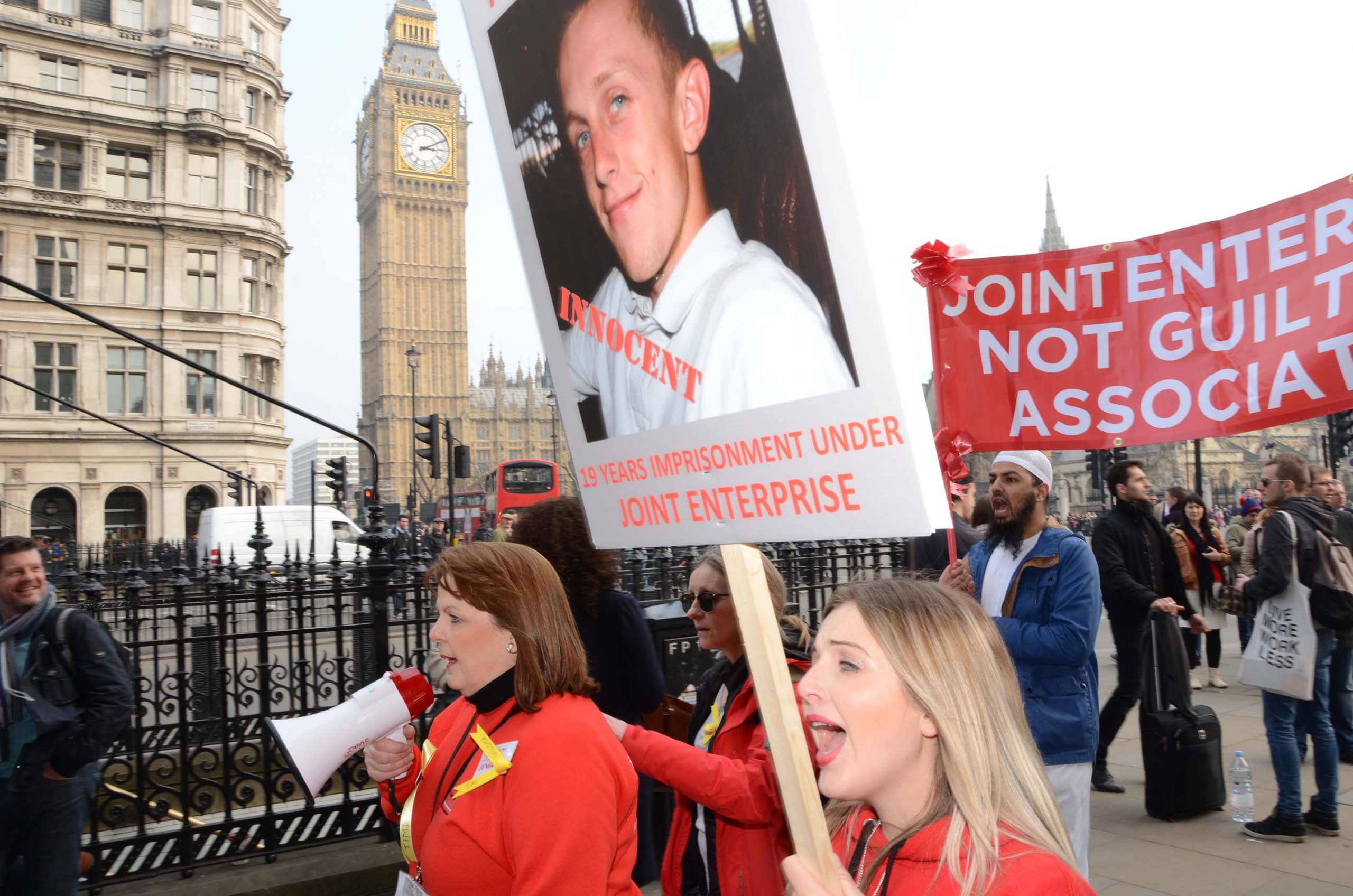 The use of joint enterprise means that a peripheral figure in a group that commits murder could receive the same mandatory life sentence as the main perpetrator. The House of Commons' justice select committee has called on the Law Commission to look at the possibility of charging secondary participants with manslaughter or a lesser offence.
'Judges hate the mandatory aspect of joint enterprise,' Morrison says. 'They see the unfairness. They hate having their discretion limited. I have been told that we are pushing at an open door.'
Dragnet
Delivering the justice committee report at the end of last year, the then committee Sir Alan Beith said that there was 'a real danger' that the doctrine was being used to deliver a 'social message' about the perils of gang crime, rather than to convict people proportionately. Witnesses told the MPs that joint enterprise was being used as a 'dragnet' that was 'hoovering up young people from ethnic minority communities' who had 'peripheral, minor or in some cases even non-existent involvement in serious criminal acts' and 'imposing draconian penalties on them'.
JENGbA, a grass roots campaign comprising largely working class women,  has proved remarkably effective persuading the justice committee to look at the issue, not once but twice (2011 and 2014). Jimmy McGovern made the film Common for the BBC, broadcast last year, after one of the mothers wrote to the author. 'She put the wrong postcode on the letter,' Morrison says. 'Jimmy felt bad because he had not responded, and rather than just writing back and saying 'Sorry, no…', he went round for a cuppa.' McGovern ended up making the drama and is now a JENGbA parton (alongside former chief exec of the Commission for Racial Equality Lord Herman Ouseley).
According to statistics obtained by the Bureau of Investigative Journalism under a freedom of information request, 1,853 people were prosecuted for homicides involving four or more defendants between 2005 and 2013 which almost certainly relied upon joint enterprise – and 4,590 for homicides involving two or more. More than one of five of all Court of Appeal rulings in 2013 related to joint enterprise cases (22%). That was – according to Dr Matthew Dyson of Cambridge University – a 'terrifying statistic and evidence of the constant appeals against this doctrine'.
---
It could have been my son
'I instinctively knew that joint enterprise was about racism,' says Morrison. She became involved in JENGbA as a result of the experience of her son's best friend. In 2007 Kenneth Alexander was found guilty of murder given a life sentence as a result of his part in the April 2005 stabbing death of Michael Campbell. Alexander was semi-conscious having been hit on the back of the head at the time of the killing, Morrison says. 'It was Alexander's role in ringing friends to call in reinforcements for a possible confrontation that provided the prosecution with his "joint enterprise",' she explains. 'That he knew some of his mates carried knives, even though he never did, was also a factor in his conviction.'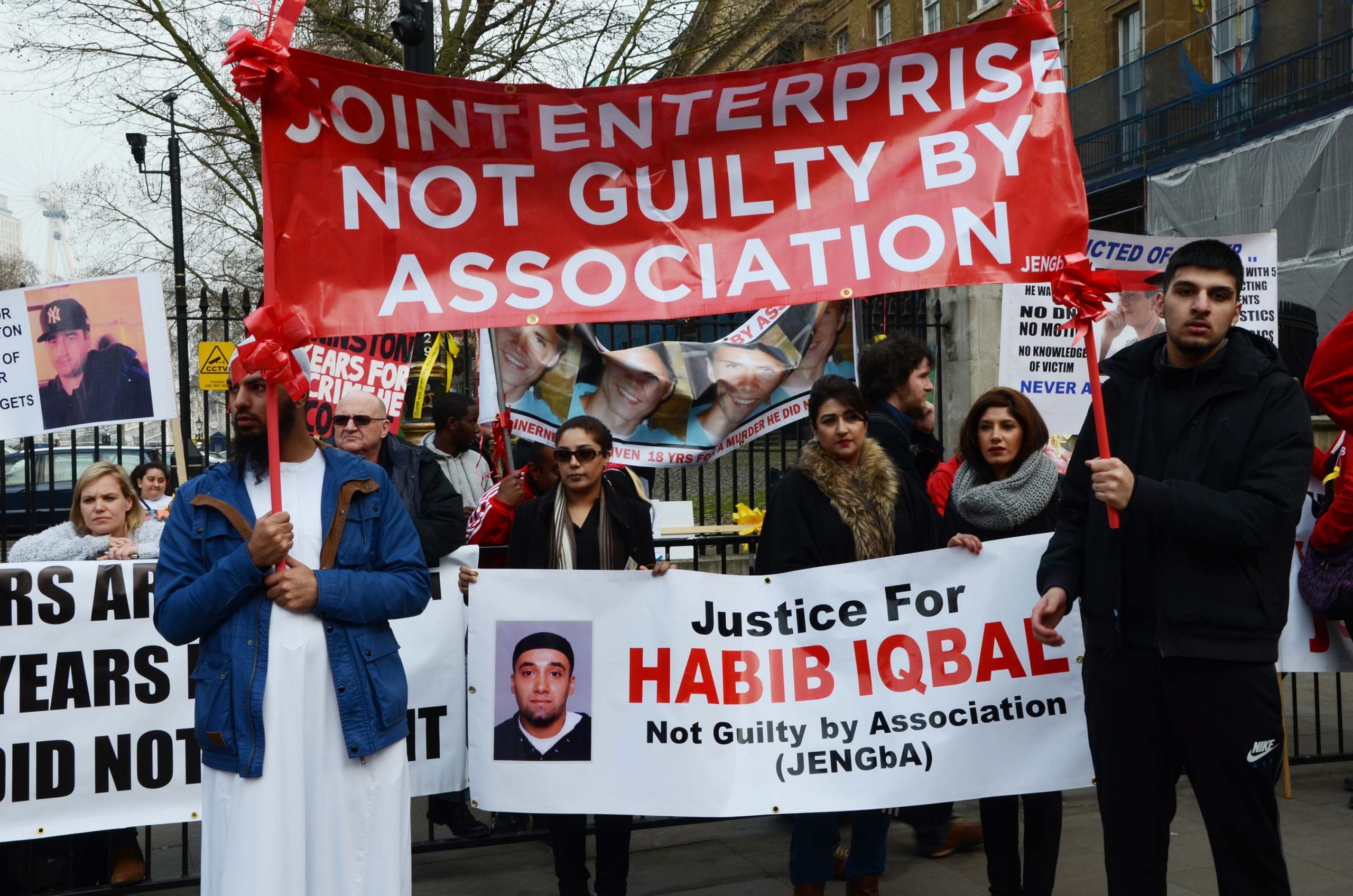 'It could have been my son. The boys all went to the same Catholic school in West London. All the boys were black. My son is white. They all came from affluent backgrounds. Ken's mother is a psychologist. The boy who did do the stabbing was the son of a deputy head-teacher.'
Gloria Morrison
Every week new families contact JENGbA. The day before the interview there was a meeting in Birmingham. 'Five people contacted us. Almost every single name was Asian,' Morrison says.
'I had never even heard of "joint enterprise" until it happened to me,' Barbara, one of the JENGbA volunteers, tells me. Her son was only 19 years old when he was sentenced to 24 years last March. He is presently in HMP High Down, Surrey as a result of his part in a fatal stabbing after an altercation with a Somalian gang.
She admits her son was involved in the fight that led to the killing. 'I am not saying he is innocent but he's not guilty of murder,' she says. After he was sentenced, Barbara's other son was attacked by the gang and other members of the family were threatened with having acid thrown in their faces. Barbara ended up being housed temporarily in a safe house with her daughter for a year and has now moved out of Kentish Town.
Barbara says her son is 'holding up. He knows we are here outside fighting for him.' Barbara struggles to make sense of the sentence. 'My son always says: "I would never change my plea. I am not pleading guilty for something I didn't do."' There was no evidence to say that my son had a knife. A boy pleaded guilty on the first day of the trial. The judge sentenced my son and a co-defendant to longer than the kid who actually did it. They didn't have any weapons on them. Sentence them to the part that they played – but not to murder. I just don't understand it.'
Gloria Morrison says that she and her colleagues don't sit 'as judge and jury' when someone rings up. 'I say to them "You do not have to prove it to me what their involvement was, if any." They have already been tried once in a court of law which I do not trust any more. If the courts are using this kind of charge, they don't have any credibility.'