[contextly_auto_sidebar id="9FievIZw4E8drvmt4GCMclWdZW5KzBBg"]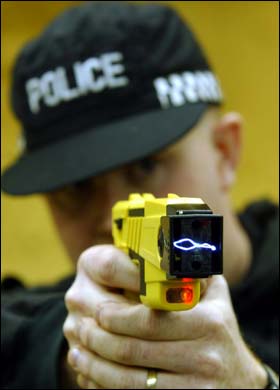 Statistics released following a Freedom of Information Act request by the BBC and made available to www.thejusticegap.com show that police in England and Wales are three times more likely to Taser a black person than a white person.
Between 2010 and 2015, the police drew, aimed, or fired Tasers 38,135 times. In 13% of cases the subjects were recorded as being of black African-Caribbean or mixed white and black African-Caribbean origin. As black people make up 4% of the population they are approximately three times more likely to be Tasered than white people.
Streatham MP Chuka Umunna demanded that the Home Secretary, Theresa May, launch an 'immediate investigation' into the 'disproportionality' of police Taser use against black people, questioning whether the disparity was down to  'institutional racism'. Umunna also criticized the Home Office for deliberately withholding information about the age, sex, and ethnicity of Taser subjects. While the Home Office releases annual statistics showing the number of times police in England and Wales use Tasers, it was only after a Freedom of Information Act request by the BBC that more detailed statistics were released.
Police in England and Wales were also increasingly using Tasers in encounters with children. There were 522 recorded instances of the police using Tasers on children, which represents a 50% increase from five years ago. Moreover, 158 of cases in the last year involved children under 16 and in 2014 West Yorkshire police aimed Tasers at two children who were just 10 years old.
The situation was particularly acute in London. Evidence collected by the London Assembly last year showed that up to 50% of people Tasered by the Metropolitan police were from black African-Caribbean or other minority ethnic backgrounds and that 30% were emotionally or mentally distressed. At last year's Policing and Mental Health Summit, organized by the Home Office and Black Mental Health UK, Theresa May called for greater transparency in reporting of police Tasering of people with mental health problems. However, while the new statistics on police Taser use in England and Wales identify the age, sex, and ethnicity of the subjects, they did not identify how many cases involved emotionally or mentally distressed people.