Australia is considering setting up a miscarriage of justice watchdog based on the Criminal Cases Review Commission as a result of fallout over the high profile wrongful conviction of a mother over the death of her four children. As reported on the Justice Gap, Kathleen Folbigg was released following 20 years' imprisonment after being pardoned following a judicial inquiry.
The outcry over the case has led to academics and campaigners looking to the CCRC which was introduced in England and Wales in 1997 – a model already copied in Scotland, Norway, New Zealand and presently being looked at in Canada (see here). 'Australia might well want to introduce a CCRC, but I suggest it does not follow our CCRC,' Justice Gap ed Jon Robins told ABC's Law Report programme broadcast yesterday. 'It needs to be adequately funded, independent, and it needs to build up its own profile.'
The programme ('Does Australia need a Criminal Cases Review Commission?') featured interviews with Dr Emma Cunliffe, a professor at the Allard School of Law at the University of British Colombia and author of Murder, Medicine and Motherhood and Colin Carruthers KC, chief commissioner at the New Zealand Criminal Cases Review Commission as well as Jon Robins, who has a new book Murder, Wrongful Conviction and the Law published by Routledge this month featuring experts from around the world including Norway, New Zealand and Canada.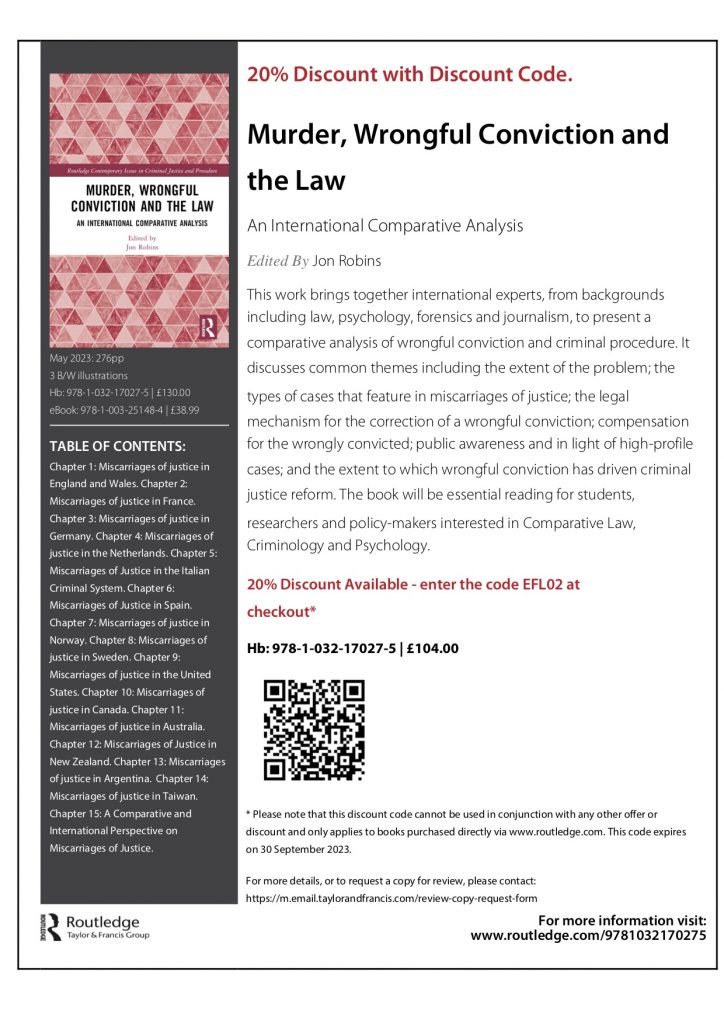 Murder, Wrongful Conviction and the Law 9781032170275 flyer Murder, Wrongful Conviction and the Law 9781032170275 flyer Colin Carruthers reported that the New Zealand CCRC had received almost 380 applications since July 2020. 'And of those, we have investigated or reviewed 125 – so we have dealt with about a third of the cases that we have received,' he said. Its first referral was made in December 2022.
Jon Robins outlined some of the problems that have beset the CCRC in England and Wales as highlighted by the recent Westminster Commission on Miscarriages of Justice which prompted the current Law Commission review of the appeals process. If a person is  wrongly convicted, then in most cases an application must be made to the CCRC which has the power to refer a case back to the courts  – but only if the CCRC believes there is the 'real possibility' that the Court of Appeal might overturn the case.
Robins argued that the CCRC was effectively 'tied' to the courts by the statutory test and 'an increasingly conservative' Appeals court created problems for the watchdog. 'In 2016, there was a lot of concern as the numbers of CCRC referrals appeared to collapse,' the journalist told presenter Damien Carrick. Over the CCRC's first 20 years, it was referring an average 33 cases a year however those numbers dropped to just a dozen referrals in 2016 and 13 the following year. 'This came on the back of growing concerns as to how good a job the CCRC was doing and the quality of investigation. As a consequence, a parliamentary group was set up – the All-Party Parliamentary Group on Miscarriages of Justice – and that led to a two-year inquiry, and its main finding was that the commission was massively underfunded. 'The CCRC received £6m pounds in 2019, compared to £9.24m in 2004,' Robins said.
Damien Carrick pointed out that the campaign to exonerate Kathleen Folbigg took two investigations and 'the unprecedented involvement of the Australian Academy of Sciences'.  'Would a CCRC have made a difference?' he asked Dr Cunliffe.
'It would have – and I can be categorical about that,' the academic replied, saying that there was 'a direct comparator' in the way in which 'the English CCRC dealt with the very similar cases of Sally Clark, Angela Cannings, and Donna Anthony' – three cases involving mothers found guilty of killing their infant children smothering them. 'And those wrongful convictions were identified and corrected within a couple of years in England whereas it took 20 years in New South Wales,' she said.
The academic is based in Canada where she has been advocating for a CCRC – presently there is a draft bill before the House of Commons. She added that there was 'no real value in having an independent review commission if it isn't adequately funded to do the work it needs to do. There is a pattern including in England of hobbling the powers of a commission of this kind by reducing the funding that's available to it. That's a danger that needs to be carefully watched.'
Jon Robins was asked about the CCRC's recent referral of Andrew Malkinson's case for a 2003 rape after another man's DNA was found on the woman's clothing. 'What's driving the progress that's been made in Andy's case is coming from a legal charity called APPEAL who specialise in miscarriages of justice,' said Robins. 'Yes, the referral has come through the CCRC who has done their own work on the DNA, but the breakthrough itself is down to a campaigning organisation. There have been two previous applications to the CCRC that have gone nowhere.'
'Does that speak of the ongoing need of campaigning lawyers and activists?' asked Carrick. 'Absolutely,' Robins replied. 'We wouldn't need it if you had the kind of properly-funded investigative organisation but what's happened is over the years, [the CCRC's] been starved of funds and undermined. This means that the organisations like APPEAL, the small number of lawyers who remain committed to doing criminal appeals work, the campaign organisations, the Innocence Projects at universities – they are needed more than ever to do this work.'
Jon Robins explained that campaigners, lawyers and the human rights group JUSTICE originally called for a watchdog body that would have to power to overturn convictions outside of the court system – according to Carrick, such an idea sounded 'very radical to Australian ears'.
Robins pointed out that the campaign for the original CCRC was 'radical' and came following a series of scandals which led to the public losing faith in the courts' ability to deal with these cases. 'The public suddenly became seized of the idea that our courts were not doing a proper job and that there was a huge kind of institutional denial on the part of the justice system. So when people called for a "radical solution", they wanted to take the problem out of the courts.'
Dr Cunliffe argued that a CCRC as a determinative body raised 'significant questions'. 'The value of having judges make a decision is the architecture that already exists for our judicial independence, and the importance of preserving the independence of the ultimate determination of criminal guilt. If a commission had that power, that would give rise to questions about security of tenure of the commissioners and their independence and whether those protections and safeguards were equivalent to the protections that we give to judges.'
Carrick asked of having a CCRC 'one step removed' would be a better model for dealing with 'structural problems with the courts and the way lawyers and judges look at things'. Cunliffe agreed. 'If one looks to the response of the New South Wales legal system over the years to concerns about Katherine Folbigg's guilt, for example, we can see a legal culture which is resistant to acknowledging the possibility of error,' she said. 'I'm not certain that locating the power to correct miscarriages of justice in a completely separate body would wholly address those cultural concerns. I think they're deep-seated.'
---