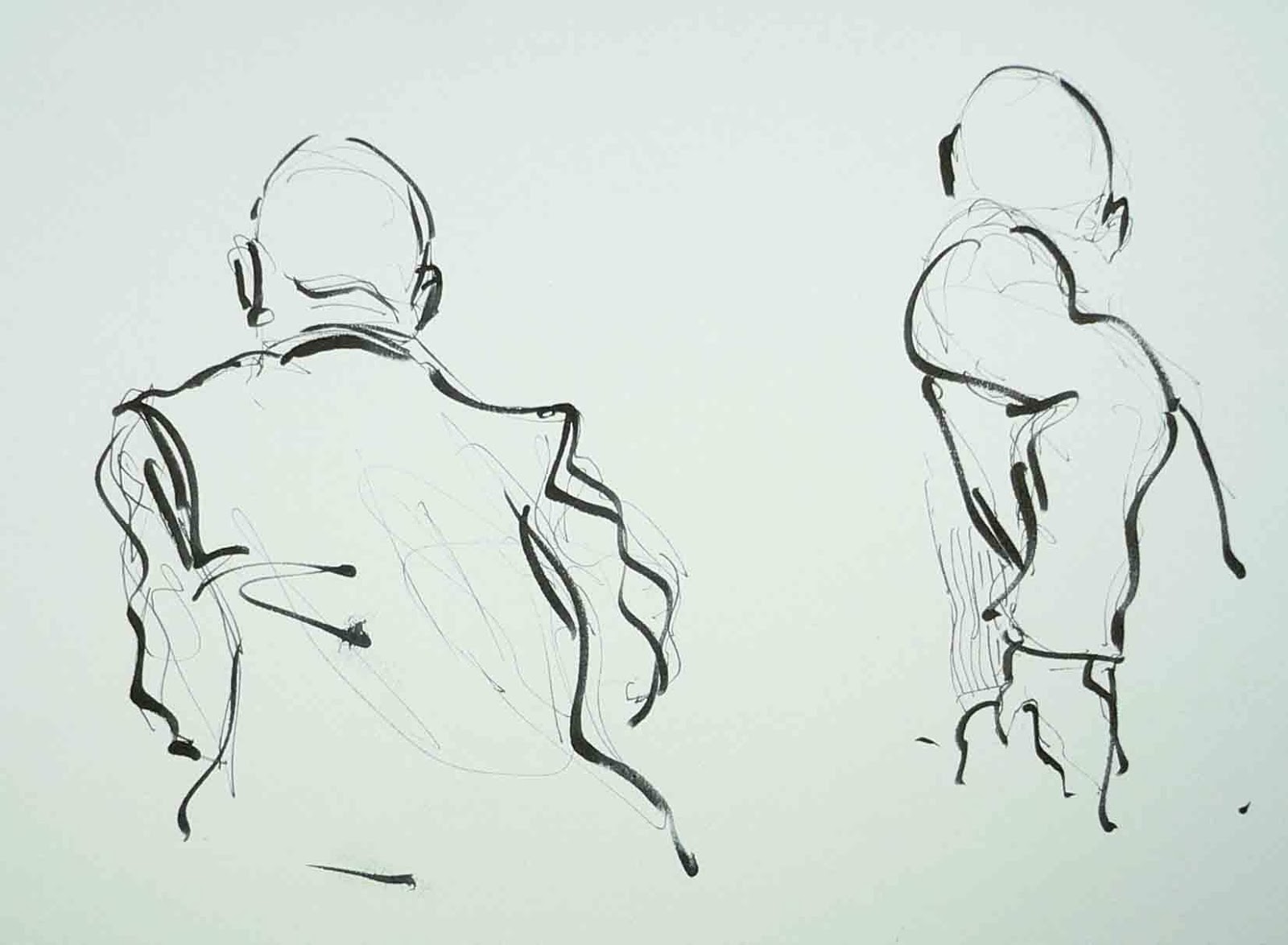 For world-weary policy wonks like me it can be bemusing to watch a policy issue suddenly snowball from long-standing fringe concern to high-profile pledge of action by a senior politician. Because, however much we might claim to understand the political and policy-making processes, it's often a bit of a mystery to us how – and indeed why – the transformation came about.
The sketch (Robin Allen QC) is by Isobel Williams (www.izzybody.blogspot.co.uk). Isobel will be talking about her work in the Supreme Court tomorrow Friday, October 18, 2013 from 6:00 PM at Birbeck College. Click HERE to book.
Just twelve months ago, few in the employment policy world were making much noise about zero-hours contracts, which have been widely used (and misused) in some sectors of the economy since at least the early 1980s. In August 2012, Acas had noted "a sharp increase" in the use of such contracts in recent years as "employers try to find cost-effective ways of meeting short-term staffing needs", but no great fuss ensued.
A few weeks later, however, an article in the British Medical Journal kicked off a flurry of press reports about the growing use of such contracts in the NHS. Then, in March this year, three Merseyside MPs launched an investigation into the exploitative use of such contracts, and the following month shadow health secretary Andy Burnham called for a ban. A snowball was rolling.
By late May, the snowball was large enough for Business Secretary Vince Cable to ask his officials to conduct an informal review. And in June it gathered speed and much weight when a Resolution Foundation report (PDF) suggested that official figures for the number of workers on such contracts – 208,000 in 2012 – are "a substantial under-estimate". The think tank suggested the true figure is most likely about 500,000.
Come July, shadow business secretary Chuka Umunna was on the case, and in August the Chartered Institute for Personnel & Development waded in with an estimate of one million workers on such contracts, only for the union Unite to go one better with a (decidedly flaky) guesstimate of 5.5 million.
And so to Bournemouth, where in September the now ginormous snowball rolled into the TUC's annual conference, and Ed Miliband used his keynote speech to announce that the next Labour government will "outlaw the exploitative [sic] use of zero-hours contracts".
More particularly, Miliband pledged to ban zero-hours contracts which "require workers to work exclusively for one business" or "to be on call all day without any guarantee of work", and to "end zero-hours contracts where workers are working regular hours but are denied a regular contract". Labour MPs such as Andy Sawford – who in June tabled a Private Member's Bill providing for an outright ban – were delighted.
Come this week, Labour had added "a Code of Practice on the use of zero-hours contracts" to Miliband's pledge, and was feeling bullish enough to devote one of its rare Opposition Day debates to the issue. The three-hour debate generated much heat – especially when Tory Guy Opperman, normally something of a leftie, appeared to dismiss the plight of zero-hours contract workers on the minimum wage as little different to his experience as a pupil barrister some 25 years ago – but very little light.
Vince Cable promised a formal consultation in November, and hinted he too might go for a Code of Practice, whilst his BIS colleague Michael Fallon made hay with 15-year-old soundbites from New Labour's torrid love affair with the notion of 'a flexible Labour market'. For Labour, MPs such as Lisa Nandy, Sheila Gilmore and Alison McGovern spoke passionately about the misery-inducing proliferation of zero-hours contracts throughout the bottom end of the labour market, and especially in social care, but Chuka Umunna failed to explain how Labour's four specific proposals would actually work.
Which begs the question: is Labour's pledge deliverable? Or will it, like the proverbial snowball in hell, melt away to nothing on the hot rocks of legal and labour market reality? Pretty much everyone agrees that an outright ban is neither practicable nor desirable. So the key word here is 'exploitative'.
Unfortunately, as this week's partisan debate tended to confirm, one person's 'exploitation' is another person's 'flexible labour market'. And, as employment lawyer Darren Newman has noted, "there is a limit to what employment law can do to remedy this". Working along similar lines, labour relations specialist Steve Gibbons warns that "if there were to be legislation [to regulate zero-hours contracts] it would, without a doubt, be particularly complicated and difficult to enforce."
Apart from anything else, enforcement would depend on individual workers risking almost certain dismissal by bringing an employment tribunal claim. Thanks to the Coalition, that now costs £1,200 in fees, with no guarantee of actually getting any money from the employer should the claim succeed. And we are still waiting for Ed Miliband or Chuka Umunna to tell us what, if anything, the next Labour government will do about that.
So, if you're one of those slaving away at the whim of your employer, can you expect Labour to ride to your rescue in 2015? I dearly wish I could say they will. But my head tells me their pledge is indeed a policy snowball in hell.