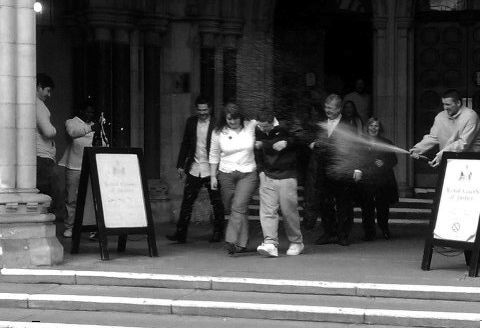 Sam Hallam was freed on bail today after the prosecution said it would not oppose his appeal against the conviction. Pic: Sam Hallam leaving court today (Kim Evans)
Read Kim Evan's report from courtroom 8 today HERE.
'I will not have my courtroom turned into a circus,' warned Lady Justice Hallett. She did however enquire – very kindly – of Hallam as to whether he understood what was happening, and why the hearing needed to continue, asking if he was OK to carry on. He said 'Yes' he was in a very shaky voice.'
Kim Evans
Hallam was an 18-year old teenager when he was jailed for life in 2005 for killing trainee chef Essayas Kassahun, 21, in Clerkenwell, London, in a gang attack in October 2004. According to his campaign, the only evidence against him at his 2005 trial consisted of contradictory statements placing him at the murder scene. 'This evidence was riddled with inconsistencies and anomalies,' they say (www.samhallam.com).
Hallam's case was referred to the court by the Criminal Cases Review Commission. Henry Blaxland QC, who represented Hallam, argued today in court that police failures to investigate and to disclose evidence, and the unreliability of the witness evidence had created a 'serious miscarriage of justice'.
Earlier today the prosecution announced that 'the application was no going to be opposed'. There was cheering in court as Lady Justice Hallett confirmed Hallam would be released on bail.
According to the BBC Lady Justice Hallett turned to the dock and asked Hallam: 'Do you understand what is going on? Are you sure you are all right?' At the end of the hearing the judge said there was 'obviously a fair bit to think about. We will give our judgment at noon tomorrow.'
'They all knew he was innocent. He wasn't there. Today is amazing. It should have happened sooner but the wheels of justice are slow. We can't believe this.'
Penny Millard
Matt Foot, Hallam's solicitor, spoke to Kim Evans who was the Royal Courts of Justice. 'The turning point was Henry Blaxland's clarity over the identification issues. But it really started with the family's campaign – without that campaign the case wouldn't have been taken up by the CCRC and the Thames Valley police wouldn't have take a look at [at the request of the CCRC] and it wouldn't have come back to the Court of Appeal. The judges seemed to be with us and the prosecution told us over lunch that they wouldn't oppose the application. I am very relieved.'