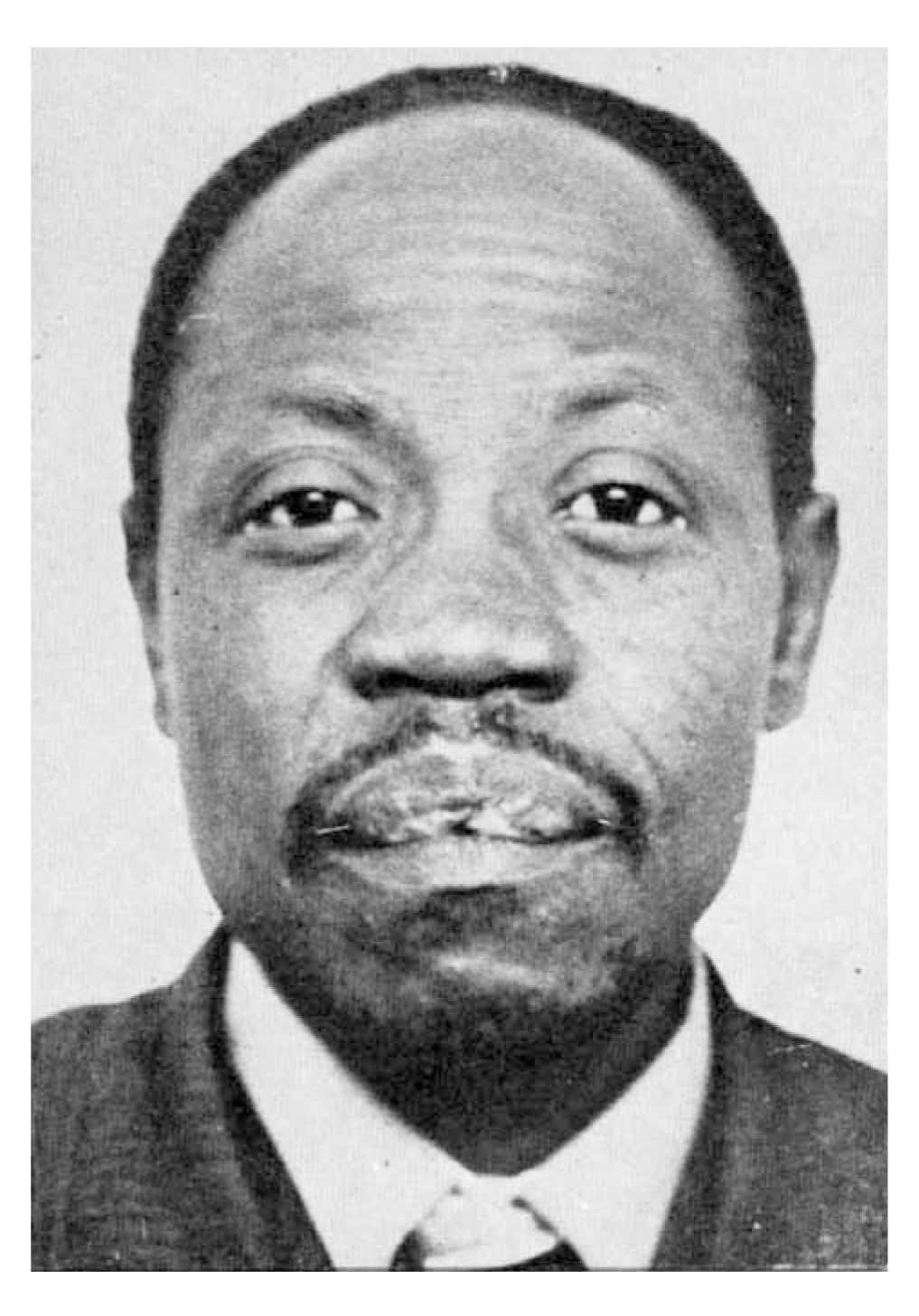 David Oluwale's story is an utterly compelling one with many twists and turns but it is best known as one of the biggest stains on the history of the grand old city of Leeds and a significant, indelible black mark on the police service in Yorkshire.
Oluwale's death in 1969 was the first known incident of racist policing allegedly leading to the death of a black person. It is also the only time in contemporary British history that police officers involved in brutality that directly, or indirectly, led to the death of a suspect have received criminal sentences.
You can read about the campaign to build a memorial for David Oluwale HERE. It was reported this week that the Remember Oluwale charity is pressing ahead with £100,000 plans for a Memorial Garden near Leeds Bridge where Mr Oluwale, who was 39, was last seen.
'In remembering its traumatic past, the city is healing itself and moving forward. This garden will be a place of reflection and tranquility. It will focus our efforts to improve the conditions of the people in Leeds who continue to endure similar problems to David's – mental health distress, destitution, homelessness and racism.'
Max Farrar, Emeritus Professor at Leeds Metropolitan University and secretary of the David Oluwale Memorial Association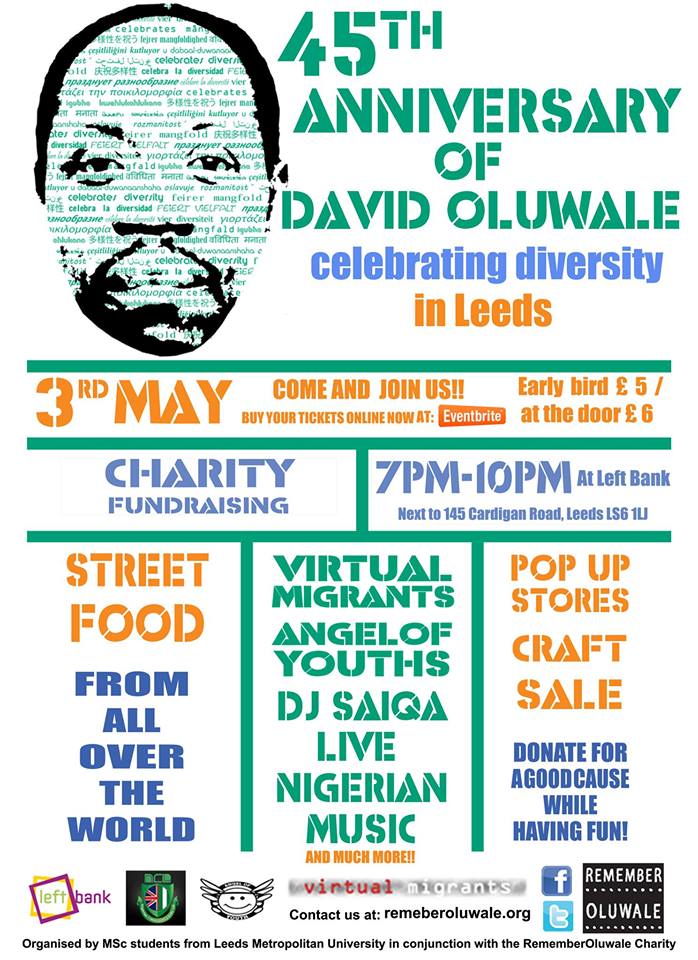 David Oluwale was a familiar figure in Leeds city centre in the 1960s, a short (5′ 5″) black man shuffling around Kirkgate Market, close to where the 'new' Millgarth Police Station now stands. At night he buried himself in shop doorways, steering clear of the places favoured by most other street dwellers. When his bruised and beaten body was pulled from the River Aire by police frogmen, nobody came forward to ask questions. The only mourners at his mass pauper's grave, in which nine others were buried, were the undertakers who had stuffed his coffin with discarded telephone directories and the gravediggers who were to also assist in exhumation of his body two years later.
Oluwale, a Yoruban by origin and educated at a Christian grammar school, was almost 20 years old when he came from Nigeria in August 1949, stowing away on a cargo ship. He left behind a work-scarce, poverty-stricken British colony in the hope of a better future in the 'Mother Country'.  Instead, half of his 29 years in England were spent on the secure ward of a mental hospital and he also came to know the inside of Armley Prison well.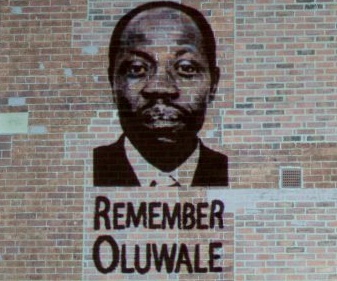 Starting with his capture upon docking at Hull, following which he was sentenced to 28 days in the notorious Leeds jail. The magistrate at Hull police court told Oluwale 'that he would have been better off staying home (in Nigeria) digging groundnuts'.
Upon release from Armley gaol, Oluwale started a new life in the city hoping, eventually, to study engineering he got a job at West Yorkshire Foundries in Clarence Road, Hunslet, just south of the river in which he was to later perish. At work, he was noted for reading "educated" newspapers and after a short time he married a local woman, Gladys, and they had two children.
In 1953, Oluwale was charged with disorderly conduct and assault following a police raid on a nightclub. He subsequently served a 28-day sentence. In prison it was reported he suffered from hallucinations, possibly because of damage sustained from a police truncheon blow during the arrest. He was then labelled schizophrenic and transferred to the Pauper Lunatic Asylum at Menston near Otley (now called High Royds Hospital), where he spent the next eight years. He was treated with a variety of medical techniques including the 'liquid cosh' Largactil and electroconvulsive therapy (ECT) that left Oluwale confused and disorientated for much of the time, and he was often found asleep under radiators.
The slammed door and the colour bar
Upon his release Oluwale was unable to hold down a job and a permanent residence, and quickly became homeless. The relationship with Gladys had broken down and friends reported that he was a shadow of his former self, and had lost all confidence. As a black man in a still overtly-racist Britain, his choices of lodging and employment were also limited. During this time he regularly moved between London, Sheffield and Leeds but always gravitated back to his adopted home city. He found himself in trouble with the Leeds police again, several times, and accused the police of harassing him. In late 1965 he was returned to High Royds Hospital, where he spent another two years. Following release, he was once again homeless and lived on the street.
Oluwale was the only homeless black man in the entire city and it raises the wider context of Oluwale's story, and that of the city of Leeds, in that virtually all immigrants at the time faced a slammed door when searching for accommodation or hostel sanctuary, and a "colour bar" in various pubs around Leeds.
Another Nigerian stowaway, John Otse, knew Oluwale in good times and bad. He was very fond of the man they called 'Yankee', a nickname given because of his passion for Westerns and his swaggering walk.
In 1968, while living on the streets, Oluwale became the target of a sustained and cruel campaign of physical and mental violence. His principal tormenters were two senior officers at the old Millgarth police station, Inspector Geoffrey Ellerker and Sergeant Kenneth Kitching Once Leeds had shut down for the night they went looking for him, subjecting him to a range of humiliations.
A few weeks before his death, Oluwale had told his probation officer that he wanted to return to Nigeria. He was almost broken. In the early hours of 18 April 1969, just a week after the very last time he was released from a prison, he was beaten with truncheons in a shop doorway just off The Headrow, then Leeds' main shopping thoroughfare. Oluwale fled  towards Leeds Bridge screaming and holding the back of his head. A local petty criminal later came forward to say he saw two uniformed police officers inflict a terrible beating on a smaller, dark man and then kick him into the river after they had smashed him unconscious. Another witness, a Leeds City Transport bus conductor, told the police inquiry that he had seen, from a distance, two police officers chasing someone towards the same section of the River Aire from which David's body was pulled two weeks later. George Merrion, a local postman, had seen a police vehicle parked facing the river at the material time.
Whistleblower
In 1970 a young Leeds City Police cadet Gavin Galvin reported that he'd heard police station gossip from colleagues about the severe way Kitching and Ellerker had treated Oluwale. This report may have been prompted by perverting the course of justice charges that were ongoing against Ellerker. An enquiry was launched following the Oluwale intelligence provided by Galvin, carried out by the Metropolitan Police, and sufficient evidence was gathered to prompt manslaughter, perjury and grevious bodily harm (GBH) charges being brought against Kitching and Ellerker.
During the Scotland Yard enquiry, led by DCI John Perkins, and subsequent trial in November 1971, a catalogue of sustained physical abuse came to light, mostly carried out by Kitching and Ellerker. DCI Perkins was obsessive in his pursuit for justice and was the first man, even though he never knew David Oluwale, who related to him as a person, rather than a problem in the city. Additionally, it was found that racist terms were used on paperwork relating to Oluwale, such as scribbling "wog" in the space reserved for nationality on charge sheets. However, despite this, the trial made no mention of racism and was centred around police brutality. Several trial witnesses described Oluwale as a dangerous man, and the trial judge said: "I would have thought that had been established a thousand times. It is accepted on all hands that he was dirty, filthy, violent vagrant". However, this extraordinary and partial pronouncement is contrary to the statements of witnesses collected during the earlier enquiry, who described Oluwale as unassuming – and even cheerful. One of these witnesses was Yorkshire Evening Post reporter Tony Harney. However, their statements were not featured in the trial.
Kitching and Ellerker were jailed for a series of assaults on Oluwale at the old Leeds Assizes, but found not guilty of manslaughter at the direction of Judge Hinchcliffe. Ellerker was sentenced to three years in prison, and Kitching received 27 months. Throughout the trial, Judge Hinchliffe, the most powerful judge on the North-Eastern circuit at the time, could neither conceal his distate for the victim or his disappointment that two serving police officers were up before him. Those officers maintained an arrogant attitude throughout Court proceedings on the premise that Oluwale was a vagrant and they were entitled to move him on using whatever force they deemed necessary. Beyond that appalling disposition before and at Court, neither Ellerker nor Kitchen admitted to making the racist alterations to the charge sheets and, at a subsequent internal police inquiry, no other officer admitted any knowledge of the those deeply offensive amendments. Kitching, who worked in a cloth warehouse in Leeds after his release from prison, is now dead and Ellerker has consistently refused to comment to any publication on his role in the hounding of David Oluwale.
A highly visible nobody in life, Oluwale soon entered popular culture in the city.
His name was chanted at Leeds United's football ground at Elland Road during that team's heyday. To the tune of Michael Row The Boat Ashore, the Kop sang: 'The River Aire is chilly and deep, Ol-u-wale. Never trust the Leeds police. Ol-u-wale'.
There was also a widely held sense amongst the ordinary people of Leeds of deep embarrassment that such indignities, and violence, could have been inflicted on a vulnerable man by two of their policemen, on their own city streets. They knew the police had gone too far, that they had acted illegitimately and targeted a small, helpless, unwell man with no means of defending himself .
Yet there was little soul-searching amongst the Leeds police in the aftermath of the Oluwale case. It was easy to blame Oluwale's fate entirely on 'two rotten apples' within the police. But social services also failed Oluwale, shunting him from one department to another. After his long incarceration, High Royds mental hospital released him into the community with scant thought as to how he might cope (a few months after being discharged he bit a park-keeper's finger, but instead of being returned to hospital was jailed for malicious wounding).
Although Oluwale's story caused a national scandal at the time (thanks in part to the radio play Smiling David written by Jeremy Sandford, it had been all but forgotten until police paperwork detailing the case was declassified under the 30-year rule. This was used by author and former Leeds University crime lecturer, Kester Aspden, to write the book Nationality:Wog, The Hounding of David Oluwale, published in 2007, which returned the story to the public eye. It won the crime writer's Golden Dagger award the following year.
Kester Aspden's book was adapted by Oladipo Agboluaje into a stage play. It was first performed in Leeds at the West Yorkshire Playhouse in February 2009 and starred Daniel Francis (pictured above centre), and theatre critics described it as 'a richly emotional play which proves its point without coming across like it has a point to prove'.
A plan for a £100,000 Memorial Garden to be constructed on the likely site of David Olulwale's death near Leeds Bridge by The David Oluwale Memorial Association (DOMA) is now well advanced. The land on Water Lane, in the city centre, is kindly leased to them by ASDA plc.
DOMA is a cause well worth supporting as homelessness is still an issue in Leeds, as in most other major cities in the UK, and a high police priority, according to the Leeds City NPT website, is to deal with vagrancy. Another David Oluwale tragedy must never be allowed to happen.