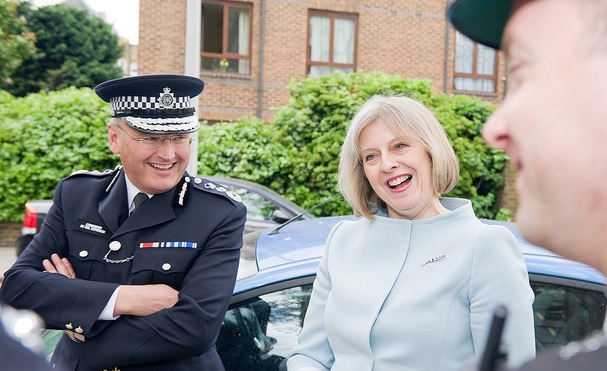 All police forces in England and Wales have agreed to adopt a new government code of conduct to improve the use of their stop and search powers. Today the Home Secretary Theresa May revealed that she was 'delighted' that all 43 police forces have signed up to the 'Best Use of Stop and Search' (BUSSS) scheme, having previously admitted that the stop and search technique was being misused so often that it was damaging relations between the public and police.
'Nobody wins when stop and search is misapplied. It is a waste of police time. It is unfair, especially to young black men. It is bad for public confidence in the police.'
Theresa May, in a report published in April this year

The BUSSS scheme has been introduced to bring in greater transparency and more community involvement around stop and search and represents what the Home Secretary described as a 'comprehensive package of reform'.
Changes include new powers to allow members of the public to apply to accompany officers on patrol to help improve the community's understanding of the police. In addition, forces will have to explain publicly how stops are used if they receive complaints over a set "trigger" level.
One of the biggest changes surrounds new limits on using the controversial 'Section 60' stops. The use of Section 60 must now be authorised by a chief officer who must reasonably believe that violence 'will' take place rather than 'may' take place, as it stood previously. Forces must also limit its application to 15 hours and communicate with communities before and after, so residents can be kept informed of the purpose and success of the operation.
All 43 police forces in England and Wales have signed up to the voluntary scheme and 24 will implement two key elements immediately: by recording all outcomes of stop and search and by restricting the use of Section 60 'no suspicion' powers. By November, all 43 forces will have implemented all aspects of the scheme.
At a debate that took place last year organised by www.thejusticegap.com on what the law means to young people, one young man in the audience said he had been stopped and searched seven times in one day, and another over 100 times in a year.
Last year the Home Secretary commissioned HM Inspectorate of Constabulary to inspect every force in England and Wales to see how the powers were being used. HMIC found 27% of stop and search records they examined did not contain reasonable grounds to search people, even though many had been endorsed by supervising officers. In addition, official figures show that you are up to 7 times more likely to be stopped and searched by the police if you are black or from an ethnic minority background than if you are white.
Responding to the Home Secretary's announcement, Chief Executive of the College of Policing, Chief Constable Alex Marshall, said stop and search powers are necessary to help tackle crime and keep people safe but it is clear that they are being misused too often – leaving resentment in communities and hindering the police's ability to prevent crime.
 'Every police force in England and Wales has today committed to the best use of stop and search scheme to improve the way we use these important powers.  Under this scheme search outcomes will be recorded in more detail so we have a greater understanding of how the powers are being used. Searches which do not require reasonable grounds of suspicion will reduce and communities will have greater powers to question police over their use of stop and search.'
Chief Constable Alex Marshall.