A drastic fall in the number of duty solicitors is putting the future of the criminal justice system at risk, according to new figures from the Law Society.
They say there has been a 37% fall in the numbers of solicitors available to advise people who have been arrested free of charge, where they aren't able to pay for their own defence lawyer. The number of duty solicitors has 'plummeted' 26% since just 2017. 
This is creating a 'perfect storm' that will have a detrimental impact on victims of crime and witnesses, as well as suspects.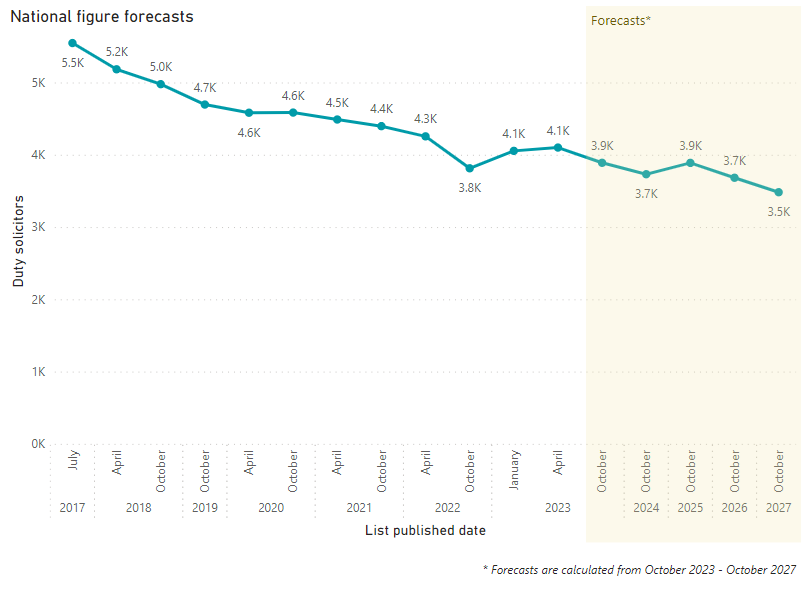 A report by the BBC which followed a day in the life of a duty solicitor in mid Wales revealed that legal aid lawyers were travelling for several hours between courts or police stations. This increases pressure and uncertainty when many suspects can only be held for 24 hours. The solicitor featured in the piece said she used to be one of 15 or 16 legal aid solicitors in her patch. There are now only 3 or 4. The Law Society recognises that this is because the work is not financially viable, despite a 15% rise in fees. 
The Law Society says the decline in the number of duty solicitors is causing legal advice 'deserts', as solicitors leave the scheme and recruitment flounders. In fact, there will be fewer duty solicitors in 42 out of 43 police force areas, at a time when arrests have increased for the first time in seven years.
The head of the Law Society of England and Wales, Lubna Shuja has said: 'Already, we are hearing from our members that they are struggling to cover duty schemes. We are also hearing of instances where the police are being forced to release suspects because interviews are unable to progress without legal representation'.
'Our crumbling courts are overwhelmed, prisons overcrowded, judges and lawyers overstretched. With fewer duty solicitors and more cases coming into the system, we have reached breaking point.' 
In her statement she cited a State of Policing report from His Majesty's Inspectorate of Constabulary which said the criminal justice system is 'dysfunctional and defective', and a case in the Court of Appeal this March where judges were advised to consider worsening prison overcrowding before imposing short prison sentences.  She said: 'The government sees itself as the party of law and order, but the evidence points to the contrary as its decisions continue to put the future of our criminal justice system at risk.'