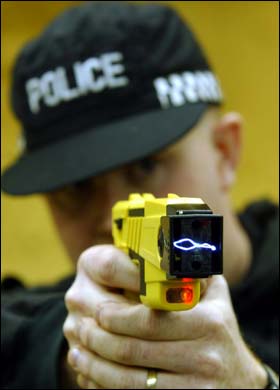 The government's decision to green light the next generation of more powerful Taser stun guns has serious implications for society's most marginalised groups, including those who rely upon mental health services and especially those on psychiatric wards detained against their will.
Figures obtained for the Justice Gap as a result of freedom of information requests by Ollie Persey revealed that two-thirds of people Tasered by the police between 2010 and 2014 were identified as having a mental health condition.
Whilst Taser use is frequently characterised as a 'less lethal' option, there have been at least 17 related deaths since the firearm was introduced in 2003.  The police killing of premier league footballer Dalian Atkinson after he was Tasered six times led to a 67,000 strong petition calling on the then Home Secretary, Theresa May to review, modify or else withdraw the stun guns. At the same time the Police Federation put out a statement saying that every frontline officer who wanted a Taser gun should to be equipped with one.
Tasers were first introduced in England and Wales in 2003 so that the police would have what was described at the time as the 'less lethal' option available to them. These weapons were restricted to authorised firearms officers and clearance to use them was only given by commanders when they believed that the officers were facing armed and dangerous opposition.
Since 2007 Tasers have been rolled out more widely to officers and there was a 232% increase in the overall use of the weapon between 2009 and 2013 according to data from the Independent Police Complaints Commission. It is this mission creep in the use of these stun guns, along with the growing numbers of tragic Taser-related deaths that has raised concerns at the introduction of these new more powerful X2 Tasers to Britain's streets.
Unlike the current Taser X26, the new more powerful X2 model is semi-automatic and allows officers to shoot two cartridges instead of one. Similar in design to a hand held pistol this stun gun discharges a 50,000-volt surge of electricity with the object of incapacitating an individual.
Following the 'principle of pain compliance', this firearm can also be used in 'drive-stun' mode where it is held against a person and the trigger is pulled with no probes to cause extreme pain.
During a visit to the UK in 2013, the United Nations Committee Against Cruel, Inhuman and Degrading Treatment expressed concern that the use of Taser guns had almost doubled in 2011 and that there were plans to extend their use further. Committee members had misgivings that Taser firearms were encouraging officers to use force more than they otherwise would, and that these firearms could be used as a means of illegal punishment or torture.
In their final country report to the UK, the committee warned that Tasers should not be part of the equipment of custodial staff in prisons or any other place of deprivation of liberty.
Freedom of information requests by the Guardian revealed that mental health hospitals are increasingly relying on police to supplement staff shortages – just one London Mental Health Trust called the police a staggering 617 times in one year. The report makes it clear that the most vulnerable are having their clinical health care needs met with a forensic response often involving the police equipped with Tasers.
For the past two years human rights campaign group Black Mental Health UK (BMH UK) has been calling for an outright ban on the illicit use of these firearms against patients detained under the Mental Health Act.
The unequal power balance between those subject to such treatment and statutory health providers and the police has silenced public debate around this issue. BMH UK shattered this silence about a human rights abuse that has gone unchecked for more than a decade. We remain the only group to speak out against the use of these weapons in hospitals.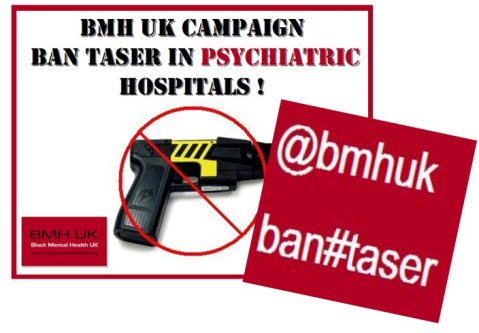 BMH UK's campaign demands have been debated in both the House of Commons and Lords during the passage of the Policing and Crime Bill. Calls for a ban on these firearms in hospitals have met with cross party support. However the Home Office has called on police and crime commissioners, chief constables and the chairs of local mental health crisis care concordat partnerships to look at the use of Taser in mental health settings.
Black Britons continue to be disproportionately over represented in secure psychiatric settings, even though there isn't a higher prevalence of mental illness among this group, either common mental disorders or psychosis. A recent Independent Police Complaints Commission report stated that people suffering from a mental illness are four times more likely to die after police use of force against them than other individuals.
There is a body of evidence that shows that once this group are in the mental health system they are more likely to be subject to coercive treatment and punitive 'care', often involving the police.
The Government's unwillingness to protect the human rights of those who use mental health services against Taser stun guns as these new more powerful firearms are rolled out to police across the country this month, makes it even more pressing that BMH UK campaign demands are not ignored.
BMH UK continues to campaign for an outright ban on Tasers against detained patients. To add your support by clicking here and using the hashtag ban#taser.