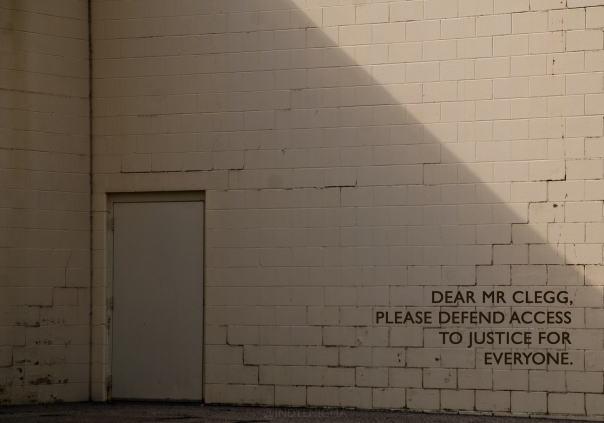 The campaign group 'Save Justice' is expected to deliver around thousands of postcards addressed to the deputy PM this morning in opposition to the proposals to change legal aid and judicial review. Actors Emma Thompson and Juliet Stevenson, director Ken Loach, academic Noam Chomsky,  campaigners Peter Tatchell, Bianca Jagger and Baroness Doreen Lawrence have all signed cards. The group is calling on Nick Clegg to call a halt to legal aid cuts.
Around 3000 people from across the UK have signed the cards sending personal messages to Nick Clegg. The delivery comes after the vote by Lib Dem members at its conference calling on party leaders to halt any further  cuts to the legal aid scheme and after Clegg received an open letter condemning the cuts signed by over 120 charities and organisations, including Amnesty international, Liberty and the Children's Society.
But, despite this widespread opposition to the plans, the Liberal Democrat party leader has refused to meet with Save Justice to discuss these concerns.
'These complex proposals are being rushed through without a proper debate in Parliament,' comments a spokesperson for Save Justice. 'Whilst within just a few weeks we have collected the voices of thousands of people around the country who all agree that the proposals are illiberal and undemocratic. If unopposed, they would not only do significant damage to the reputation of the UK's justice system internationally, but in many cases a proper analysis shows us they would end up costing more money than they are supposed to save.' The group points to Chris Grayling's admitting to the Joint Committee on Human Rights earlier this week that the Government had not worked out the actual cost implications of the proposals. 'We are bringing the voices of thousands of people directly to Nick Clegg.  They are urging him not to turn his back on them, but to listen to their concerns and defend access to justice before it's too late.'
'Legal protections are meaningless if people can't access effective legal representation. The current proposals put justice beyond the reach of the most vulnerable and put the fairness of our criminal justice system in serious jeopardy.'
James Welch, legal director of Liberty

'The protection of the right of access to justice ought to be fundamental to a party which values civil liberties. It is put in jeopardy by the Government's proposals to implement yet more cuts on legal aid. There is no point in participating in Government unless the leadership uses the power that it undoubtedly has to prevent serious damage being done to our legal system, and to the rights of the poorest and most vulnerable members of our society.'
Dinah Rose QC, a former Liberal Democrat