The number of people behind bars in the United States dropped 15% to 1,215,800 as its imprisonment rate fell to a 30-year low as a result of the pandemic. In nine states the prison population dropped by more than 20% and the number of prisoners in California fell below 100,000 for the first time since 1990 and New York held fewer prisoners at than at any time since 1984.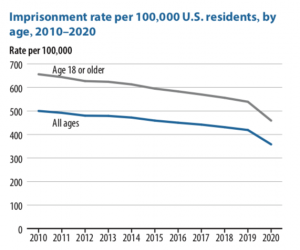 America has the highest rate of imprisonment in the world and last year's dramatic fall in prison population was the largest single decrease since monitoring was introduced in 1926. By contrast, the UK prison population fell by just six percent last year with just 316 prisoners being released under the government early release scheme before it was scrapped.
The Prison Policy Initiative (PPI) explained that the decrease in the incarcerated population was 'not related to releases, but rather the 40% drop in prison admissions and 16% drop in jail admissions'.
The positive trends were 'nothing to get excited about', the group commented. It continued: 'In 2020, we did see the kinds of reductions in the number of people under correctional control that we'll need to see year after year to actually end mass incarceration… . Such dramatic drops in the nation's use of incarceration would truly be cause for celebration if they weren't temporary and if they weren't still "too little, too late" for the thousands of people who got sick or died in a prison or jail ravaged by COVID-19.' More than 6,100 persons died in state or federal prison during 2020, an increase of more than 1,900 deaths from 2019.
'Unfortunately, there is little reason to think that these drops will be sustained in a post-pandemic world, especially since they have already begun to rebound to pre-pandemic levels, even amid some of the worst outbreaks the US has seen. Above all, we should not expect these trends to hold without sustained reforms, as opposed to temporary "emergency response" changes.'
According to the latest statistics from the Bureau of Justice Statistics, the imprisonment rate in the US was 358 prisoners per 100,000 in 2020 which was the lowest since 1992. The number of people sentenced to more than one year in state or federal prison was 1,182,200, down from 1,379,800.
According to the Bureau, COVID-19 was 'largely responsible' for the decline in prisoners under state and federal correctional authority. 'Courts significantly altered operations for part or all of 2020, leading to delays in trials and/or sentencing of persons, and this was reflected in the 40% decrease in admissions to state and federal prison from 2019,' the group reported.