[contextly_auto_sidebar id="lB43qWRq9ZHjUJlKXSDvWA6McNDggCI0″]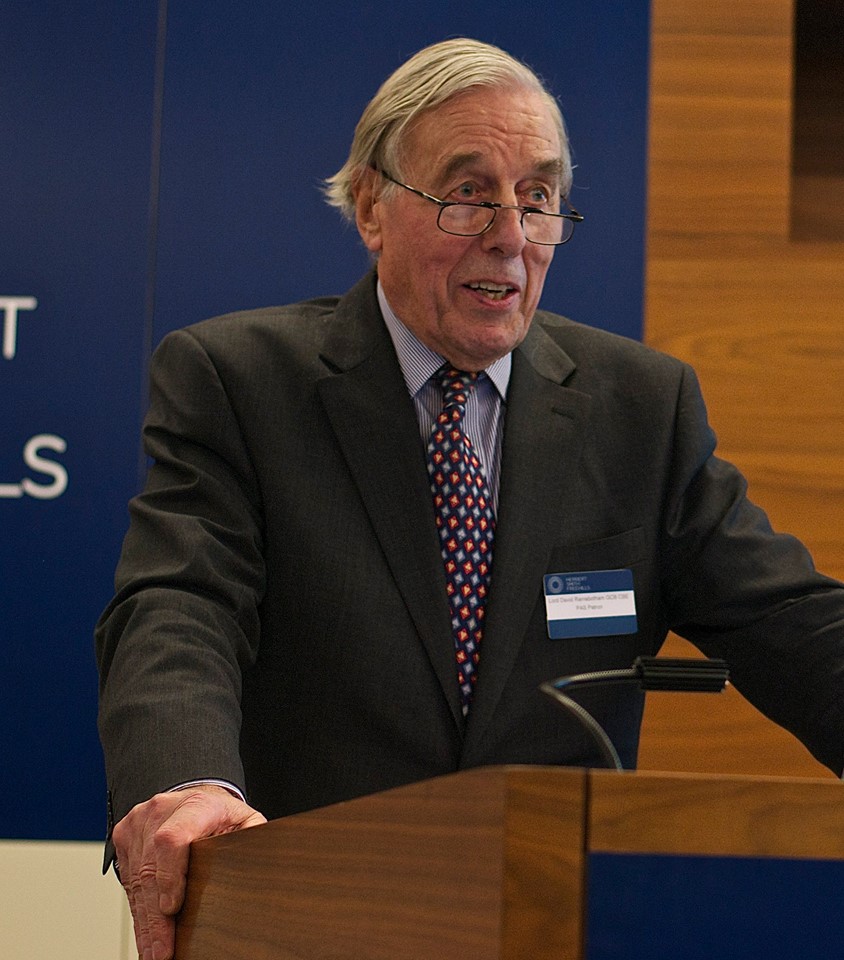 'Chris Grayling seems to think the private sector is the solution to this avoidable chaos afflicting prisons. His mantra of payment by results has left no one responsible for judging what's working and what has failed,' said Lord Ramsbotham last week. Delivering the annual Prisoners' Advice Service Lecture, the cross-bench peer used the opportunity to address the negative social and financial costs of the coalition government's prison policy.
'Keen' to see prisoners voting
Lord Ramsbotham said he had often wondered how to persuade the public of the value of protecting prisoners' rights. 'I am keen to see prisoners having the vote, except in those few cases where deprivation of the right should form part of the sentence,' he said. 'Re-enfranchising prisoners would better enable MPs to stand up for the rights of prisoners in their constituency,' he added.
Ramsbotham's comments contribute to an increasingly volatile debate about prisoners' rights that has culminated in an intractable disagreement between the European Court of Human Rights in Strasbourg and the UK Government. The Strasbourg Court has held the UK Government's blanket ban on prisoner voting to be a violation of prisoners' human rights, but recently ruled that prisoners denied the vote should not be paid compensation.
Crisis of overcrowding and prisoner suicides
David Ramsbotham OBE retired from the British Army in 1993 before serving as Her Majesty's Chief Inspector of Prisons for six years. In 1999 he issued a seminal report,  'Suicide is Everyone's Concern', after the number of suicides in prisons in England and Wales rose from 68 in 1997-98 to 83 in 1998-9. Last year saw prisoner suicides once again rising to 67, the highest rate in a decade, with 88 suicides already reported this year. Ramsbotham addressed the problem of prisoner-suicides throughout the talk, identifying the 'crisis of overcrowding' and the lack of Government strategy as key factors contributing to the trend. His comments underscore the latest annual report by Nick Hardwick, current Chief Inspector of Prisons, which found that safety concerns had increased, respect outcomes had declined, and prisoners were spending 'too much time locked up with too little to do.'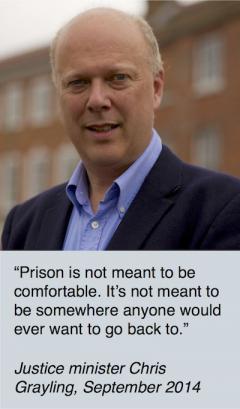 An alternative approach to prisons
Lord Ramsbotham said that only people who posed a danger to society should be imprisoned, and that this was not true of the majority of prisoners in the UK. 'We have somehow succeeded in belittling community-based rehabilitation because what goes on in prisons appears to be more sexy,' he said.
The speaker criticised the 'bloated bureaucracy' of the National Offender Management Service (NOMS). 'If the Government is really concerned with protecting the public, they might decide to cut NOMS instead of getting rid of 25% of prison staff and 44% of prison management,' he said. NOMS was created in 2004 with the aim of providing end-to-end management of prisoners from first contact to completion of sentence. The Government's approach to offender management has since come under widespread criticism, however, including a 2013 report which found NOMS to be too complicated and costly and not understood by staff.
Ramsbotham lamented the Government's obsession with quantifying and measuring prisoners as a substitute for a long-term strategy. 'Everyone responds to short-term events but they are getting nowhere. People have forgotten that only people's height can be measured; you cannot accurately measure reoffending,' he said. 'The quantitative approach has sounded the death knell for too many voluntary sector organisations who simply cannot afford to wait for payment until the relevant measurement is made'.
Staff losing respect for Grayling
'Chris Grayling himself is in danger of being sued for corporate manslaughter because people are killing themselves in prison on the basis of decisions he has made,' Lord Ramsbotham said. 'I don't detect that the Government are willing to accept the facts: 76,800 is the certified normal accommodation of prisons, yet the current population is 88,000.'
Lord Ramsbotham said the Secretary of State for Justice had lost the respect of his staff by trying to blame the Northumberland prison riot on long working hours. 'Grayling should have acknowledged the profound crisis of overcrowding that persists. Prison and probation staff are well-aware that it was overcrowding that led the prisoners to riot,' he said.
The Prisoners' Advice Service
Laura Orger, a solicitor at the Prisoners' Advice Service, followed Lord Rambotham's talk with a description of her work providing legal assistance to disabled prisoners. She recounted the plight of one of her clients who, after his wheelchair's footrest had broken, was forced to ask other prisoners to push him around while his legs dragged along the floor.
Another of Orger's clients, a paraplegic prisoner, was forced to drag himself by his arms along the floor to use the toilet. Orger maintained that the internal complaints system had been completely inadequate, and that only the threat of legal action had successfully halted the 'systematic erosion of prisoners' dignity' in these cases.
While answering questions, Lord Ramsbotham stated that legal aid cuts were having a particularly damaging impact on prisoners and were impeding the work of organisations like the Prisoners' Advice Service. Those wishing to donate to the Prisoners' Advice Service's annual Christmas appeal can do so by texting PRIS01£10 to 70070 or visiting the Global Giving page.