Popular soap Coronation Street is exploring the controversial issue of 'euthanasia', with a character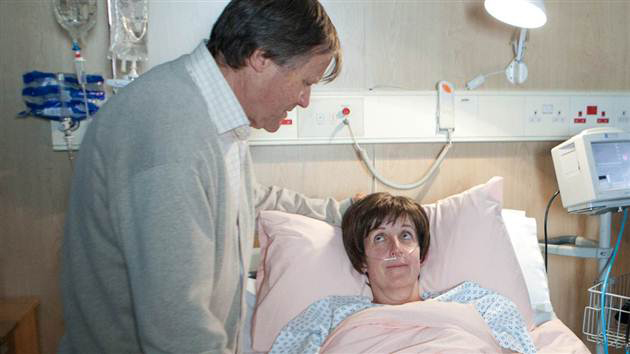 , dying of pancreatic cancer, who decides she wants to take her own life. The soap sensitively explores both sides of the argument, but what is the law on this controversial issue?
As it stands euthanasia is illegal in the UK, an act described as euthanasia is treated as murder or manslaughter. The Suicide Act 1961 provides for the offence of 'criminal liability for complicity in another's suicide', whilst also stating suicide itself to be legal.
Therefore while suicide may not be illegal, assisting in someone's death will lead to liability of up to 14 years in prison. This is the case regardless of your medical standing. For example if a doctor injected someone who wanted to die with lethal drugs in order to kill them, that would amount to murder, with no defence. Legal experts say that providing a doctor who ends a life with a defence for his actions, represents the most ambitious challenge yet to the law governing the right to die.
While the law has been re-assessed a few times since 1961, it hasn't been significantly changed; in spite of calls from backbenchers and right to die campaigners.
Despite this, scores of UK citizens have travelled to other countries, such as Switzerland, to end their lives and as yet no relative who has helped them has faced prosecution. Thus highlighting how the law in this area is not as black and white as it may seem.
After a challenge to the lack of clarity on the law, the Director of Public Prosecutions set out factors to be considered in deciding whether someone would face prosecution helping someone to die.
Debbie Purdy who instigated the call for clarity wanted to know if her husband would face prosecution if he helped her travel to a clinic in Switzerland to die. While she won her case with guidance following in 2010, there was still no change in the law.
This guidance was introduced in February 2010 by the Director of Public Prosecutions, Keir Starmer. This states that if the victim had reached a voluntary, clear, settled and informed decision, and the suspect acted wholly compassionately and not for financial reasons; then the DPP can decide it is not in the public interest to prosecute.
For a prosecution to go forward, police must show evidence of malicious motivation and personal gain. That said however, individual circumstances of each case will still need to be thoroughly investigated, so maybe the law is no clearer.
The Assisted Dying Bill 2013-2014 had its first reading in the House of Lords on 15th May, but the second reading is yet to be scheduled. While it may highlight the pressure for change in the law in this area; the government have made clear there are no plans to change the law on assisted dying and so the act of assisting a suicide still remains a crime.