[contextly_auto_sidebar id="0Mskl6HX5dvwrrBKSGGW1CRyHtcEomuw"]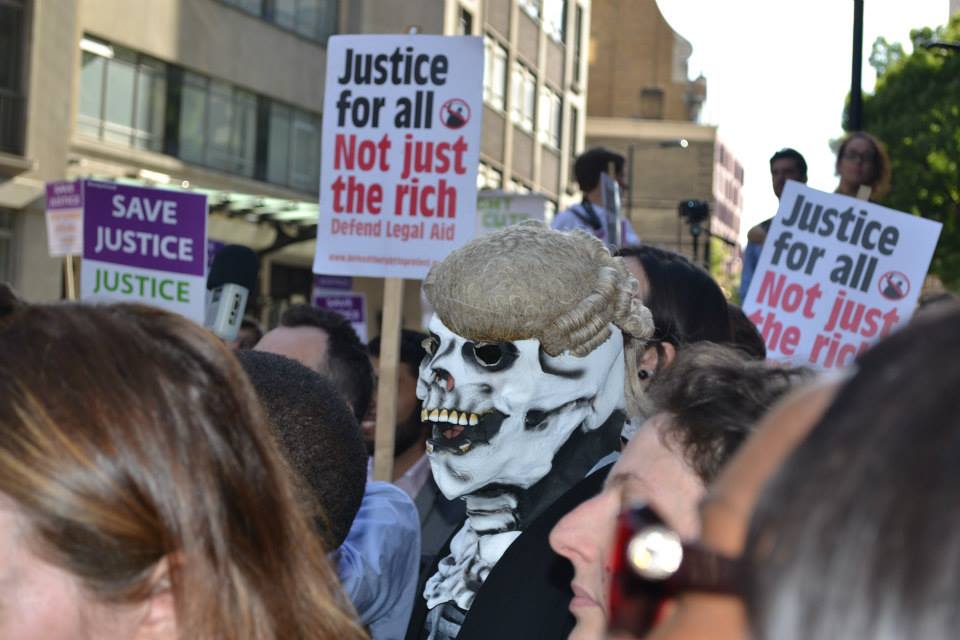 Speaking in Manchester at a Labour Party Conference fringe event entitled 'Justice for All' earlier this week, shadow justice minister Andy Slaughter MP said Chris Grayling and the Ministry of Justice were 'reckless' and 'out of control', and there was no doubt that the political agenda of the current government had been to obstruct the ordinary's citizen's access to justice.
The report is written by Natalie Wilkins with contributions from other Justice Alliance North members Carita Thomas of Howells solicitors and the Young Legal Aid lawyers, Lucy Mair and Jared Ficklin of Garden Court North barristers' chambers
Fellow speaker Denise McDowell, director of the Greater Manchester Immigration Aid Unit, said there were 35 people queuing outside her doors for advice at 7.30 that morning. She also told the room that while in 2012 – 2013 there were 870 not-for-profit providers with a legal aid contract, in 2013 – 2014 there were just 95.
Cris McCurley, a leading family law solicitor from Ben Hoare Bell, said that women and children whose very lives are threatened are not getting legal aid and that when the government said that all victims of domestic violence would get legal aid it was a 'complete lie'.
Members of the public who had received free legal advice gave evidence in two short films, one made by Justice Alliance and another by Samantha Regan from the Manchester Citizens Advice Bureau, on how they did not know how they would not have survived without that assistance. Those interviewed described legal issues ranging from wrongful conviction to a claim brought by a rape survivor to the case of a father trying to gain contact with his child.
Slaughter was asked for concrete promises like those made by Ed Milliband regarding reform of the NHS, but was unable to make any clear commitment. He claimed that more will be forthcoming after Labour has access, delayed by Cameron, to civil servants in November. However, he admitted, 'there will not be much money'.
Slaughter did however say that the exceptional case funding regime, which he called 'the most dishonest thing they have done', would be the first issue he would address. Many audience members referred to its failings. Cris McCurley said less than 1% of family applications have been successful. Phil Drake, who runs a legal advice centre staffed by students from the University of Huddersfield, described one client who was expected to make written representations to challenge the withdrawal of his disability living allowance, even though he cannot read or write.
Slaughter also acknowledged that while Labour would have also made cuts to private family law, the provision of mediation as an alternative had been 'very badly executed', implying this would be another priority area.
Many of those attending the meeting raised the issues of the impacts of the cuts on women, particularly victims of domestic violence and undocumented migrant women. Slaughter was not clear as to what he would do about the domestic violence gateway. Cris McCurley, however, was clear about the risks: 'Women will die and it will be too late to say we are sorry about that.'
Ideologically motivated
Slaughter called the Government's targeting of unpopular vulnerable groups such as immigrants and prisoners 'ideologically motivated' and claimed the changes affecting them were easy to reverse because they would not cost money, though again he was not specific about what changes he envisioned.
Slaughter said that access to justice would rightly, in his view, be queued behind other issues, including the NHS and housing. He stated that those affected by the housing crisis in his constituency are desperately in need of better advice and representation which would not only stop the 'horrific' consequences of a whole generation being affected by a 'massive programme of eviction' but would also cost less money.
Slaughter entirely agreed with audience comments that early intervention is key and suggested that better mechanisms such as ombudsman or mediation/ADR as well as legal aid and other advice were needed. However as with recent statements about the reform of employment tribunals, no detailed vision was forthcoming. What was clear, he said, was that the telephone gateway just does not work.
From the standing room only meeting it was clear that there are many not willing to accept the continued assault on access to justice and human rights. Denise McDowell referred to the multiple successful and ongoing judicial reviews brought by non-governmental organisations in recent months, including cases challenging exceptional case funding, criminal legal aid contracts, the residence test the detained fast track regime, and the domestic violence gateway. There is also no doubt that many senior members of the judiciary are strongly opposed to the cuts, with Slaughter describing their criticism of Grayling as 'excoriating'.
Of course the current government aims to restrict access to judicial review. This, Slaughter said, is not supported by Labour, referring to Sadiq Khan MP's comments that 'holding power to account is very important'.
What is needed, said one audience member, is a 'manifesto of hope' from Labour. What is needed, said those who participated in the two short films, is legal aid, 'otherwise people are not going to know which way to turn'.
Slaughter said to the crowd that Labour shared its values and were on their side. While admitting that Labour could not reverse all the cuts made and change couldn't happen overnight, he also said his party could not take voters such as those in the room for granted and that there would be more detail regarding their policy for legal aid before the election. He welcomed suggestions.
For anyone who cares about legal aid the message is clear: ask those who want your vote what they will do for justice if elected. This campaign fight is not over. More ideas for action are here.