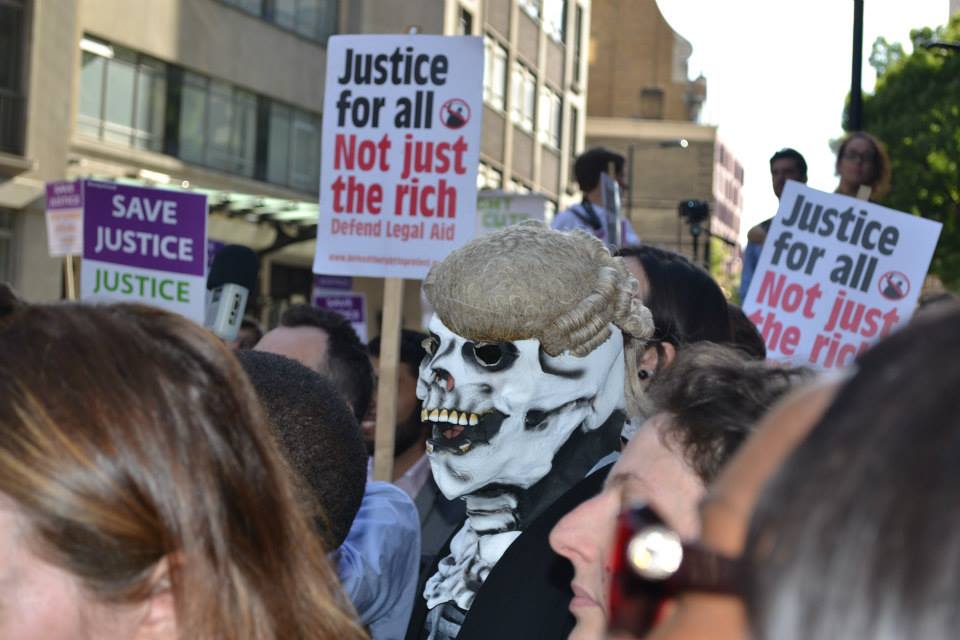 Chris Grayling was accused of "savaging" the legal system as he finally confirmed swingeing legal aid cuts. The justice secretary today outlined his response to his controversial Transforming Legal Aid consultation which proposed to cut the criminal legal aid fund by £220m by imposing a 17.5% cut and forcing a consolidation of the market.
The Ministry of Justice (MoJ) this morning published a package of reforms – including slashing solicitors' fees with a cut of 8.75% for new cases starting next month and a second cut to follow next year; the introduction of a strict system of tendering for solicitors' duty slots at police stations; and an average 6% fee reduction for barristers and an average 2% reduction for the Junior Bar in the Crown Court.
"As everybody knows this Government is dealing with an unprecedented financial challenge and I have no choice but to look for the savings I have to make across the full range of the Ministry of Justice's work. I cannot exempt legal aid from this but that doesn't mean I don't understand how challenging these reductions will be."
Chris Grayling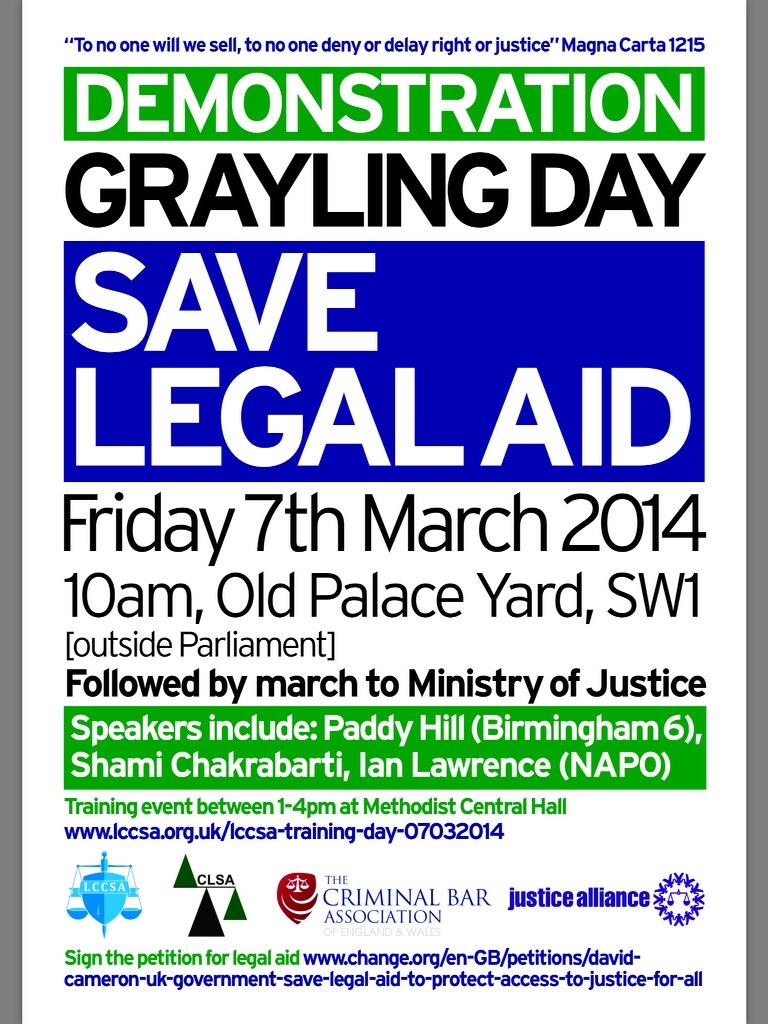 The justice secretary has come under sustained attack for his proposals from defence lawyers and campaigners and there have been demos and days of protest, reported on the JusticeGap – see HERE and another protest is planned for next Friday, March 7. "I have genuine respect for the quality services provided by the independent criminal Bar and solicitors," Chris Grayling said.
Such feelings are not reciprocated.
The proposals amounted to "a disaster for the public who will find it increasingly difficult to gain access to a local solicitor willing to provide legal aid in the face of a State funded investigation and prosecution", claimed the Criminal Law Solicitors Association.
Many defence firms have been struggling to make their practices viable for a number of years. "The impact of an immediate initial cut 8.75% from 20th March without any time to absorb these, or benefit from prior consolidation, will without doubt cause some firms to fail financially," reckoned the CLSA. "It is difficult to predict how many good firms will be destroyed." The MoJ has promised to help firms "restructure their businesses".
Grayling had ditched his original plan to introduce a hugely divisive system of price competitive tendering which would have seen the total number of 1600 firms shrunk to just 400 firms. The deal was brokered as part of a series of concessions achieved through negotiations with the solicitors body the Law Society.
Critically, Grayling jettisoned plans to scrap client choice.
However that deal was regarded as act of betrayal by many of the Society's own members. It sparked an unprecedented constitutional crisis at its Chancery Lane HQ. James Parry, a Liverpool solicitor-advocate, called for a special general meeting. He argued that "the majority, if not all, of those who practice criminal law" were "united in their opposition" to the proposed reforms. "The Law Society's stance however has been different and appears to be one of active appeasement and abject surrender," he said.
The Society even suffered the ignominy of a vote of no confidence from its membership over its handling of the legal aid negotiations the week before Christmas.
The CLSA reckons that the proposals for tendering for duty contracts could lead to 800 firms closing as their duty work dries up and they struggle to find new clients.
Tuckers is one of the biggest defence firms in the country and had previously made the case for consolidation in a market characterised by small practices. Its senior partner Franklin Sinclair called today's announcement a "total disaster for everybody". "We told them over and over again that the market is too fragile to take a cut of this kind without consolidation," Sinclair said. "A large number of firms will be in big trouble and won't survive."
"Of course, savings must be found in the justice system but the way Chris Grayling is savaging our legal system could mean it is unsustainable and dysfunctional in the future," said the shadow justice secretary Sadiq Khan today.
Khan accused the justice secretary of having pursued "a sham consultation". "The Lord Chancellor has done nothing to address the concerns of those who believe his plans risk damaging the public's confidence in our justice system. He has built on a caricature of lawyers being fat cat ambulance chasers not realising that some of those who work in law centres, CABs, high street firms and junior barristers earn on average a third of what MP's earn and a sixth of what the Lord Chancellor earns."
Nicholas Lavendar, chair of the Bar Council argued that advocates in the Crown Court had borne "a disproportionate share of the reductions in spending". "The fee rates paid to Crown Court advocates have fallen by 21% on average since 2007, which is a 37% fall in real terms after allowing for inflation," the QC said. "The amount spent on the AGFS has fallen from £275m in 2010/11 to £242m in 2012/13, and a further 10% fall is expected as the impacts of earlier cuts make themselves felt."
"Today, our worst fears have been confirmed. Across England and Wales, Criminal barristers, who work hard in the public interest, will be dismayed and demoralised. Regrettably, many skilled and experienced advocates are likely to have to leave criminal practice altogether. The quality of justice will suffer as a result, and the harm done may well be irreparable."
Nicholas Lavendar