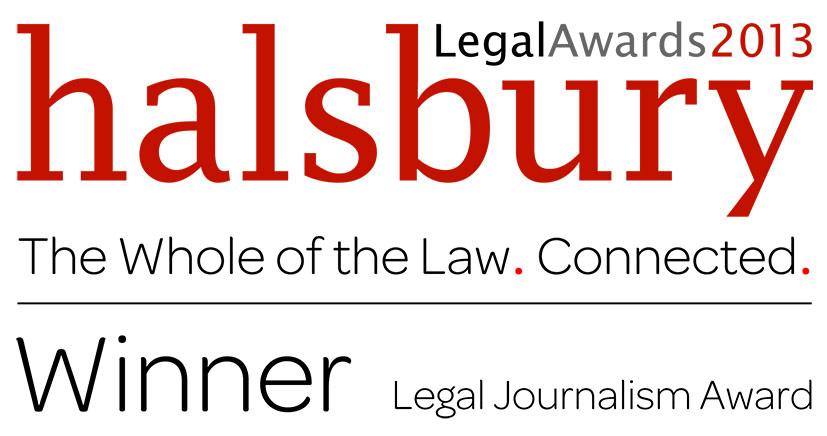 The Justice Gap won the legal journalism category at the inaugural Halsbury Legal Awards, in a ceremony that recognised Sir Sydney Kentridge QC as well as Leveson inquiry lawyer Robert Jay QC.
The awards were set up as 'a celebration of excellence in the law and great contribution to the legal sector'. The compere, Hugh Dennis praised www.thejusticegap.com for 'heartfelt work battling for legal aid. The product is a superb publication which does not avoid the difficult issues.' The shortlist included Daniel Barnett; Local Government Lawyer; Legal Futures; and the UK Human Rights Blog.
Thanks to the Prisoners Advice Service, Hackney Community Law Centre and Mark George QC for nominating us – and thanks also to all our contributors and to our associates.
Congratulations to Hackney Community Law Centre, partners in the Mind the Justice Gap project, whose 'Dalston Pop-Up', debt and consumer law advice service won the pro bono award.
For the full list of winners see HERE.
Christian Fleck, MD of LexisNexis UK, described Sir Sydney Kentridge QC as a 'giant of the legal profession…one of the great advocates of his, indeed any generation'. 'I hope there's only one thing about my professional life of which I've boasted and which I think, as a lawyer, is unique on my part – I have acted as an advocate for three winners of The Nobel Peace Prize. I don't think anyone else has done that,' the lawyer told Desert Islands Discs earlier this year. Sir Sydney represented Nelson Mandela, Desmond Tutu and Chief Albert Luthuli.
Robert Jay QC won 'Legal Personality of the Year' after a year in the headlines with his frontline role at the Leveson enquiry and, on the same day, that he was appointed as a High Court judge was announced yesterday.