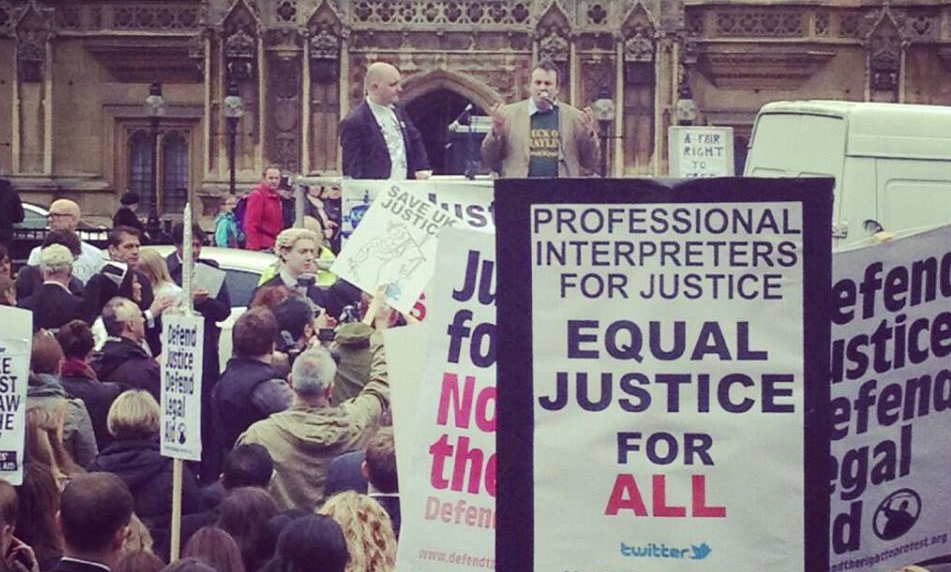 Gerry Conlon of the Guildford Four and Breeda Power, daughter of Billy Power of the Birmingham Six, together with the families of Jean Charles de Menezes and Alfie Meadows, led the fight back against the government's latest assault on legal aid at demo outside Parliament on Wednesday this week, reports Jon Robins.
The justice secretary Chris Grayling recently announced proposals to introduce a system of price-competitive tendering which will reduce the legal aid bill by £220 million and remove the right of defendants to chose their own lawyer. According to the Transforming Legal Aid paper, the number of solicitors' firms will be slashed from 1,600 to 400. Bids under the model of competitive tendering, which must be 17.5% below existing rates, are expected to be made by the likes of Serco, G4S as well as Eddie Stobart.
You can read more about the campaign against Chris Grayling's proposals on www.thejusticegap.com through the following links:
Trucked off
'Back in the 1970s they were sending innocent people to prison by the van load,' Gerry Conlon told the rally which was attended by hundreds of lawyers and campaigners. 'If the likes of Eddie Stobart comes in, they will be sending them to prison by the lorry load.'
Speakers at the event (organised by the London Criminal Solicitors Association) included Baroness Helena Kennedy QC, shadow justice secretary Sadiq Khan, shadow attorney general Emily Thornberry, the former Conservative MP Jerry Hayes as well as leader of the Green Party, Natalie Bennett.
'I know about legal aid,' Gerry Conlon told the demo. 'Who are the people that need it most? It is the poor, the vulnerable and the working class. The government is cutting "justice". We were very lucky. We were lucky to get lawyers who believed in us. There are no rich lawyers on legal aid. There are no rich companies on legal aid.'
Eddie Stobart moved into legal services last year and recently announced an intention to move into defence work. Trevor Howarth, legal director for Stobart Barristers, revealed that it was considering bidding if tendering was introduced and likened firms to 'wounded animals waiting to die'. The comedian and activist Mark Thomas sent a message of solidarity: 'It is a bizarre day when one of the biggest threats to the legal system in this country is epitomised by two words: "Eddie" and "Stobart". People have a right to legal representation.'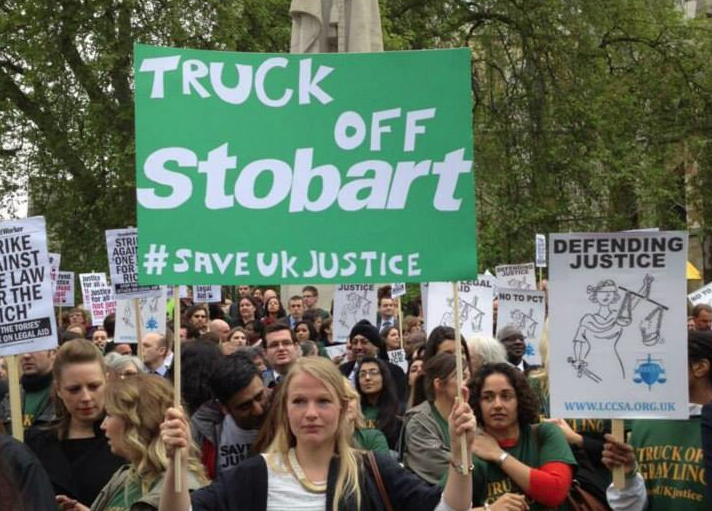 It was the first time Breeda Power had spoken in public for 20 years. She reminded people that her father spent over 16 years in prison. 'One of the biggest impediments in the face of the Birmingham Six was not having the opportunity under the system to change their legal representatives – two very young and inexperienced duty solicitors who did not realise they were unable to put their case before the court competently,' she said. If they had been advised by Gareth Peirce, she added, there might never have been a miscarriage.
'It is a fundamental right to trial by jury and it is also a fundamental right to be represented by the legal representative of your own choice. The proposal to tender legal aid to the lowest bidder takes away that fundamental right. Justice will depend on market forces and a business decision.'
Breeda Power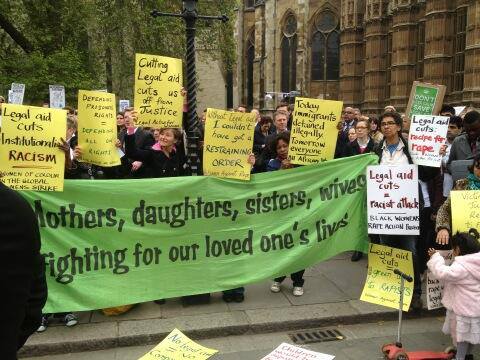 Alfie Meadows suffered a brain injury after being struck by a police baton strike in the student protests of 2010. His mother, Susan spoke about how at first she did not realise the family needed a lawyer describing how his brother rang 999 to report a crime and, as her son was recovering, she chose a firm specialising in actions against the police. 'Three months later my son was charged with the crime of violent disorder. It was two years and three trials before he could clear his name. Chris Grayling is wrong when he tries to distinguish between the public on one side and the criminals on the other.'
'We all need the law and we need a justice system just as much as we need the National Health Service. If my son had not been operated on by a neurosurgeon he would die. In just the same way we needed specialist legal help.'
Susan Meadows, mother of Alfie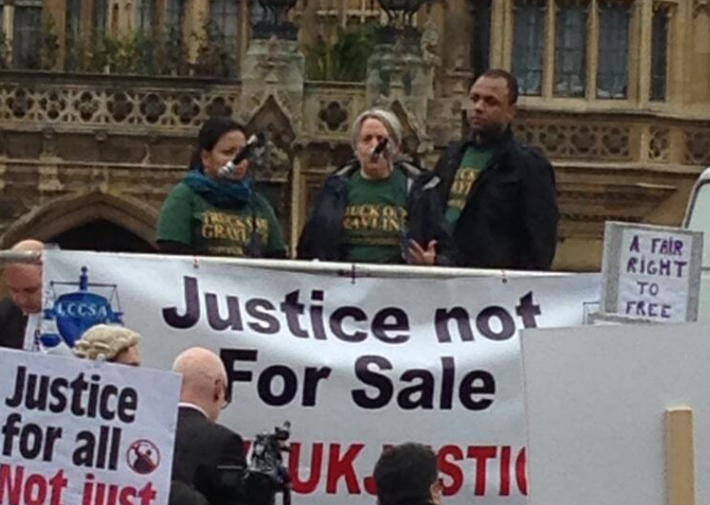 Harriet Wistrich, of Birnberg Peirce & Partners, represented the family of Jean Charles de Menezes, shot dead by police at Stockwell tube station after being misidentified as a terror suspect. She spoke about the proposals for a new residence test whereby 'anyone who has not been in the country for a year will not have legal aid at all'. 'That's going to hit all sorts of people who have been abused by the state: victims of trafficking, torture, and people seeking asylum. The residence test itself is discriminatory, probably unlawful, and unworkable. It is going to be a total denial of justice for anybody who does not reach the residency test.'
In a meeting of 1,000 defence lawyers at Friends House later that day, the president of the Law Society Des Hudson described that proposal as 'despicable'. 'These proposals are a matter of shame for a country. The Lord Chancellor is content that, based on his residency test, children who might be subject of proceedings concerning abduction or care matters may well be unrepresented simply because they are foreigners. That strikes me as despicable.'
Helena Kennedy reckoned that the proposals could be subject to a legal challenge under article 6 of the Human Rights Act 'but it should not come to that'. 'The reason why this campaign is so vital is that it affects so many people in the country.'
Too thick to pick?
Natalie Bennett of the Green Party said that they believed 'that the coercive powers of the state should never be outsourced – it should always remain under full democratic control and oversight. What we are seeing now is privatisation of our prisons; the privatisation of our police forces, and now we are seeing privatisation of the final defence. That must not be allowed to happen.'
The Labour MP Jeremy Corbyn referenced controversial comments by Chris Grayling saying that people who find themselves in our criminal justice system were not 'great connoisseurs of legal skills'. 'We know the people in our prisons and who come into our courts often come from the most difficult and challenged backgrounds,' Grayling said.
'If an unemployed person is accused of a crime they have as much right to defend themselves as the rich in our society,' Corbyn said. 'That is the principle of legal aid and that is the principal access to justice.' He called on Grayling to reflect on the impact of the cuts. 'What kind of chances did he have in his life? What opportunities did he have that earlier generations fought for and which he is taking away from others?'
MP Jerry Hayes lambasted Chris Grayling over removing the right to choose a lawyer. 'This is a government which I support and which happens to believe in choice in health and education. Where is the choice in this? What does Mr Grayling say about that? People are either too dishonest or too stupid to have a solicitor of their choice. To thick to pick, he says. An absolute disgrace.'
Jeremy Corbyn called the proposals 'dangerous and wrong in every possible way'. 'I fundamentally believe in the principles of the welfare state. A state that has a health service, housing provision that protects people from destitution, that has access to opportunity and education, and also gives equality of access to justice within our society. Without equality of access to justice, frankly there is no justice.'
Baroness Kennedy saw the legal aid proposals as 'all part of a piece of attacks on people that do public interest work'. 'We have seen attacks on the health service, on teachers and we have seen on social workers. We have to make common cause with all those people who are being undermined and denigrated.'