[contextly_auto_sidebar id="R7Vz9cuWcFOf87Jbm3L1JXKVneK5N8bt"]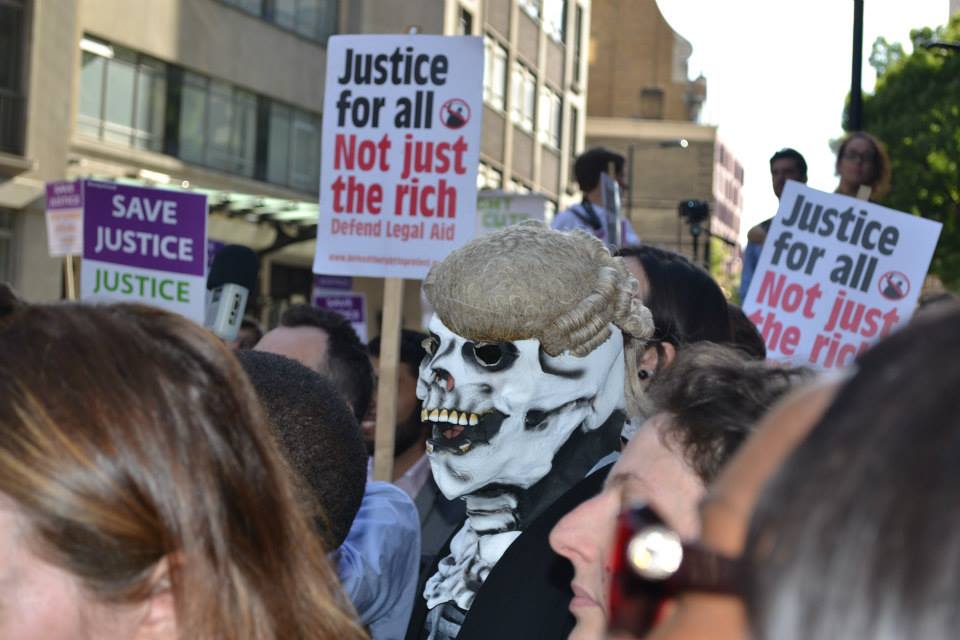 Just half of face-to-face housing advice available on legal aid was used last year despite soaring repossessions, the Bureau of Investigative Journalism has revealed. Data obtained through a Freedom of Information request shows that the government paid for face-to-face legal help in 34,817 cases in the year to April 2014. This was just 55% of what the government had provided for. In some areas as little as 11% of the available help was used. This is despite a five year-high in landlord repossessions.
This article first appeared on the Bureau of Investigative Journalism's site here
The government has responded by cutting legal aid advice for the current year by almost a fifth, citing 'a decrease in client demand'.
But the Bureau's investigation suggests that there are several reasons why people who face eviction and who are eligible for legal aid are not taking up the advice available: people are confused over what advice is still funded, there is a smaller pool of organisations providing such advice and an increasing number of areas with few or no legal aid lawyers.
Shadow justice secretary Sadiq Khan called on the government to 'get a grip' on the situation and warned that low take-up could result in further cuts.
Low take-up
Massive cuts to legal aid funding in 2013 drastically restricted the type of cases eligible for advice.
But means-tested legal aid is still available for people seeking to fight an eviction and the LAA agreed to pay for face-to-face "legal help" – which covers advice but not representation – on a total of 63,275 housing cases across England and Wales in 2013/14.
Data obtained from the agency shows at the end of the period just 34,817 cases, or 55% of the total allowed for, had been started. In some areas of the country, virtually none of the budget was used. In Redcar & Cleveland, for example, 19 cases were taken on out of 200 allocated, while in the city of Leicester only 41 of 338 allocated cases were started.
Only in two out of 134 areas of the country – the city of Wolverhampton and Herefordshire & Worcestershire – were the number of cases taken on the same as the number of cases allocated.
Data from the first quarter of this year (April – June 2014) shows only 8,203 cases were started. If the trend continues, even fewer clients will be taken on this year than last.
Khan said he was 'alarmed' at the findings.
'The risk is that wrongs won't be righted and justice won't be done. David Cameron's government need to quickly get a grip with this,' he said. 'The concern is that the government will use the low take up rates as an excuse to slash even more funding.'
A slow start
In the first quarter of 2014/15, Doncaster law firm Grainger Appleyard only took on one housing case, despite being the city's sole provider of publicly-funded housing advice. It has been allocated 37 cases for the year.
A lawyer from the firm said there had been 'a slow start to the beginning of the year' but that 15 cases had now been opened.
No cases were done in Redcar & Cleveland in the first quarter despite an annual allocation of 160 cases.
One of the region's two providers terminated its contract at the start of the year. The second, a Redcar-based law firm, declined to comment on the reason for its lack of new housing clients.
No cases were reported in the London borough of Bexley in the first quarter. The local law centre closed in March and the LAA said its contract management team was liaising with the remaining provider in Bexley to "identify whether any further action needs to be taken to ensure access to services in this area."
12 cases were started in Stockton-on-Tees against an allocation for the year of 260. One of the providers in the region, Stockton Citizens Advice Bureau, told the Bureau it had given notice to the LAA on its housing contract.
Rising demand
For 2014/15 the legal help housing allocation across England and Wales has been reduced by 19%. The Government says this is "in response to a decrease in client demand".
'The LAA responds to market trends when allocating the level of provision, it does not drive the trends,' a Ministry of Justice spokesman said.
The lack of take-up makes little sense at a time of rising evictions. Landlord repossession claims have been increasing since 2010. In the quarter from July to September 2014 11,100 repossessions from tenants were carried out by county court bailiffs, compared to 7,173 five years ago.
Landlords made more than 40,000 possession claims in that period – an 18% increase on the same quarter in 2009.
Critics blame the 2013 cuts in the scope of work eligible for legal aid for the low take-up.
'Legal help' does not cover representation – but also no longer covers a lot of the work lawyers used to do to prevent a repossession taking place, such as sorting out problems with benefits.
Campbell Robb, chief executive of Shelter, said: 'With the scope for what we can give legal advice on drastically restricted it is not surprising that providers aren't using up all of their legal help allocation.'
The Bureau's research has found it is also becoming increasingly difficult to find a housing lawyer who accepts legal aid clients.
Declining fee levels – lawyers are paid a £157 fixed fee for 'legal help' cases –  on top of the cuts in the scope of legal aid and more stringent means-testing criteria have led to many providers withdrawing from the market.
A National Audit Office report on legal aid published last week, found that in 14 local authorities no providers started any face-to-face legal aid-funded work in any area of civil law, including housing, during 2013-14.
The Bureau's data shows that there were 38 fewer legal aid housing providers in June 2014 than there had been in April 2013 and eight more had given notice on their legal aid contracts.
This represents a decrease in providers of 7% over 15 months. And the Bureau is aware of at least three others that have terminated their contract since June .
The LAA divides England and Wales into 134 administration areas. In 23 of these areas there is now just one provider offering housing advice on legal aid.
Some of these sole providers are covering large areas, meaning people seeking advice need to travel long distances to get it.
The LAA insists it 'takes prompt action if a gap in service is identified and has a good track record of quickly securing provision'.
But in Suffolk the Bureau has discovered that there has not been a single legal aid housing lawyer operating in the area since March. This legal advice desert means that people in the region have to travel up to an hour away to towns in Norfolk or Essex.
Similar advice deserts in other areas of the country – East Riding, rural Dorset and Shropshire – have meant that the LAA has waived location requirements usually required of legal aid contract holders. They have instead allowed contractors in different regions to offer advice through another organisation on a part-time basis.
For example East Riding is served by a North Yorkshire-based not-for-profit organisation which holds a fortnightly advice clinic at a Citizens Advice Bureau.
The contract for Shropshire is held by a firm from Wrexham, North Wales, which operates from a CAB in Shrewsbury, while the provider for rural Dorset is a firm of  solicitors from Southampton in Hampshire.
Graeme Swain of Swain & Co, holder of the Dorset contract, says: 'Take up is relatively low for various reasons, not least the public perception that legal aid no longer exists and a general lack of knowledge that the service is available.'
Despite the fact that all but two procurement areas are not using up their full quota of cases, in some cases the quotas are restricting the numbers of cases an individual firm can take on.
Each provider with a legal aid contract is allocated a certain number of cases each year and will only be given more once these have run out if all other providers in the same area have also run out.
Mariam Seddon, a housing caseworker at South West Law in Bristol says she has accepted cases where other firms more local to the client have been 'full'.
'We had someone call from south of Exeter recently as there was nobody closer able to take them on,' she says.
'There are firms doing housing work in Somerset and Devon, but those firms were at capacity and with Shelter no longer operating in Taunton the clients were struggling to get more local advice. We've assisted people from Glastonbury, Weston-Super-Mare, Barnstaple, Bath and Gloucester and  – a very wide area – who could not get advice locally.'
Her own firm spins out its allocation so that it handles a certain number of cases each month.
'Once that number has been reached, we have to consider turning clients away,' she says.
The LAA denies that this is common practice.
The low take-up of face-to-face advice may also be partly due to people being dealt with by national telephone advice lines and not-for-profit agencies without legal aid contracts.
On top of the 34,817 cases provided with legal help on a face-to-face basis, 11,271 cases were fielded by national telephone advice services last year, the Bureau's data shows. Telephone advice is covered by a separate budget to face-to-face advice. Academic research suggests telephone advice does not suit the most vulnerable people, who often have difficulty communicating.
Steve Hynes, director of the Legal Action Group, which campaigns for equal access to justice, said the figures showed that the Ministry of Justice had dropped any pretense over caring about access to justice'.
'The government's only priority seems to be to reduce the legal aid budget,' he said. 'The biggest losers in this are the public. Obtaining civil legal aid has been reduced to a lottery.'
A Legal Aid Agency spokesperson said:
'Contracts to provide housing advice are awarded to legal specialists across the country, ensuring help is readily available. Ultimately it is client demand which dictates how much of the available advice is taken up. The LAA regularly reviews supply and demand for housing advice and takes action to address any issues identified.
Information on where to find advice providers is readily available via our website and telephone services. If people are unable to travel for financial or health reasons they can take advantage of outreach sessions run by advice providers which are held across procurement areas. Advice is also available via the LAA's easy-to-access online/telephone services.'
Suffolk – an advice desert
Since March 2014, there has been no legal aid housing provider in Suffolk.
The Bureau found that:
The Legal Aid Agency only advertised for a provider in September;
For residents in the heart of the county such as Ipswich, providers in Norfolk and Essex – up to an hour's drive away – are the only option;
The LAA offered a Norwich firm outreach legal aid work in Suffolk but only if it did less work in Norfolk;
The Agency has invited firms to bid for the contract that did not meet the usual contractual requirements for providers – that they have a permanent presence in the region and that caseworkers are supervised by lawyers who meet certain competence standards.
If you have a comment on this article, please contact Melanie Newman – melanienewman@tbij.com