As coronavirus sweeps through jails it has been estimated that there are now more than 11 million people imprisoned across the world  – the highest number ever – and some 102 countries report prison occupancy levels of over 110 per cent. According to the Global Prison Trends report (by Penal Reform International and the Thailand Institute of Justice) millions of prisoners are now vulnerable to Covid-19.
The virus is now known to be in more than half of prisons in England and Wales. According to the Prison Reform Trust, as of Tuesday, there were 294 confirmed coronavirus cases amongst prisoners in England and Wales, and 231 confirmed cases amongst prison staff. UK ministers announced earlier this month that selected low-risk inmates within two months of their release date would be temporarily released on licence in order to relieve pressure on the prison system.
But on Friday last week, two leading prison reform groups in the UK sent a formal letter to the justice secretary, Robert Buckland, informing him of their application for judicial review in relation to his response. The groups claim the rate of temporary releases has been far too slow to make any substantial difference.
The study argues that an increase in prison populations is being driven by a preference for more costly prison sentences over non-custodial alternatives. Globally, the majority of people are in prison for non-violent offences: only 7 per cent for homicide and 20 per cent for drug related offences of which 83 per cent are for possession for personal use.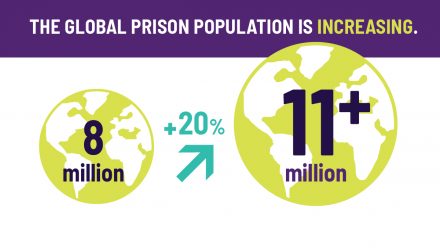 With the global prison population currently standing at over 11 million people with at least an extra 3 million people held in pre-trial detention, prisons in over 124 countries now exceed their maximum occupancy rate leading to violence, low rehabilitation opportunities and a lack of healthcare. The magnitude of these issues is highlighted by the efforts to prevent and contain outbreaks of Covid-19 by attempting to reduce prison populations.
Many people in prison have underlying health conditions and social distancing is impossible.
In the United States, which has the highest absolute number of people in prison – 2.1. million – a study by the American Civil Liberties Union (ACLU) also released on Wednesday, predicts that unless urgent action is taken to reduce prison populations in the US, as many as 99,000 more people could die as a result.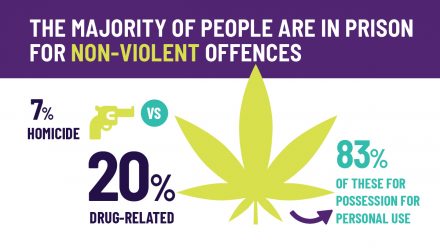 In combination with chronic overcrowding, Global Prison Trends charts a global trend of underfunding with expenditures in prisons averaging less than 0.3 per cent of gross domestic product. Typically, where funding has increased, it has been spent on expanding prison estates in order to house more prisoners. As a result, the report suggests that prison health is deprioritised. The mortality rate for people in prison is as much as 50 times higher than for people outside. The most common causes of death are suicide and violent clashes, but other reasons include ill-treatment, infectious diseases and ill-health. Combined with overcrowding, prisons can be incubators for infectious diseases to spread more rapidly and people in prison are deeply aware of this vulnerability. Prison riots, from Colombia to Italy, have proven a visceral illustration of prisoners' very real fears about Covid-19.
A key message of the report seems to be the spotlight effect the coronavirus pandemic is having on the magnitude of the global prison crisis; a crisis that the report makes clear has been there for a long time.
The Executive Director of Penal Reform International, Florian Irminger, said, 'policies favouring detention over non-custodial measures have left people in prison and the staff who work with them acutely vulnerable to Covid-19. Their rights are at risk. Today's disaster cannot be overestimated but the reality is that this crisis has been long in the making, fuelled by the overcrowding and underfunding of prisons globally'.
Many governments have looked to reducing prison populations through measures such as early release programmes. The report suggests that such measures should be part of a longer-term strategy to address overcrowding in places of detention. The report's Special Focus on alternatives to detention discusses a range of measures in operation globally, such as suspended sentences, electronic monitoring, restitution to a victim, rehabilitation programmes and community service orders. Whilst the report looks to alternatives as a solution to the prison crisis, it cautions against the mass supervision and 'net widening' of criminal justice that has accompanied some of these alternative measures in certain countries.
At the report's online launch, Dr Kittipong Kittayarak, the Executive Director of the Thailand Institute of Justice, voiced his hope that the report might contribute to a conversation on how penal systems might look after Covid-19; that some light has been shed on a crisis that was already present, providing us with the chance to look at crime prevention and the criminal justice system differently in the future.